During the Jim Tressel era, life on the recruiting trail was good for the Buckeyes. OSU continuously brought in top-rated classes and relocated the best talent across the Midwest to Columbus.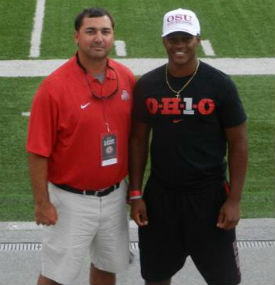 While he didn't recruit nationally the way Urban Meyer does, Tressel did bring in some big-time players from outside of the region as well. That included SEC country, where he consistently signed highly ranked recruits from Florida, and also had success of late in the state of Georgia.
By bringing in four-star prospects DB Brandon Mitchell, QB Antonio Henton, DE Keith Wells and seeing DB Anderson Russell, DL Cameron Heyward and CB Bradley Roby have successful careers at OSU, the Buckeyes were able to create serious momentum in the Peach State.
That momentum continued when Meyer came to town, bringing a rock star persona and stellar reputation in the region thanks to his national title days at Florida.
The Buckeyes' coach failed to bring in any Georgia talent in 2012, but in his first full year on the trail, he landed two of the state's best prospects in 2013, five-star S Vonn Bell and four-star LB Trey Johnson.
The plan to go after the best prospects in Georgia has definitely not slowed down in 2014, as the Bucks have already extended offers to nearly 20 Peach State natives.
Logic states that if enough offers go out that some will have to be accepted, but in Ohio State's case logic may not be needed because many of these top players are buying what Meyer is selling and the Bucks have a chance to do serious damage in a state that is so plentiful in talent for 2014.
By now everyone should be familiar with Gainesville QB Deshaun Watson. Watson is currently committed to Clemson, but has mentioned Ohio State as the top school he'd look at if he wavers from his pledge to the Tigers. Keep an eye on what the OSU staff does in terms of offering another quarterback, as that will tell you how they feel about their chances with what could be the nation's top passer.
Two elite running backs the staff is after include Cedartown's Nick Chubb and Norcross's Myles Autry.
Chubb will be a tough pull from the South, after rushing for over 2,600 yards with 38 touchdowns last season. He is visiting campus this spring though, and it may be Meyer's lone chance to sell him before he cuts his list, so the trip is a big one.
Autry on the other hand, grew up an Ohio State fan, and is supposed to come to Columbus for a visit in early April. I think Autry will be recruited as an athlete, and the Bucks have a great shot to land him if they want him.
Tyrone Sandy Creek WR Demarre Kitt recently had an excellent visit to Ohio State and plans to come back again this spring or summer. Following the trip, the 6-1/185 receiver put OSU in his top two along with Clemson, so the Bucks are in a good spot for the former Georgia commit.
Orlando Brown Jr. of Suwanee Peachtree Ridge is another prospect high on Ohio State and his mom, from Cleveland, grew up a fan of the Buckeyes. Brown recently named seven schools as his favorites and in addition to OSU other schools included were Alabama, Arkansas, Iowa, Michigan, Oklahoma, and South Carolina.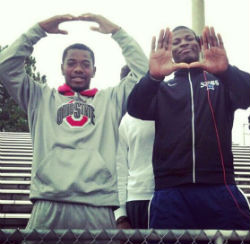 On the other side of the line, the Bucks are looking at some talented defensive line prospects from Georgia. Those offered include DT Elisha Shaw, DT Chris Williams, DE Lorenzo Carter, DE Dante Sawyer, and DE Andrew Williams.
Looking at the tackles, Shaw is rated as the nation's third-best at the position, but it appears Alabama and Georgia may be tough to beat at this point. Williams is a teammate of Kitt's at Sandy Creek, but he too will be tough to grab out of the South, although his OSU recruitment has really just started to get going.
At defensive end, Sawyer appeared to be the top candidate to end up in scarlet and gray, but momentum hasn't been as positive in the last month and a visit will be needed to see how real that interest is. Carter, a teammate of Autry's at Norcross, has also spoken highly of the Buckeyes, but he is the nation's third-ranked player and competition is stiff. Williams hasn't really said one way or another which way he is leaning at this time.
Another prospect OSU fans are familiar with is Hinesville Liberty County LB Raekwon McMillan. Ever since visiting last summer, McMillan has been high on Ohio State and has had the program as his leader over Clemson, Alabama, Georgia, Florida, and USC for a while now. Another visit, with Autry, is planned for early April, so expect the Bucks to solidify their place on the All-American's list during that stay.
Outside of McMillan, the Buckeyes also have an offer out to Norcross LB Kevin Mouhon. Mouhon is high on Tennessee and Auburn right now, but if the staff can get Autry and/or Carter on board, they will certainly do their best to get in the four-star prospect's ear.
Finally, defensive back targets on Meyer's radar are CB Kalvarez Bessent, S Chris Williams, S DJ Smith, S Cortez McDowell, and S Nick Glass. Right now I would say the two most likely prospects to end up in Columbus on that list are McDowell and Glass.
Ohio State was one of the early schools to recognize McDowell and finally offered the Locust Grove product a scholarship back on February 6. A visit will definitely be needed before you can put this one in serious consideration, but he has spoken very highly of the Buckeyes' staff, including Everett Withers and Urban Meyer. McDowell had 60 tackles, 10 pass break-ups, 2 interceptions, and a sack in his junior season.
Glass has been a Georgia commit for quite some time now, but has expressed repeatedly that he is open to looking at other schools. One of the schools he always mentions is Ohio State and he has told me that he has spoken to other Georgia prospects about heading to Columbus to play together. Glass just transferred from St. Pius X to Peachtree Ridge, the school Bradley Roby attended and that Orlando Brown goes to, so that is good news for the Bucks. He is being recruited by Everett Withers and plans to get to campus sometime this spring or summer when his schedule permits.
As you can see, the Buckeyes are certainly being aggressive when it comes to recruiting Georgia's best. With Urban Meyer's track record and some Peach State natives on the roster to help recruit, it's hard to imagine the program not being successful in landing some of these elite playmakers.