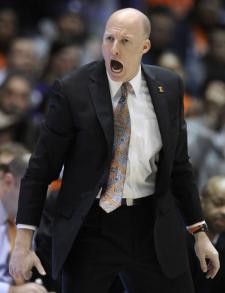 On Jan. 5, Ohio State had just lost its third game of the season, again to a highly ranked team. The Buckeyes looked completely lost that day in Champaign, losing by 19 to Illinois. The inability to beat ranked opponents was starting to become unsettling to fans. But head coach Thad Matta never wavered.
"I'm not panicked, like `Oh my God!"' he said, following the Illinois game. "This team has shown it can play some pretty good basketball."
That's the side of the Buckeyes the entire country has laid eyes on in recent weeks. A four-game win streak that includes two wins over top-five teams, one of which is arguably the most impressive win in the entire country all season – at No. 2 Indiana on Senior Night.
More than two months later, the Buckeyes and Illini meet again in the regular-season finale. Illinois has lost eight games since the teams' first meeting, but it's still firmly in the NCAA Tournament thanks to an impressive run during the non-conference season and a win over then-No. 1 Indiana.
For Ohio State, the game represents an opportunity to win the Big Ten championship. Avenge the loss to Illinois and root for Michigan to defeat Indiana. If both happen, Ohio State has its conference title.
"The benefit of playing a team twice is you get to play smarter basketball," said senior forward Evan Ravenel. "You get an opportunity to right your wrongs."
The game also marks Ravenel's final appearance at Value City Arena. He came to Ohio State prior to the 2010-11 season as a transfer from Boston College. The Tampa native immediately took a liking to Columbus and has developed into a reliable contributor for the Buckeyes.
Facing a must-win at Michigan State on the final day of the season a year ago, Ravenel had several key rebounds and buckets late in the game to help push Ohio State over the top. He did the same thing on Tuesday at Indiana.
"It's going to be a bittersweet feeling," Ravenel said. "I really enjoyed my time here. My time here at Ohio State has been wonderful."
Said Matta: "From the time he got here, he's established a very strong work ethic. He came in as a guy that, we told him he had a long road home and just his commitment. He's always been a great teammate. He's always fit in. He has a very good understanding in terms of what he needs to bring to the team."
Opponent
Sometimes a change of scenery is needed for both parties. That was the case with Illinois and former head coach Bruce Weber. Both had happy times with each other, but the final years were tortuous.
Weber is having success in his first season at Kansas State and John Groce, Weber's replacement at Illinois, deserves applause for his first season in Champaign. It's unlikely that Weber would be having the same level of success if he were still coaching the Illini. His time had run its course. 
Not only had the results dipped, but the fan support also began plunging. It's starting to get back to old times, though, as Assembly Hall.
"People have been very responsive from Day 1," Groce said. "There's a lot of energy and passion surrounding the program right now, and a lot of that is because of our great fans, great alums and the great community we live in here. People care about it at such a high level and have been responsive to our group because of how resilient they've been. They've been able to overcome some things, which people appreciate that. This is a blue-collar area of the country, this is a blue-collar town, and I think people appreciate how our guys have handled themselves and how they've fought."
The positive reaction has carried over into recruiting. For years, Illinois has been building its program around attracting top-tier talent from Chicago. It appears that theme is starting to be ingrained into the Illini once more. They have already secured the services of two prospects from storied Simeon High.
"It helps to show we've got a pretty good coach here to help us try to win games," Tracy Abrams said, a sophomore from Chicago. "Everybody wants to win. It just shows Coach knows what he's doing. I just try to tell those guys, 'Look, if you want to win, this is the place to be.'"
Scan this season's schedule and you'll see that Illinois has beaten Butler, Gonzaga, Ohio State and Indiana. That's why a team that could finish below .500 in the Big Ten standings is still safely off the bubble. The Illini have arguably the most impressive list of marquee wins.
Groce spent nearly a decade as an assistant under Matta and the two developed into best friends. In the first meeting between the two, the protégé got the best of the teacher. But if anyone knows the ins and outs of a Matta-coached team, it is Groce. The calendar has flipped to March, a month Matta feasts on.
"They just keep getting better, and that's a big reason why they're playing well now," Groce said. "That's what coaches do, and he's really good at it. I had a chance to spend a lot of time with him. He's always done a good job of pushing the right buttons and getting to his guys, and they've done a good job of playing well late, and they're doing that now. To say I'm not surprised would be an understatement."
The end of Illinois' season has been different. The Illini got off to a rough start, opening the Big Ten season 2-7 before rattling off five consecutive wins. Illinois has since lost two of three.
"We've definitely got to trust the system more," Abrams said. "Trust is definitely big for us and our system. We definitely have to acknowledge that."
Buckeye Breakdown
Scoreboard watching is a major part of baseball season when September rolls around. It happens in other professional sports leagues when the playoff push is on. Ohio State could fall under that same umbrella on Sunday, but it must first win before it can even worry about what other teams are doing.
"I'm not focused on what everybody else does," Ravenel said. "I'm just focused on what we do at 12:30."
The Buckeyes have battled for three weeks to get themselves into the Big Ten title race. To squander it on the final day of the season would be a demoralizing blow. In a remarkable year for the conference, the opportunity awaiting Ohio State is not one it wants to let slip away.
Just three weeks ago, Ohio State was freefalling to the six and seven seed line. If the Buckeyes end the season strong, a two or a three seed could be in play.
"I'll be honest with you, I just want to play well on Sunday," Matta said. "That is where our focus is completely. We would be foolish to think past 12:30 on Sunday. That's all we've ever done. We have one more game to play to end the regular season and that is the only thing that is on my mind and hopefully the only thing on our players' minds."
If any team is fully aware of what can happen when you look ahead or don't bring your "A" game to the biggest stage, it's Ohio State.
Get Smart
Ohio State has only lost once on Senior Day under Thad Matta.
The Buckeyes have won 6 of 8 against the Illini and three straight in Columbus.
Bob Wischusen and Dan Dakich have the call.
"Slip-ups cost you," Matta said. "The last couple of years we've had a bad half of basketball that cost us our season."
But it should be little problem for Ohio State to stay on task. After all, this is the team that humiliated them earlier this season. On that cold January day, the Buckeyes clearly didn't play their best. The thing that stuck in Matta's craw, though, was getting out-toughed.
The hustle plays and 50-50 balls all seemed to go Illinois' way. Then 6-foot-11 center Nnanna Egwu scored a career-high 16 points. He's only reached double digits twice in the 15 games since.
"When he started knocking down 17-footers, it was like, 'Geez, this is really their day,'" Matta said.
Ohio State trailed by as many as 23 points. The Buckeyes shot 33 percent from the field and turned the ball over 16 times, the third-highest total of the season.
That kick in the mouth is a story that's been retold this week. It's like watching a horror film over and over for the Buckeyes. 
"You're playing a team that literally destroyed you on Jan. 5. And, quite honestly, there hasn't been a whole lot more conversation than that."
| # | Name | YR | HT/WT | PTS | REB | ASST | P | # | Name | YR | HT/WT | PTS | REB | ASST |
| --- | --- | --- | --- | --- | --- | --- | --- | --- | --- | --- | --- | --- | --- | --- |
| 4 | Craft | JR | 6-2/190 | 9.6 | 3.6 | 4.4 | G | 13 | Abrams | SO | 6-1/185 | 10.6 | 3.6 | 3.4 |
| 32 | Smith Jr. | JR | 6-4/205 | 10.1 | 4.9 | 1.6 | G | 3 | Paul | SR | 6-4/200 | 16.2 | 4.4 | 2.9 |
| 12 | Thompson | SO | 6-7/190 | 7.1 | 3.4 | 1.0 | F | 1 | Richardson | SR | 6-3/195 | 12.8 | 4.1 | 1.6 |
| 1 | Thomas | JR | 6-7/225 | 19.8 | 6.2 | 1.3 | F | 42 | Griffey | SR | 6-9/220 | 7.2 | 3.4 | 0.6 |
| 23 | Williams | SO | 6-11/250 | 4.1 | 4.1 | 0.1 | C | 32 | Egwu | SO | 6-11/235 | 6.6 | 4.6 | 0.5 |