The Ohio State staff still has its hands full trying to figure out who will be their quarterback in the recruiting class of 2014, but that hasn't stopped them from already looking at elite 2015 signal callers.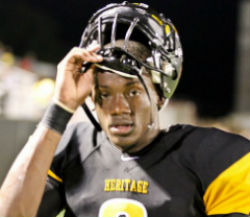 Evidence of this came last week, as Urban Meyer extended an early scholarship offer to one of the top rising junior playmakers in the country, Plantation (FL) American Heritage QB Torrance Gibson.
At 6-3/195 and being hand-clocked at 4.5 seconds in the 40-yard dash, Gibson definitely fits the bill of what the Buckeyes are looking for physically in a quarterback. 
He could certainly do it on the field too, and that has been noticed by other big-time programs, as Gibson has racked up four offers from BCS schools at this point, quite the impressive feat for a current high school sophomore.
Growing up in the Sunshine State, Gibson is very familiar with Meyer and his success at the college level. Playing for the star coach is something he has certainly thought about and now that he has an offer from the Buckeyes, he is excited to see what the university has to offer him.
We spoke to Gibson to find out exactly what he had to say about Meyer, what offers he currently holds, his plans to visit Columbus, and more. Join us after the jump to hear from the newest 2015 OSU offer, Torrance Gibson.
How did your sophomore season go?
My team did really well. We should have went further, but that's life. I feel like I played well. I made some big plays, but could have made more to help the team. That will happen next year.
Recruiting has started early for you. What offers do you currently hold?
Right now I have offers from Boston College, Miami (FL), Notre Dame, and most recently, Ohio State.
How did the Ohio State offer come about?
I'm honestly not sure. It kind of came out of nowhere. My head coach told me they were interested in me and wanted me to call them. I called Coach Meyer and he offered when we spoke.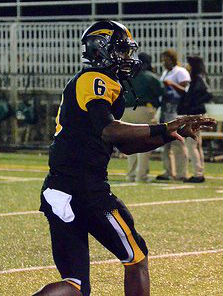 What did Coach Meyer say to you on the phone?
He asked me what offers I currently have and I told him. He then said, 'well you can add Ohio State to that list.' He told me he wanted me to come up to camp this summer. I also spoke to Coach Herman and he was just telling me he was excited about the offer and that he wants to get to know my parents and me better.
What do you think of getting that offer from OSU?
 It is amazing. I didn't ever think of getting offered from a school like Ohio State, so it's really a blessing.
Are you going to visit Ohio State anytime soon?
Yes, I'm definitely going to try and plan to get up there this summer for a camp.
You grew up in Florida and are familiar with Coach Meyer. What are your thoughts on playing for him?
He is a great coach. Look at what he did at Florida and what he did in just one year at Ohio State. He's an amazing coach and I'm really honored to have the opportunity to play for him.
What other schools have you been talking to frequently?
I speak to Miami and Notre Dame a lot. I also talk to Pittsburgh and I think they are close to offering soon.
What do you feel you do well? What do you want to work on?
I am a dual-threat quarterback who can run it the distance or throw it a mile. Some things I want to work on are my timing and accuracy. I also want to work on staying in the pocket under pressure and looking for my receivers.
HIGHLIGHTS: