When you lose seven starters, one might be inclined to think often about all the missing pieces. But defensive coordinator Luke Fickell hasn't had any time to reflect on John Simon, Zach Boren, Johnathan Hankins, Etienne Sabino and the rest of Ohio State's departures on defense.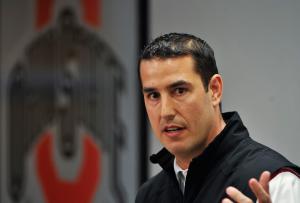 Instead, he's been more preoccupied with worrying about who's replacing them. Through two days of spring practice, little has materialized, but a whole host of players will get an opportunity to plug holes.
"Energy is contagious. Effort is contagious," Fickell said. "I can honestly say that's what I'm excited about. We have some guys in leadership positions with a lot of confidence and when they have confidence, it exudes confidence to others.
"There's a lot of good-looking guys in shorts. We kind of hold our opinions until we get into some pads and play real football."
That won't be for another few weeks, as the Buckeyes now go on hiatus due to spring break. When they reconvene, Fickell's main focus will be dedicated to the linebacker position. Two new starters will emerge on April 13 and they'll both be inexperienced because, well, that's all there is to choose from.
The young talent includes junior Curtis Grant, whose time to make an impact is dwindling. There's also sophomores Camren Williams, Josh Perry, David Perkins and Jamal Marcus and freshmen Mike Mitchell and Trey Johnson.
"We have the most pressure on us out of anyone on the defense," Perry said. "Even young guys on the D-line definitely played more than our linebackers (last season) who are young. We've got to step up."
Overcoming the loss of talented players is part of being a big-time program. Reloading is the next step. With so much young talent, Fickell is enthusiastic about the possibilities at linebacker.
"There's a lot of guys with a lot of energy," he said. "Some young guys that are really, really exciting."
The one sure thing Ohio State does have at linebacker – Ryan Shazier – has an unknown timetable regarding his return. Shazier has been battling a sports hernia. But that doesn't mean he's been absent or quiet during practice.
In two full seasons at Ohio State, Shazier hasn't only advanced into one of the nation's premier linebackers; he's also become a student of the game. His expertise has allowed him to coach up his teammates and offer insight on the intricacies of the position.
"You see all your guys out here grinding, working hard, doing tough workouts and all you can do is watch," Shazier said. "It really sucks, but you can't do anything about it."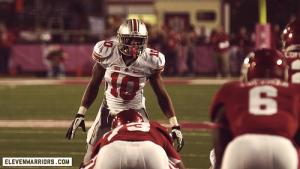 The injury actually occurred last season during the Nebraska game, but Shazier soldiered on the rest of the season with nary a peep. It's that kind of dedication and toughness that led Grant to keeping an upbeat attitude, even though his playing time evaporated in the middle of the season.
Witnessing Shazier and John Simon's grit and Zach Boren's selflessness were lessons that it took more than just showing up and walking on the field. 
"The will and the want-to has never been a question," Fickell said. "It's just the ability to continue to mature. All these players have different things going on in their lives that help them mature. I've seen some of the things he's gone through and I think this has really been a positive."
Two years worth of adversity has added a hardened shell to Grant. The experiences have helped shape him on and off the field. Entering Year 3, he looks back at the previous two seasons with knowledge to help him forge a new direction.
"My goal is to not get complacent," Grant said. "I just want to keep working hard and do everything the coaches ask me to. My biggest motivation is my family. My dad always told me to carry my last name well and that's exactly what I'm trying to do."
Ohio State is likely to play nickel in most games, which has turned into the team's base defense in recent seasons. That means only two linebackers on the field, with one certainly being Shazier.
"College football has changed into more of a speed and spread out game, so you never know what's going to happen," he said. "We're going to have more than three linebackers ready for every game, so just in case somebody goes down, we need a three-linebacker set, four-linebacker set."
Searching for the right formula will be a linebacker by committee operation during the spring, Fickell said. Eventually the pieces will fall into place.
"With Sabino and Zach leaving, everyone is going to have an opportunity to show what they can do," Williams said. "There's a lot of competition at the Mike position, and that's a position I'm interested in. I've been working hard to learn the playbook and improve at the position because as the Mike you need to know where everyone is and what's going on at all times."
Just like Fickell when it comes to the defense.