No other position on the field will be under a more high-powered microscope this spring than linebacker. The defensive line might be replacing four starters, but the guys stepping in are known commodity. That is far from the case at linebacker.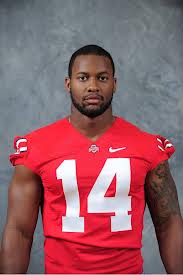 Curtis Grant came to Ohio State as the No. 2 overall recruit in the country two years ago. Instead of thrusting himself into the spotlight, he's taken a backseat to fellow 2011 recruit Ryan Shazier.
Grant's freshman season was a wash after spending the year on special teams. He did come up with a touchdown off a blocked punt against Wisconsin. But that was where the bright spots dimmed. He entered last spring much like this year's – a frontrunner for a starting linebacker spot. But he quickly faded in 2012, still not used to the speed of the college game. 
A fullback and someone who wasn't even on the team during fall camp supplanted Grant. That doesn't mean the coaching staff has given up on the once-promising talent, or that they think his best days are behind him.
Far from it, actually.
"Do we still have hope he can become a good linebacker? Absolutely, yes," said head coach Urban Meyer.
If it's going to happen, this spring is his time. With Ohio State's recent recruiting hauls, Grant doesn't want to waste any more opportunities. And Meyer has made it clear springtime is when position battles will be won or lost, not during preparation for games in the fall.
"Your junior year, if you don't do anything, there's no guarantee there's another year to do it," Grant said. "(The spring) is very big for me."
With a 6-foot-3, 241-pound frame, Grant has the body of linebacker. Arms mimicking boa constrictors add to his aura, but producing on the field isn't about body physique and big arms. It takes a series of intangibles to be an on-field talent, and so far Grant hasn't displayed many of those.
After the Michigan game, he went home to Richmond, Va., and evaluated where he was in his football life.
"You man up or get out," Grant said. "I manned up."
During the first two practices, Grant has exhibited progress on all fronts. The next 13 will be magnified even more. Will the light bulb really go off? If it does Grant has the potential to be a game-changer at his position and for Ohio State's national championship hopes.
"If we put together a good D-line and linebackers, I think we'll have a good team," Meyer said. "If not, we won't. It's pretty simple."
Football can be overanalyzed to a great extent, but Meyer's statement is the truth in its simplest form. One peek at national champions of seasons past reveals that.
Grant isn't the only man in the race, though. Camren Williams is also pushing for a breakthrough. He made three tackles as a true freshman in 2012, mostly playing special teams.
The area Williams improved on most during the offseason was adding muscle. Give Mickey Marotti the assist on that development. Williams is up 10 pounds to 232. When Jack Mewhort was chasing him down in practice last season, Williams said he felt small.
"I feel like I've gotten a lot faster," he said. "My leg strength is a lot stronger. I feel like a linebacker."
Now Williams and Grant just need to play like linebackers.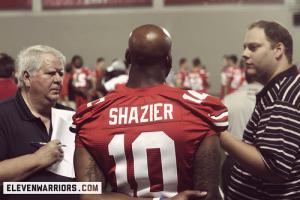 The Evolution of a Leader
When it comes to hard-hitting, high-flying linebackers, Shazier's name is near the top of the list. At a program like Ohio State, which has a long history of turning linebackers into the Incredible Hulk with Usain Bolt-like speed, the alertness of an alligator and run-down ability of a cheetah, Shazier has distinguished himself as one of the greats.
As the only returning starter on the front seven, he's turned into a grandfather of sorts, steering his young cohorts in the right direction with experience and a wise instinct. 
"He sees everything," sophomore linebacker Josh Perry said. "He's got a great football mind, so he's letting us know, you can do this, you can do that. He's invaluable."
Even with so much instability at linebacker last season, Shazier still managed to lead the Buckeyes with 115 tackles. Defensive coordinator Luke Fickell, who works with the linebacker corps, said Zach Boren's presence and reliability contributed to Shazier's impressive statistics. 
That's why Grant and the likes of Williams, Perry, David Perkins and Jamal Marcus are being focused on so much. And don't forget Mike Mitchell and Trey Johnson will stroll into Columbus this summer.
"We're still looking," Meyer said. "You have Camren Williams, you have Luke Roberts, and then you have a couple of freshmen popping in here."
But the rock of the linebacker room is Shazier. He's the best and the brightest, lending a helping hand to the less experienced of the group.
Said Shazier: "I have a strong belief in the guys coming in."
Notes
Defensive coordinator Luke Fickell said the defensive staff hasn't even had time to think about the starters they've lost. That number is seven, but Fickell said there's no resting at Ohio State, meaning there's not time to sit around and ponder the missing parts.
There have only been two practices, but Fickell said the energy has been great, especially with the young guys on defense, which includes the entire front seven. On-field communication is huge, and Fickell said that's something they're still working on.
One of the biggest parts of the spring will be seeing leaders develop. Fickell said they're already emerging. He named Christian Bryant, Bradley Roby, CJ Barnett and Pittsburgh Brown. Fickell said all four are vocal.
The more guys that step up and lead, the better off Ohio State is, according to Fickell.
Fickell said the great linebacker search will be done by committee. Each guy will have his chance to earn a starting spot or be part of the rotation.
Ryan Shazier won't practice for a couple weeks due to a sports hernia.
Shazier said the defensive line will have more speed this season and get to the QB quicker. He said they're just as strong too.
Shazier said watching practice, it doesn't look like the defense lost seven players. He noted that everyone has experience, whether they've started or not.
Camren Williams said his biggest goal during the spring is learning the playbook. The defense is putting in new plays each day. Being at MIKE, he is the quarterback of the defense, and he doesn't take it lightly. Williams said he takes pride in his football IQ.
Curtis Grant said the biggest problem in his time at Ohio State has been being too complacent. Coming in as a big-time recruit, he thought he could waltz in and start.
Grant was very complimentary of John Simon, Zach Boren and Etienne Sabino. That trio taught him a lot about leadership, the latter two about linebacker.
Josh Perry said the defense and offense trash talk during practice. He said going up against Braxton Miller and the high-powered offense improves the defense.
"They make (the defense) better," Perry said.
Michael Bennett, Joel Hale, Ryan Shazier, as well as the secondary, are the leaders on defense, according to Perry.
Perry said he's still grasping the defense, but added that playing last season was invaluable.