There's something about Ohio State playing with its back against the wall. In two must-win games to end the regular season last year, the Buckeyes got the job done. Facing a similar situation a year later but beginning weeks sooner, Ohio State has come up a winner again.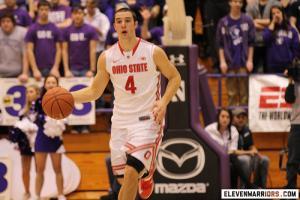 Riding a four-game win streak, the Buckeyes are a single win and another Indiana loss away from winning a fourth consecutive Big Ten championship. Thad Matta has Ohio State pointed in the right direction during college basketball's marquee month once again. March has become a time for Matta's teams to thrive. Ohio State is 46-12 in March since Matta took over.
To win that title, the Buckeyes must take care of business first. That much is a given. But the nightcap will be a Maize and Blue party. That's right, Ohio State will be rooting for Michigan. The Wolverines found themselves in a similar position one year ago when Ohio State needed to beat Michigan State for the three teams to share the conference crown.
"Coach Beilein told me before we played in the conference tournament last year, 'I've never seen a group of Michigan guys rooting so hard when Buford made the shot,'" Matta said.
This season, it could be Ohio State pulling for Columbus' own Trey Burke. His status as arguably the nation's best player has been discussed at length throughout the year. In Columbus, there's still some wonder as to how he went unnoticed by Ohio State.
But the person who had the scholarship Burke coveted was Shannon Scott. He might not be the best player in the country, or even the best player on his team, but Scott has developed into a creator on offense and a whirling dervish on defense. In the Buckeyes' win at No. 2 Indiana, Scott had eight points, three rebounds, three assists, four steals and zero turnovers. 
"Obviously, we didn't shoot it well (39.6 percent), but we had costly turnovers," said Indiana head coach Tom Crean, at roughly 1:40 a.m. Eastern Wednesday morning. "We did not protect the ball the way we needed to. They were leading the league in steals on the road, and the way we looked at it, they had those steals tonight and a lot of them were live-ball turnovers that just turned into buckets for them."
Combined with Mr. Defense, Aaron Craft, the tag-team champions of Scott and Craft had eight steals, leading to 16 points off turnovers and 14 fast break points. Matta did, surprisingly, peg Scott as the most disruptive player in the country prior to the season. It came to fruition in Bloomington.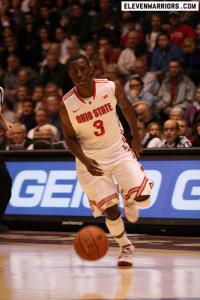 When Craft wasn't the facilitator on fast breaks, it was Scott who threaded the needle and delivered on-the-money passes in traffic going full speed down the court.
As the best team for much of the season, Indiana was uncanny at making plays at opportune moments. But when Ohio State needed to counter the Hoosiers, it did. The scrappy Buckeyes got loose balls, rebounds, forced turnovers late in the game and converted on must-make possessions.
"We didn't think we played real well and we felt they had a lot to do with it," said Matta, about Ohio State's 81-68 loss to Indiana in February. "We talked about creating more havoc defensively and challenging shots better, and just looking at the easy baskets we gave them in Game 1. They got rebounds, putbacks, just crazy baskets.
"You've just got to guard them. They're a great basketball team, and when you make mistakes, they kill you. I think for us the biggest thing was don't make defensive assignment mistakes."
Matta discussed pairing Craft and Scott together before the season. He's held true on that promise, but the diminutive duo was never bigger than Tuesday night.
"Everybody turns the ball over," Scott said. "I just wanted to have good pressure on defense and be in help defense all the time."
There was a 10-minute stretch in the second half where Indiana scored just seven points. For the most efficient offense and third-highest scoring team in the nation, it represented the worst offensive period of the season.  
"We just didn't execute offensively," Indiana guard Jordan Hulls said. "We allowed way too many transition buckets, turned the ball over too much, which led to them getting easy buckets. There were some stretches there that we would play really good defense for the whole shot clock and then they would get a bucket right at the end."
It looks like history could repeat itself for a fourth time. Ohio State winning the Big Ten with a victory right at the end. The regular season concludes Sunday, and the collective basketball world will be centered on the Midwest.
In Columbus, eyes, ears and maybe even noses will be pointed toward Ann Arbor.
"Obviously, if it comes to that, we'll be rooting for Michigan," Matta said.