From clown show to what could be the greatest show on turf, the evolution of Ohio State football has been must-see entertainment over the past 12 months. With the dawn of spring practice comes renewed expectations and the beginning of the chase. 
That's what a sign on one of the walls inside the Woody Hayes Athletic Center says in large letters – "The Chase ..." March 5 marked the start of a journey that's ending is planned for Jan. 6, 2014 in Pasadena, Calif. 
"We're all chasing something," head coach Urban Meyer said. "We're 15 practices behind a lot of teams. As a matter of fact, every team that played in a bowl game last year. So the chase is on. Some guys are chasing starting positions. Some guys are chasing bowl games. Some guys are chasing NFL contracts.
"They're chasing their dream."
A majority of the chasing for playing time is occurring on the defensive end, where only four starters return. One of the players not battling it out will be redshirt freshman Se'Von Pittman. The defensive end has been granted his release from Ohio State and will transfer.
It's a blow to the depth at that position, but the Buckeyes will soldier on. There's no shortage of talent along the defensive line or at linebacker, another area in need of new producers.
The SEC has won seven straight national championships largely on the play of the front seven. Meyer started that streak and helped it grow. Now he's helping build another juggernaut and instilling the same philosophy.
"If we put together a good D-line and linebackers, I think we'll have a good team," Meyer said. "If not, we won't. It's pretty simple.
"The way I see it is it's wide open and there's no set rotation yet. They're all just trying to find their way. Noah Spence and Adolphus Washington are a leg up because they got to play a little bit last year. But there's a bunch of other guys who need to get going."
The seven new starters after one day of spring practice are Spence, Washington, Joel Hale and J.T. Moore on the defensive line, Curtis Grant and David Perkins at linebacker, Doran Grant at cornerback and Tyvis Powell at Star.
The nickel defense is close to becoming Ohio State's base defense considering the amount of plays they run out of it. That means Powell, a redshirt freshman, could become an integral part of the defense if he beats out Corey "Pittsburgh" Brown and Devan Bogard for the starting job.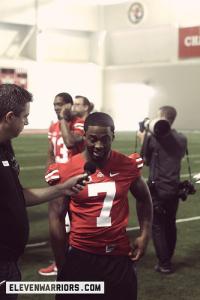 "After day one, I can't give you a whole lot because I don't know other than we went out in shorts," Meyer said. "We did have a good attitude. Some guys like Tyvis Powell and Pittsburgh Brown and some other guys had good days."
That side of the ball was also responsible for most of Ohio State's leadership last season. It doesn't show up in the final stat sheets, but it's an intangible that should not be overlooked.
The Buckeyes will open the season in August as one of the highest ranked teams in the country, and their staying power will coincide with the quality of the locker room. It's an age-old feature on title-winning teams.
"On defense, there's a lot of young puppies running around out there," Meyer said.
"The only thing I don't feel great about is when you look and you don't see my leaders from last year. I grew to love those guys. They turned out to be as good a human beings as I've ever been around. So that's the only void you feel."
The return of Jordan Hall could double as a giant need filled. Even with 12 consecutive wins and a potent offense, a true home run threat was the one missing link that Meyer hoped to find. In his fifth and final season, Hall might finally thrust himself into a leading role.
With Carlos Hyde ending the competition at running back, Hall has shifted to H-back and will operate as a slot receiver, where his speed and elusiveness will be put to use in an up-tempo offense that is predicated on his style.
"Boy, he was big today," Meyer said. "I thought he was great today. I've got to be careful. I start to love players too much and it gets me in trouble, but I love that guy. He didn't bat an eye."
Put in an even tougher position is Drew Basil who is slated to handle all kicking duties this season – placekicking, kickoffs and punting. The issue arose after Johnny Townsend signed with Florida instead of Ohio State.
"I thought Drew did a good job," Meyer said. "I saw that last year. Drew could have punted last year. The only thing he is lacking is experience. Fundamentally, I felt he was maybe our best punter. Ben had so much experience and was such a great guy that you counted on, but Drew has a strong leg and I feel good with Drew. Obviously, we are still keeping our eyes and ears open."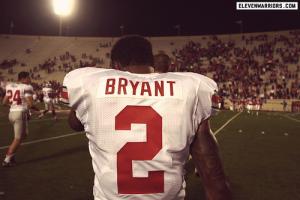 Quarterback is not a position of concern for the coaches. Entrenched starter Braxton Miller performed in front of Meyer and offensive coordinator Tom Herman for the first time since the Michigan game. In between, Miller made a side trip to San Diego to learn from quarterback expert George Whitfield Jr.
Meyer was pleased to see Miller took the initiative to improve, especially when coaches were unable to help. But Meyer also let everyone know there's already a top-notch teacher he is coached by.
"The QB guru working with Braxton is named Tom Herman," Meyer said. "That is the guy getting paid to coach him. I am glad Braxton did it because instead of playing video games or whatever he is working fundamentals of QB play, so I loved it."
A 40-yard pass to Hall elicited joy from Meyer, but an interception by Bradley Roby removed it. Bad plays also lead to a drop on the grading scale, which could result in failure for the day.
"Everybody has big dreams, even as a football team we have big dreams, so we're going to grade the day," Meyer said. "That means you either did your job or you didn't.
"We have a big saying around here, 'We don't coach effort.' We're going to coach fundamentals. We're going to coach specifics, which means play specifics. But by now they have a better understanding of four to six seconds (of relentless effort), and I liked it today."
The Buckeyes will practice again Thursday before taking off next week for spring break. This is the earliest start to spring practice in the program's history, prompted by the university's change to the semester system.
Meyer was in favor of the early start time because the spacing allows coaches more individualized time with players and those injured have a better opportunity to get through it. Two players absent from Tuesday's practice were Ryan Shazier and Philly Brown. Both injuries are minor in nature and they should return soon.
"We have the 20-hour work week this week," Meyer said. "That means Monday, Wednesday and Friday we get a significant amount of meeting time. Then when we get back, we're going to go Tuesday, Thursday, Saturday again.
"Because of where we're at as a football team, with some youth in some certain spots, if we go Monday, Wednesday, Friday, they'll be four-hour meeting days. It's significant. It's the first time I did it, and so far I love it because we had a good work day yesterday."
Now Meyer is chasing tomorrow.