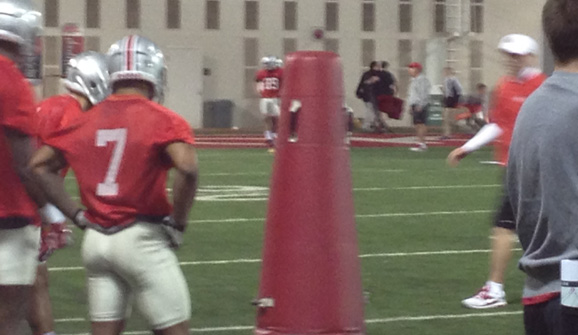 I was fortunate to have the opportunity to observe Ohio State's first practice of the 2013 season and here are the key takeaways:
Position Battles
Of note, Curtis Grant took the majority of first-team reps at Mike linebacker. Josh Perry repped at Mike with the second team and Cam Williams with third.
Taylor Decker started at right tackle. Chase Farris came in for some reps with the first team.
Jordan Hall worked exclusively as the first team 'H' (slot) receiver.
Michael Bennett was the starting '3' technique. The coaches look very comfortable with Noah Spence and Adolphus Washington at Leo and 5 technique, respectively. The staff has thus clearly resolved that Bennett inside and Washington outside is the better combination.
The primary position battle on the defensive line is nose guard. Joel Hale was the starting NG. Tommy Schutt also got nose guard reps. Both will play ample minutes so this really comes down to relative amount of playing time. 
Finally, Tyvis Powell took the first-team reps at star.
Ryan Shazier and Corey "Philly" Brown were held out with injuries. Neither looked to be a serious issue.
First Team Offense: Evan Spencer (Z); Devin Smith (X); Hall (H); Heuerman/Vannett (Y); Decker (RT); Marcus Hall (RG); Corey Linsley (C); Andrew Norwell (LG); Jack Mewhort (LT); Braxton Miller (QB); Carlos Hyde (TB).
First Team Defense: Noah Spence (LEO); Bennett (3 tech); Hale (1 Tech); Adolphus Washington (5 tech); David Perkins (Will); Grant (Mike); Powell (Star): Bradley Roby (boundary CB); Doran Grant (wide CB); C.J Barnett (SS); Christian Bryant (FS).
Player Observations
Braxton Miller's mechanics were noticeably improved. His footwork is crisper and he has raised his arm angle. The result is a tighter spiral. We will of course have to see how the mechanics are under pressure, but it is clear his offseason work is paying off.
Miller also looked to be conscious of his pocket presence and willing to scramble when necessary, a much-needed improvement. 
Jordan Hall looked like a natural in the slot. He is able to use his quickness well on the option routes and shallow crosses that Urban Meyer features. He also caught a nice 50-yard four verticals pass working across the field. He caught everything thrown his way. Hall worked exclusively with the wide receivers during position drills.
As I've noted, the H or slot receiver is the most important receiver role in this offense. If Hall is able to perform the role as a wide receiver, it opens up so much else with him coming into the backfield from the slot.
Devin Smith looked more versatile and was featured on flash screens and hitch routes, attempting to get him the ball quickly. Him becoming a more well-rounded receiver would be a big assist to the Buckeye offense.
Decker certainly looks the part. It is difficult to get much feel without pads, but he seems to have the inside edge to start at RT. Farris has been praised, but has more of a guard build. 
Bri'onte Dunn filled in at times for Carlos Hyde with the ones. By contrast, Rod Smith worked with the twos. Dunn looked really smooth, and if he has the playbook figured out he could certainly earn playing time. As for Hyde, he looks slimmed down and ready to go. 
Turning to defense, Grant looked more comfortable at the middle linebacker position. This was particularly true in pass drops. But he still gets lost at times. At one point, Vrabel told him he didn't want to see him on the field any longer and he was replaced by Josh Perry. He later came back in, though.
It was interesting seeing Perry at Mike linebacker. The fact that OSU was in nickel the entire practice underscores that the real battle is for the top two linebacker spots. Being the 'sam' linebacker is definitely the consolation prize. I would not be surprised to see Perry start at Mike.
Doran Grant looks ready to start now. By contrast, freshman Eli Apple repeatedly got earfuls from Coach Coombs. It's only his first practice, and the old adage goes the worst that can happen is that a coach ignores you, but the remaining defensive backs have a long way to go to pass Grant. Bradley Roby had two interceptions (one a pick-six breaking on an inside slant route throw by Miller) and looks like the All-American that he is. 
I overheard Coach Marotti say that Barnett was the heaviest safety at 205. The safeties are all fairly lean and long.
Tyvis Powell was the first-team star. This is an extremely important position battle. The star will play at least 70% of the plays. With Devan Bogard still out and Vonn Bell not yet on campus, Powell has a good shot to lock down the position. 
Jamal Marcus has moved to the LEO position. He was third team behind Spence and Steve Miller.
Schemes
Ohio State was pretty advanced scheme-wise, particularly offensively. This is the benefit of having your coaching staff returning intact as well as nine offensive starters back.
In the run game, OSU worked on their two base run plays, namely inside/tight zone read and inverted veer/power read. The QBs worked on their reads during positional drills, and they repped the plays in group and team. The offense also extensively repped throwing the flash screen off the inside zone action.  
Interestingly, OSU also ran inside zone read from the pistol. Urban Meyer is thus fulfilling his promise to install nuggets he picked up from analyzing the San Francisco 49er run game. This also allows OSU to stay in their pre-snap look without any last-minute tailback motion. 
In the passing game, the Buckeyes practiced much of their base passing game. This included follow, drive, mesh, levels, H-T option, H-T drag, smash, and china. OSU was particularly focused upon their inside option and crossing routes. As noted, this featured Hall, who showed a knack for making a quick first cut to separate from the underneath curl to flat defender.
OSU also worked extensively on quick game double slants. This is a change from last season when OSU ran little quick game. 
Defensively, OSU ran their base 4-2-5 over defense. As noted, OSU worked exclusively from nickel. This may be a reaction to last offseason. Then, the Buckeyes practiced very little nickel defense, but then played it at least 70% of the snaps in-season. 
The Buckeyes worked all their coverages. But they ran quite a bit of Q-Q-H, with Roby as the cover 2 flat defender. This was a continuation from the second half of the season, as it allows Roby to use his physicalness as a force player and jump routes.
The defense worked extensively on pursuit angles. In particular, a large emphasis was placed upon the star as playside force defender with the will linebacker providing 'leverage.'
In sum, the first practice underscored where the Buckeyes stand. The Ohio State offense is experienced and primed for an explosive season. The defensive front seven is where the Buckeyes must quickly grow. While the defensive line has plenty of talent, OSU's focus must continue to be upon filling the Mike linebacker and star nickel position.