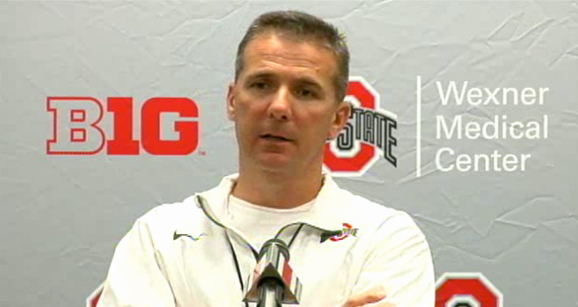 Urban Meyer held court at a presser following the first spring practice and if the theme of last spring was a "clown show," Meyer was noticeably positive about how he felt his team is coming along this spring. A few highlights:
On how the practice went: "It was fine. I'm not really concerned with attitude. Just concerned with the development of some players. After day one, I can't give you a whole lot, it's the first day in shorts, but we had a good attitude."
On who stood out: "Tyvis Powell (at star) and Pittsburgh Brown had good days."
On the weird calendar structure of camp, with spring break in the middle: "It's just the way the calendar works. This is early. I like it."
On Braxton Miller working out with George Whitfield: "I liked it because the last time we were allowed to coach Braxton was Friday before our rivalry game. Instead of sitting there and playing video games, he's working on the fundamentals of quarterback play. I love it." He jokingly added: "The quarterback guru working with Braxton Miller is a guy named Tom Herman."
On missing his leaders from last season: "The only thing I don't feel great about is when I look and don't see my leaders from last year... I grew to love those guys."
On the youth on the defensive side of the ball: "Defensively, there's a lot of young puppies running around out there."
On the punter situation: "We feel good with Drew [Basil] but we're keeping our eyes and ears open." On Frank Epitropoulos: "He's got a long way to go but he's got talent."
On the defense: "I'm glad Roby came back. You feel a sense of stability in the back end. I'm worried about the d-line, but there's some talent there."
On the defensive line: "Noah Spence and Adolphus Washington have a leg up [because they saw action last year]. Guys like Steve Miller have to get going. Chris Carter -- how much longer is he going to be here? Last time I checked, you could only redshirt once. It's time to go play."
On Roby's two-pick afternoon: "He's one for one. I'm going to grade him every day. You either did your job or you did not."
On the receivers: "They looked better today."
On Braxton Miller: "I thought Braxton had a heckuva day... a heckuva day. I thought he was outstanding today." Said his footwork was outstanding.
On clown shows: "I think the appropriate term was 'clown show' at this time [last year]. It didn't feel like a clown show today."
On Jordan Hall: "Boy was he great today. Didn't bat an eye. He was great."
On Curtis Grant: "A lot of focus is on him right now. It looked pretty good to me. Do we still have hope? Absolutely, yes." Meyer also said David Perkins is running with the 1s.
On what needs to come together: "If we put together a good D-line and linebackers we'll have a good team. If we don't, we won't. It's that simple."
On his Champion's Club: "Certain guys will get an opportunity to eat steak; others won't."
On Tyvis Powell: "Tyvis earned the right this offseason… I really like him, by the way."
Half joking about creating a "Fragel Award": "He was a below average football player that had a very good season for us."