Oftentimes in recruiting conversations, especially in Ohio State circles, fans like to bring up the prospects that were rated lower coming out of high school that went on to flourish at the college level.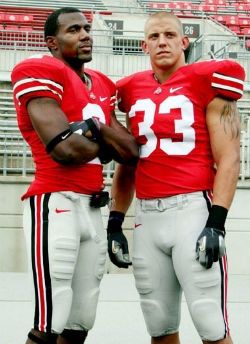 Buckeye fans often like to throw out the names of AJ Hawk, Troy Smith, Malcolm Jenkins, James Laurinaitis, and others. Year in and year out they look at their new recruiting hauls to see who could be the next three-star prospect turned stud in the group.
But what many of these fans fail to realize is that for every two and three-star prospect their team brings in and turns into NFL talent, there are plenty of four and five-star recruits that end up never reaching their potential for one reason or another.
This thought got me curious and led me to do some digging. After some brief research, I found that in each recruiting class there's a pretty solid balance overall of players that were rated high and reached their potential, players that were rated high and ended up being busts, players that were rated low and went above and beyond expectations, and players that were rated low and were career backups.
Case in point, each year this balance is going to be pretty consistent across the country, as well as at Ohio State and it's certainly interesting to take a look at the last six or seven years that you can evaluate at this time to see it for yourself.
In this segment we'll do the work for you, and take a look at those Ohio State recruiting classes from 2004-2010 to see which prospects turned out to be "diamonds in the rough" and which turned out to be "big-time busts".
Diamonds In The Rough
For the "diamonds in the rough" criteria I looked mainly at three-star recruits and below, according to the Scout.com rankings. When you get a three-star recruit, on paper you are basically saying there is a 50/50 chance he will end up being an impact player, so those that do go on to live that fate are nice finds.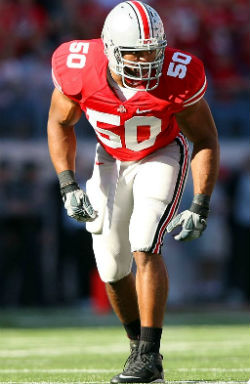 In 2004 these players included P AJ Trapasso, RB Antonio Pittman, DE Vernon Gholston, DT Nader Abdallah, FB Dionte Johnson, and LB Curtis Terry.
Of note here would be Pittman, who went on to star as a two-year starter at OSU before leaving early for the NFL, as well as Gholston who was the 39th-ranked defensive end in the country and ended up as a top 10 pick in the NFL Draft.
Nader Abdallah, as the 44th-ranked defensive tackle, and Curtis Terry, as a two-star linebacker, also contributed above expectations in Columbus.
The 2005 list features CB Malcolm Jenkins, LB James Laurinaitis, S Anderson Russell, LB Austin Spitler, CB Donald Washington, and WR Brian Robiskie. All of these players were starters during their career at Ohio State and while Jenkins and Laurinaitis stand out, the other players mentioned certainly exceeded expectations based on their rankings.
Jenkins was the 28th-ranked safety, Laurinaitis the 45th-ranked linebacker, Russell the 84th-ranked running back, Spitler the 87th-ranked linebacker, Washington the 90th-rated wide receiver, and Robiskie didn't even get nationally ranked at wide receiver. All of these players went on to the NFL, so that says a little something about talent evaluation in this class.
In 2006 the diamonds were DT Dexter Larimore, OL Bryant Browning, and CB Chimdi Chekwa. Larimore and Browning were three-star prospects and Chekwa was a two-star prospect, but all three were impact players and starters for at least one year during their tenure in Columbus.
2007 brought in no diamonds (but six busts mentioned below, unfortunately). Definitely not a proud year for Jim Tressel on the recruiting trail, but there were many four and five-star players who did pan out, such as Cam Heyward, Brian Rolle, Jermale Hines, Boom Herron, and Dane Sanzenbacher.
2008 was like 2007 in that many prospects performed as they were predicted to, but gems included P Ben Buchanan, CB Travis Howard, and S Orhian Johnson. All three were three-star prospects that ended up being starters during their time in Columbus and played integral roles in last year's undefeated season.
The 2009 players included RB Jordan Hall, FB/LB Zach Boren, and QB Kenny Guiton.
Hall is returning for his fifth season this year after being granted a medical hardship. Many thought he was brought to Columbus because of his relationship with Terrelle Pryor, but it turned out Hall has been a big-time playmaker for the Buckeyes, even earning captain honors last season.
You all know the story on Boren by now and it is certainly a good one. "Justin's younger brother" turned into much more than that, not only emerging as one of the nation's top fullbacks, but also becoming the Buckeyes' starting middle linebacker halfway through last season.
Guiton was brought in as a last-minute, emergency option at quarterback in the 2009 class, but he has emerged as an outstanding backup option to Braxton Miller. If nothing else, Guiton was worth his performance and late-game heroics in OSU's 29-22 overtime victory over Purdue.
Finally, the 2010 group is tough to judge in whole at this point, but the players standing out right now that were not highly rated are K Drew Basil, CB Bradley Roby, DT Johnathan Hankins, and CB Adam Griffin.
Basil is set to enter his third season as the Buckeyes' starter at kicker, and will also handle punting duties this coming season.
Roby was rated as the country's 44th-best cornerback coming out of high school, which is ironic, because some have him as the first at the position off the board in the 2014 NFL Draft. There was no questioning Roby was a great athlete coming out of high school, but he really flourished once the Bucks decided he was a corner not a receiver and he is rewarding them big time.
Hankins was probably too heavy as a high school senior, but his will to work and athleticism for his size brought him from the 48th-ranked defensive tackle to early entree for the NFL Draft. Hankins' stock is dipping a bit right now, but he is still expected to be, at worst, a late first-round or early second-round selection.
Griffin was a post-Signing Day addition to the class when there was a spot open and many thought Archie's son was given the spot as a favor to pops. In fact, there have been rumors swirling since he signed that Adam would eventually give up his scholarship to free up space for an elite talent and allow the benefit of having a father employed by the university kick in. Neither of those turned out to be true and the younger Griffin is carving out his own legacy as an important member of Ohio State's special teams units. 
Griffin will compete for a cornerback spot this spring, although he's unlikely to win the job, but nonetheless he has gone above and beyond most's expectations for his impact in Columbus. Adam's contributions remind me of Shaun Lane's from a few years back and as long as he continues the solid work on special units, there will be a place for him on Urban Meyer's roster.
Big-Time Busts
While diamonds in the rough consisted of three-star players and below that turned out to contribute during their time in Columbus, busts are four and five-star prospects that did not meet expectations, whether that be because of on-field performance or injury.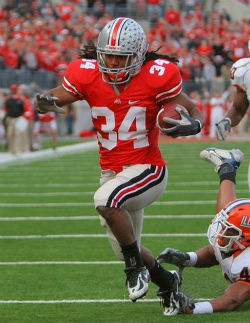 In 2004 the busts included LB Chad Hoobler, OL Kyle Mitchum, S Sirjo Welch, OL Ben Person, and WR Albert Dukes. Hoobler was rated as the nation's fourth-best tight end coming out of high school, yet flamed out once moved to the defensive side of the field. Mitchum and Person were 7th and 17th in the country, respectively, on the offensive line and neither made a big impact at OSU. Finally, Dukes was pegged as "the next Santonio Holmes", but never amounted to much more than a few flashy plays during spring practice.
2005 brought four busts to the table in QB Rob Schoenhoft, RB Maurice Wells, CB Jamario O'Neal, and LB Freddie Lenix. Lenix never made it to campus, but the other three certainly did. Schoenhoft ended up transferring to Delaware, Maurice Wells, not completely to his own fault, was never the change-of-pace speed back the Bucks hoped for, and O'Neal went from nation's third-ranked corner to ultimately a career backup.
In 2006 the Bucks brought in QB Antonio Henton, OL Connor Smith, LB Mark Johnson, and DL Robert Rose, and all four never panned out. Henton was the country's 13th-best signal caller, but couldn't stay focused off the field, leading to his eventual departure. Smith, a high school All-American, never started for the Buckeyes and ended up being one big colossal bust. Johnson quickly transferred out of the program and was never heard of again. Finally, Rose played the most in the group and was a contributor during his time in Columbus, but also had off-field issues and never lived up to his billing as the nation's fifth-ranked defensive end and Army All-American honor.
2007 was a big year for busts and the list includes S Eugene Clifford, RB Brandon Saine, S Nate Oliver, CB James Scott, and WR Taurian Washington. Clifford, who got into trouble off the field, and Scott, who transferred to Ole Miss, barely played for the Buckeyes. Oliver and Washington, known as a spring game star, contributed while in Columbus, but were career backups. Finally, many wouldn't consider Saine a bust, but I am putting him on this list as he was the 11th-ranked running back in the country, yet only ran for 1,408 yards and 9 touchdowns in his career. Injuries certainly contributed to that and I am happy to see his finally sort of reaching his potential in the NFL.
2008 was a better year and the group that didn't work out was made up of WR Lamaar "Flash" Thomas, DT Willie Mobley, and DE Keith Wells. The most disappointing in the group was Thomas, who many thought would bring the Buckeyes speed they were missing since Ted Ginn Jr., but he had trouble with the transition to wide receiver and transferred to New Mexico. Mobley was lost on the depth chart and went to Arizona, while Wells couldn't get it together in the classroom and was last seen at Ohio Dominican last season, before getting the boot there due to grades.
In 2009 the list features LB Dorian Bell, DE Melvin Fellows, RB Jaamal Berry, S Jamie Wood, WR Duron Carter, LB Storm Klein, CB Dominic Clarke, WR James Jackson, and DE Jonathan Newsome. It is certainly a long list and includes players that didn't work out for multiple reasons.
Fellows and Wood fall into the category of medical reasons. Fellows was the #3 defensive end in the country, but never was healthy during his time in Columbus. Wood was the #9 safety and an Army All-American, but has been battling a shoulder ailment and is giving football one more go this spring.
Bell (#2 WLB), Berry (#8 RB), Carter (#10 WR), and Clarke (#26 CB), all left Columbus due to off-field issues. Bell wasn't getting it done in the classroom and is trying to revive his career and attitude at Duquesne. Berry had some non-physical health issues going on and is trying to bounce back at Murray State. Carter couldn't stay off X-Box, and thus couldn't get a good grade, and his journey took him from Columbus to JuCo to Alabama to Florida Atlantic and now to the NFL Draft, after playing in just his freshman season. Finally, Clarke got in trouble due to a air-soft gun incident and clashed with Meyer upon his hiring, ultimately showing him the door.
Jackson could never seem to get going and left the program on his own merit, despite being a four-star wide receiver. Klein, the #10 SLB, started a bit while at Ohio State, but never reached his potential and had off-field issues last season.
Finally, in 2010, busts were #3 MLB Scott McVey, #29 WR James Louis, and #32 WR Tyrone/T.Y./Ty Williams. McVey never got to see the field due to a chronic shoulder injury that put him on medical hardship. Louis transferred closer to home at Florida International, but left us with many great Twitter memories and earned the nickname "Keyboard James". Williams was supposed to be the big receiving red zone threat the Buckeyes needed, but was a knucklehead, for lack of a better term, and left the program for Ohio Dominican.