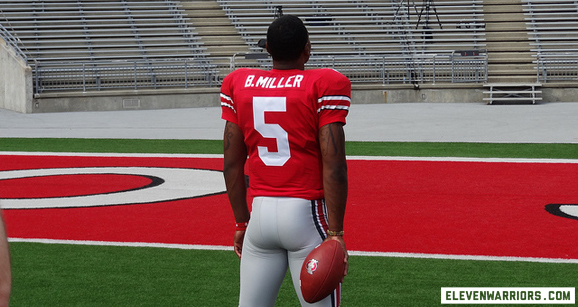 A lot can happen in 105 days. That's when Ohio State last played a football game, defeating Michigan to polish off a perfect 12-0 season. Instead of sulking about a postseason ban, players have been working out and coaches spent the winter recruiting.
It adds up to a hungry football team that got even better with one of the nation's top recruiting classes. When Ohio State takes the practice field for the first time this afternoon in preparation for the 2013 football season, it does so with a target on its back – and expectations.
It's been three seasons since the Buckeyes entered the spring thinking national championship. But with 51 lettermen returning, including nine offensive starters, there's a reason the anticipation for the Aug. 31 season opener versus Buffalo has reached a fever pitch – even if it is the Bulls and not the Bills.
Just last week, star quarterback Braxton Miller graced the cover of Sports Illustrated – in February. Anything less than a national championship, not just playing in the game, will be considered a failure by many.
When Urban Meyer is your head coach, high hopes seem to be an every year occurrence. Turnarounds are his hobby and Year 2 is his specialty.  Meyer is a whopping 34-4 during second seasons spent at Bowling Green, Utah and Florida. That includes a national championship, an undefeated season, two BCS wins and two conference titles.
"Year 2 is kind of a definitive year," Meyer said. "There used to be a time where you could go build a program and that really doesn't exist anymore. You've got to win.
"It's exciting knowing what we accomplished last year, but we're not even close to the potential that we think we can be."
Those victories will pile up thanks in large put to a potent offense. Ohio State averaged a Big Ten-best 37.2 points per game a season ago and ranked second in the conference in total offense and yards per game. 
Of course, Meyer's satisfaction level was low. So what did he do? Had his group of assistants scour the nation for players that will make an immediate impact on the field. Playmakers, both on offense and defense, were secured. Of the 24 commitments, 18 are four or five stars. A handful occupy the offensive skill positions and could be the missing piece that pushes the Buckeyes to their full potential.
"We maybe didn't have the home run hitter explosiveness, open space players on offensive," Meyer said. "But you know what, some guys really grew up and did a good job for us."
At the forefront are Miller and his school record-setting performance.  He totaled well north of 3,000 yards and 28 touchdowns in 2012. Still, Miller is far from a finished product, which prompted a winter visit to San Diego, where he learned under the guidance of quarterback guru George Whitefield Jr. Miller said mechanics were the main area where he wants to advance.
"There's a lot to improve on," offensive coordinator Tom Herman said. "We got a lot of work to do still. It's exciting knowing what we accomplished last year, but we're not even close to the potential that we think we can be."
Protecting Miller is a veteran offensive line that has suddenly become a strength of the team after a decade of underwhelming performances. Four starters return to a unit that cleared space for the nation's No. 10 rushing attack. The man who gained the bulk of those yards also returns. Had Carlos Hyde not missed multiple games in September, he easily would have joined Miller as a 1,000-yard rusher.
Playmaking receivers include Devin Smith, Corey Brown and Jordan Hall.
The concern lies on the defensive side, where the "heart and soul" of the team – John Simon – is gone.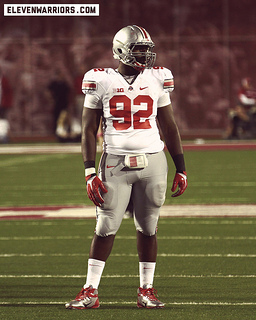 "It's a huge void," Meyer said. "Make no doubt about it. That was a huge part of the successful season.
"The good thing is we get to evaluate that. We're into the evaluation phase of that to see who can fill those roles."
Not to be diminished is an almost completely new front seven. In all, there will be seven new defensive starters, including all four linemen.
Aside from Ryan Shazier, the linebacker position could be a revolving door until two replacements at middle and strongside. There's a plethora of freshmen and sophomores waiting for their opportunity at one of the glamour positions.
"Our D-line is not stable and our linebacker position is not stable," Meyer said. "So you throw the back end in that, we're dealing with an unstable defense. That's big."
It's not just linebacker where youth lurks. The defensive line will be inhabited with loads of talent but also inexperience. Ohio State has 47 scholarship players, or 57 percent of its total, that are underclassmen. With the lack of bowl practices, greenness becomes an even more pronounced obstacle.
But one welcome sight will be the return of fifth-year senior safety Jamie Wood. He's had an injury-riddled career at Ohio State after being a high school All-American. When news of a second shoulder surgery surfaced in January, it appeared Wood's Ohio State career had come to an end. 
That wasn't how he wanted the final chapter to be written, though. So when Ohio State trots onto the practice field at the Woody Hayes Athletic Center, Wood also will be donning the Scarlet and Gray. He was a special teams demon last season and will likely angle for that role again in 2013. But his experience and leadership in the locker room will be an invaluable source for the young Bucks.
Five of the Buckeyes' 24 recruits for 2013 will take part in spring drills – cornerbacks Eli Apple and Cam Burrows, defensive linemen Tyquan Lewis and Tracy Sprinkle, and quarterback J.T. Barrett.
And that's where that lingering question about leadership comes into play. With so many players on the team that haven't been in the trenches with a championship on the line, Meyer has already given pause to outside pressures.
"Our mantra is going to be truth and it's going to be fundamental improvement," he said. "Truth means exactly that. You have a good season and there's a lot of conversation about a lot of things that really shouldn't be discussed because it's not true.
"There's a lot to be done."