Spring football may be just a day away, but you know that as excited as Urban Meyer is to see what he has for the 2013 season, he's been focused just as much as putting together another top-rated group with his recruiting class of 2014.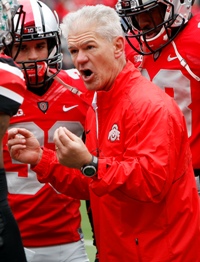 Defensive back was an area the staff really honed in on in 2013, and they did well, landing true defensive backs Vonn Bell, Eli Apple, Cam Burrows, Gareon Conley, Jayme Thompson, as well as athletes Darron Lee and Chris Worley, both of whom could end up at safety or star in nickel packages.
While this past year's class should help reload the defensive backfield, Bradley Roby is likely to depart for the NFL after this season, leaving a lot of young talent to step up in 2014. That makes the secondary a priority once again for this year's haul, and the Bucks are already off to a great start, securing the commitment of Detroit (MI) Cass Tech's Damon Webb.
In this final part of our "Forecasting 2014" series, we take a look at the top cornerbacks and safeties that are currently on Ohio State's big board. Naturally, this list is likely to change over the next year as the staff gets to see more prospects up close in camp settings and in games their senior year, but for now this should give a pretty good run down of who Kerry Coombs and Everett Withers could be mentoring over the next couple of seasons.
Tier 1
Starting at cornerback, the elite prospects to fall into Tier 1 include Tony Brown, Jabrill Peppers, Nick Watkins, Jalen Tabor, Damon Webb, Parrker Westphal, DJ Smith, and Kalvarez Bessent.
Brown is very high on the Buckeyes and the Beaumont (TX) Ozen prospect has said he plans to get to Columbus for an official visit next fall. He also wants to try to get to campus this summer, a good sign for OSU, but right now LSU will be hard to beat. Not only is Brown high on Les Miles' program, but his sister runs track for the Tigers, making Baton Rouge a comfortable place to be.
Peppers is the best defensive back in the nation in my eyes, and the Paramus (NJ) Catholic star has OSU and Stanford on top of his list early, despite not having visited either school. Peppers is set to visit Columbus in early April, and I only expect his interest in the Bucks to intensify after that trip. He led his team to a state title this year after recording 80 tackles and 4 interceptions on defense, while also rushing for 1,552 yards on 172 carries with 18 touchdowns, and catching 20 passes for 337 yards with 5 touchdowns on offense.
Watkins, of Dallas (TX) Bishop Dunne Catholic, was a player the Bucks offered early, but they'll have to fight the powers of the South to land his services. The first step will be getting him to campus for a visit, but right now this one is looking like a long shot.
Tabor was high on Ohio State out of the gate, as both he and teammate Jonathan Haden were offered early. Since then, Tabor has cooled on the Bucks, citing the large amount of defensive backs brought in for 2013 as his reason for not holding Urban Meyer's program in as high regard as he previously did. He is an outstanding prospect who the Bucks will continue to chase, but this one is trending away from the good guys at the moment.
Webb became OSU's second verbal pledge for 2014, when he gave Meyer his commitment back on January 13. Webb is not only a big get as the nation's seventh-ranked cornerback, but he also hails from Cass Tech, a school that traditionally sends its top talent to Ann Arbor. Webb claims he is solid to the Bucks and will not be changing his decision, and the information I have confirms that. You can bet that won't stop UM or MSU from throwing everything they have at him, though.
On the opposite end of the spectrum, Parrker Westphal is a heavy Michigan lean, and it would be a shock if he committed to anyone other than the Wolverines. There's still plenty of time until National Signing Day 2014, though, and he has made multiple visits to Columbus, so don't count OSU out just yet. To repeat, definite long shot, but if Urban decides he wants to go hard after Parrker, it's game on.
Smith is one of many Georgia prospects to be offered by the Bucks and it's kind of unknown right now where things stand between the two parties. Look for a visit here, and if that doesn't happen, you don't have to pay much attention here. Word is Arkansas, Florida, Georgia, and Alabama are the favorites right now, so I expect an SEC decision eventually for Smith.
Finally, Bessent is another Georgia prospect the Bucks are looking at, but once again they'll have to fight with almost every big program in the South for his services. Just like with Smith, a visit to OSU would say a lot. If that doesn't happen, don't pay too much attention here.
Safeties in Tier 1 include Quin Blanding, Laurence Jones, Edward Paris, Todd Kelly Jr., Montae Nicholson, and Brandon Simmons.
Blanding always mentioned the Buckeyes amongst his favorites, but recently committed to Virginia and says he wants to commit others to Charlottesville. This one is far from over, but Urban and Zach Smith will have to work hard to flip Blanding, who has built up quite the rapport with some of the Mid-Atlantic region prospects.
Jones says he grew up a fan of Ohio State, but living in Louisiana it will be hard to pull him away from LSU and Alabama. Never say never, but I highly doubt Jones ends up in scarlet and gray.
Speaking of LSU, Paris just committed there last week and I don't expect the five-star prospect to flip to OSU if he ever flips throughout this process. He is an elite talent and another great get for Les Miles' team.
Kelly Jr. visited Columbus a few weeks back and is definitely a player the Bucks are in the mix for. His father played for Tennessee and he lives in Knoxville, so I think the Vols, with a new staff, have a nice advantage, while Clemson will be tough to beat as well. Right now you need to see how things play out, but the fact Kelly made a trip to Columbus on his own dime at least speaks volumes to where he holds OSU on his list.
Nicholson was born in Columbus and the Ohio State offer was one he coveted and eventually landed. Pittsburgh, Penn State, Michigan, and a few others are threats to snag him, but I think if OSU decides they really want him they'll make a strong move and land him. He is a big-time talent and I think his ceiling is very high, which is saying a lot for the nation's 11th-ranked safety.
Simmons is a teammate of Paris's, and both earned Ohio State offers around the same time. LSU would seem to be in good position here, as are Baylor and West Virginia, but I'm not sure a commitment is coming anytime soon. Simmons said he wants to visit OSU at some point, so look for that to happen before things get serious.
Tier 2
The list is a little smaller in Tier 2, but there is still plenty of talent. At cornerback the players include Quincy Wilson, Chris Lammons, D'Andre Payne, Kiy Hester, Chris Hardeman, JC Jackson, and Dravon Henry. At safety they are Darius West, CJ Reavis, Erick Smith, Nick Glass, Cortez McDowell, and Chris Williams.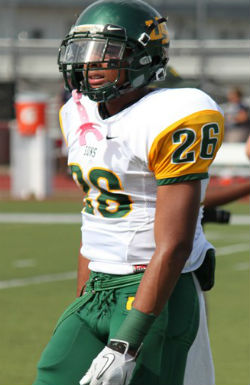 Wilson and Lammons are two prospects from Florida that both hold Ohio State offers and are high on what Urban Meyer has to offer. Wilson is a big corner that Kerry Coombs likes to work with, while Lammons is a bit of a sleeper prospect that is first starting to blow up. Both of these kids should visit at some point this summer and would be excellent additions to this class. A move to Tier 1 is not out the question for either.
Payne camped at OSU last summer, but there hasn't been much buzz about him and the Bucks. He is transferring to Friendship Academy this upcoming season and will play with Jalen Tabor in the secondary, forming one of the nation's best units. He does mention Ohio State amongst his early favorites, so keep an eye out to see how this one develops.
Hester just recently earned his offer from the Buckeyes, but the Wayne (NJ) St. Joseph Regional prospect already likes what he sees from Ohio State. He is technically categorized as an athlete and can play cornerback, safety, or wide receiver at the college level.
Hardeman, committed to LSU, and Jackson, committed to Florida State, are definitely long shots for Ohio State. I don't see Hardeman backing off of his early pledge anytime soon, and the same goes for Jackson. Definitely not an area to concentrate much time on for 2014 as of this moment.
Dravon Henry was in Columbus for The Game this season and came away from that trip really impressed with Ohio State. He says the Buckeyes have offered, but has put recruiting on the back burner for now while he finishes his basketball season. Hailing from Aliquippa, right outside Pittsburgh, the Panthers are reportedly the early team to beat, so we'll see how things go this spring and summer when he can get to see more schools.
West is one of the elite defensive players in the state of Ohio, but has not yet earned an offer from the Buckeyes. He says he keeps in contact with the staff often and expects a scholarship eventually, but for now he is focusing on getting ready for his senior season and the long list of offers he already has including Kentucky, Penn State, Missouri, Louisville, Vanderbilt, West Virginia, Purdue, and others. I think West is a very nice player, but for now is a backup option for OSU, should they miss out on some of the Tier 1 prospects they're going for.
Reavis is a four-star prospect from Chester, Virginia, and worked out at Ohio State's Friday Night Lights last summer. While he showed his wide range of skills at the camp, he still hasn't earned a Buckeye offer, meaning the staff is looking at him as a secondary option right now. Word is Reavis is high on Virginia Tech and UNC, but Virginia has made a run of late. Expect him to stay in the Mid-Atlantic region, close to home.
Smith is another outstanding prospect from Ohio, but unlike West, the Glenville star has an offer from the Buckeyes. Alabama, Michigan, Michigan State, West Virginia, Georgia Tech, and others have offered, but I would say chances are high this Tarblooder ends up playing his college ball in Columbus.
Glass, McDowell, and Williams are three more Georgia prospects the Bucks are in on and it was a very tough decision to put them in Tier 2. They are outstanding players who have offers from just about everyone across the country.
Glass is currently committed to Georgia, but I would say that's a very soft commit. He is supposed to make a visit to Columbus some time in the next few months and we will know more than about his feelings regarding Ohio State. Early word is that he is liking what Urban Meyer has to offer and is excited about potentially playing with some of his home state's top talent if OSU is the destination for them.
McDowell is uncommitted, but is considering the Buckeyes highly. He has a great relationship with Everett Withers, but Alabama, Georgia, Florida State, Georgia Tech, UNC, and a few other southern programs will be tough to beat.
Finally, Williams is a prospect we don't know as much about, but the Kingsland Camden County star lists offers of note as Alabama, Ole Miss, and UNC, in addition to the Buckeyes. Withers and Meyer are trying hard to get in at Camden County, as Williams is one of a handful of prospects the Bucks are recruiting for 2014.
Tier 3
While Tier 3 in other position groups can be considered "bottom of the barrel" talent, that is not the case with defensive backs. At corner, players in this tier are Alonzo Saxton, Devon Rogers, Vayante Copeland, and Troy Vincent. Safeties are Marcus Whitfield, Marcus Allen, Rashaan Gaulden, and Nathan Hall.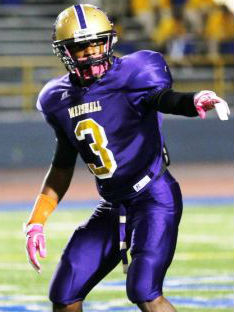 Saxton was probably considered the top defensive back in Ohio before a junior year injury, and now the Columbus Bishop Hartley star is on the comeback trail to prove to everyone he is worthy of his four-star status. It looks like Ohio State will be in "wait and see mode" with the 5-10/165 junior for now, but if the hometown school doesn't come through, Saxton still has offers from Wisconsin, Purdue, Northwestern, West Virginia, Illinois, Cincinnati, and Toledo.
Rogers is another local product, from Hilliard Darby, and can play cornerback, safety, or wide receiver in college. He has visited Ohio State multiple times, but it appears he's more likely to end up at a place like Illinois, where his Darby teammate Caleb Day is headed next season. Rogers is a great kid and a nice-looking athlete, but Columbus is an unlikely destination right now.
Copeland is a bit of a sleeper prospect from Dayton (OH) Thurgood Marshall and I am interested to see him camp this summer after hearing some rave reviews about his game. He holds offers from Minnesota, Michigan State, Ohio, Toledo, and Bowling Green, so word is starting to get out, but I expect that list to grow big time after hitting the camp circuit in the coming months. The Buckeyes are well aware of this athlete who notched 7 interceptions on defense, and also compiled 2,332 total offensive yards with 31 touchdowns at running back on offense.
Vincent, out of power Baltimore (MD) Gilman, is ranked as the nation's 13th-best corner, according to the 247 Composite, and has a nice list of offers, but is really lacking the "power offers" of other top-rated players, other than Michigan. I'm personally not as high on him as some recruiting services are though, and agree more with the 247 three-star rating. It seems the staff does as well, as they have not been in contact much with the son of former NFL star Troy Vincent Sr.
Whitfield, out of Massillon Washington, is another "sleeper" in my opinion and I expect his offer list, that includes only Toledo right now, to grow by a lot in the coming months. I know the Buckeyes have been in touch with Whitfield and he would commit in a second if he received his offer, but I don't think a scholarship is coming anytime soon. This is definitely a prospect the staff wants to see in camp, and has on the back burner, knowing he is a fan of the program and that they have other prospects ranked ahead of him on their list.
Allen reminds me a lot of Vincent, not only because they're from Maryland, but in the sense that he's a good prospect, not a great one. Unfortunately, 2014 is a year in which OSU has a smaller class and needs to aim for greatness, leaving players like Allen out of the fold. Maryland, Pitt, Penn State, and Rutgers seem to have the lead for the four-star's services, and I would be pretty shocked if OSU was mentioned from here on out.
Gaulden is another safety who I am a fan of, although I think I might like the Spring Hill (TN) Independence product better as a receiver. Ole Miss, Tennessee, South Carolina, Vanderbilt, Mississippi State, Kentucky, Nebraska, and others have offered, but I would be shocked if he doesn't stay close to home. Ohio State got a visit last summer when he and teammates came for a small one-day camp, but no offer has been made and unless that changes, nothing to see here.
Finally, Hall, out of Sylvania (OH) Southview, is another sleeper from Ohio that I think will get a long look from the staff this summer at camp. At 6-3/200, he can play either safety or wide receiver, and has received a handful of early offers from MAC schools. The Buckeyes, Michigan, Boston College, Notre Dame, Northwestern, Michigan State, NC State, and others have all been in touch, leading me to believe with a solid performance at combines and camps, he'll start to blow up. Let's just say there's a reason he's rated as a four-star prospect and the No. 26 athlete in the country by the 247 Composite.