Hello Friday, we've been looking for you!
I'm going to take a page out of Sports Illustrated's playbook and put basketball chatter on pause for a moment, because: FOOTBALL!
Not too long ago, Twitter started allowing users to download the "archive" of their tweets. Mine was recently made available, so I skimmed through it, out of curiosity. In doing so, I came across a post of mine from the preseason, which you can read here if you'd like, where I asked several college football writers and media personalities to give their takes on the then-upcoming 2012 Ohio State season. 
While it's easy to remember the semi-cautious optimism that Buckeye fans had about what the first year of the Urban Era had in store, I was a tad surprised when I went back and read just how cautious others were in their expectations for Urban Meyer's first year at Ohio State. 
"I'd consider nine wins or more a successful season or eight plus a win over Michigan – given how shaky 2011 was and the sanctions taking away post season hopes." - Bruce Feldman
"I'd call any record better than the 2011 regular season a success." - Andy Staples
I guess it's easy to forget these predictions were following a 6-7; however, if anyone deserves a little gridiron recognition, even if it is March, it's Urban Meyer.
 SLOPPY SECONDS. Speaking of the major turnaround under Urban Meyer, Wednesday brought reports (and LOLs) that Michigan State was hiring Jim Bollman as offensive coordinator after a whopping six weeks at Purdue. There was no confirmation from Dantonio or Michigan State on Thursday, but all signs still point to Bollman being the next Sparty play caller. Three points I'd like to make here:
1. Most of us (and I say most, because I've found a Bollman apologist or two, on occasion, so apparently you people exist) have already said what's to be said about Bollman, the job he's done, and our inability to comprehend how he gets job after job. I mean, we are facing a tough economy, right? However, in case you're looking to kill time at work on this fine Friday, very few have said it as well as our very own Ramzy, back in January of 2012. 
2. Who suffers the most here? I'd say Sparty, but it appears it may actually be someone by the name of Dan Monteroso. Monteroso, who had been recruited by Bollman, had originally committed to Boston College, but flipped over to Purdue once Bollman headed to West Lafayette. Depending on what the kid decides to do, this might actually be good for him in the long run, but it does make you wonder what exactly Bollman is selling on the recruiting trail.
3. What's more hilarious about this article: The Detroit Free Press referring to Bollman as an offensive "guru" or the comment section?
 DÉJÀ VU. Ohio State overcomes a second-half deficit to beat the Northwestern Wildcats by ten. Why does this sound so familiar? Oh. 
The Buckeyes came out stronger against Northwestern this time, in Evanston, going into halftime up seven, after gaining a 12-point lead just over ten minutes into the game, with a lot of credit going to Lenzelle Smith Jr.'s three-pointers early on, and his overall season-high 24 points, six rebounds, and three steals. Deshaun Thomas also came up big, particularly down the stretch, with 19 points and seven rebounds.
While a 13-15 Northwestern team shouldn't have been considered a threat — particularly when coming into the game with a five-game losing streak — a victory is always nice in a week of upsets. Now, with March officially here, and questions swirling as to how long the Buckeyes can last in the tournament, the more urgent question is whether or not Ohio State can knock off a pissed off Indiana team on Tuesday. Luckily, Thad knows how to get mad too.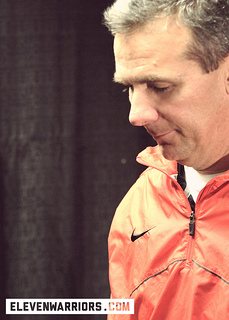 SPR1NG. Brian Bennett of ESPN.com covered what all the B1G teams are focusing on in spring ball, and what is really fueling their sense of urgency this year. At the top of the list of priorities for the Buckeyes this season: working on the overall passing game, and improving on Braxton Miller's throwing mechanics.
Most interesting was the part about the Big Ten's overall performance in recent years:
After all, 10 full seasons have passed since a Big Ten team last won a national title. The league has one Rose Bowl victory in the past 13 years and none since 2010. After last year's dreadful nonconference showing, the Big Ten should be thankful for the renewing spirit of spring.
Ten years since a national title? Man, that's rough. Who won that one, again? I forget.
One Rose Bowl victory in the pasts 13 years? That's crazy. Who won that one? 
Last year's dreadful nonconference showing? Hmmmm. Who didn't contribute to that? (Unless you're going beyond the "SCOREBOARD" litmus test.)
Seriously, other teams of the Big Ten, Ohio State doesn't appreciate this reputation you're giving the conference. Step up your game. (And stop hiring Bollman, for crying out loud! I'm not sure doing the exact opposite of what Urban Meyer does should be considered a viable strategy.)
Disclaimer to the preceding rant: I honestly do think the sky-is-falling narrative regarding the Big Ten is a bit overboard. Or did I just miss the memo that it's catastrophic if the 5th-ranked team in a conference travels over 2,000 miles to play the 2nd-ranked team in another conference at the Rose Bowl (in the home state of the latter team) and loses a one-score game?
Ok. I could go on, but I won't. Both my rants are over now. 
 THIS CAN'T BE REAL. Seriously, Adidas? Ohio State isn't an Adidas team, so I suppose it shouldn't matter, but for the sake of humanity, I hope these new uniforms that were just unveiled for six, lucky Adidas teams that will be wearing them this month are a practical joke.
This isn't even a joke, this is a serious question: is there not a risk that these uniforms could cause seizures? Also a serious question: does the Notre Dame one not look like a McDonald's Shamrock Shake? And: Zubaz? Are the Gronkowski brothers designing for Adidas these days? Want to know why those players look so mad? BECAUSE LOOK AT WHAT THEY ARE WEARING!
Is this the most question marks in one Skull Session topic, ever? I think so, but: WTF?
 LINKS. LINKS. LINKS. He should just pay them back in free tank tops... My absolute favorite story of the week... What a great opening... She is possibly my new favorite human being on the planet... Here, now your day doesn't look so tough... Are you guilty of this?