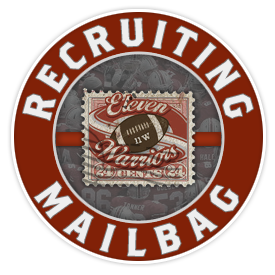 We're back with another mailbag as things begin to heat up again on the recruiting front with spring practice resuming. Ohio State finds itself with four verbals for the class of 2014, but there's a good chance that number increases by the end of spring ball.
Throughout the upcoming weeks many Buckeye targets will be traveling to Columbus to watch practice and to see the Ohio State coaches in action. Kerry Coombs at work is always great theater, and recruits being able to see how they'll be used and taught is a key tool at the coaches' disposal.
If you're worrying about a slow pace, don't. The timing of how the class has come together so far has nearly mirrored what took place for the 2013 recruiting class, when the Buckeyes had five commits at this time. As Mark Pantoni stated almost a year ago after the onslaught of early Michigan commitments, this is a marathon and not a sprint.
You may also recall that Ohio State's class of 2013 went on to finish as a consensus top-three class nationally, so take deep breaths and remember that the Buckeyes have Urban Meyer and other schools do not.
In this version of the mailbag we take a look at the Kyle Berger situation, the current status of the quarterback targets, and what offensive linemen may end up in scarlet and gray.
What's the deal with Kyle Berger?
As I mentioned in the recruiting forum, Cleveland St. Ignatius LB Kyle Berger is a battle between arch-rivals Ohio State and Michigan. What once was a sizable lead for the Buckeyes is now more of a toss-up, thanks to the efforts of Wolverines' commit LB Michael Ferns and defensive coordinator Greg Mattison. Berger is visiting Ohio State this weekend and it is a critical one for the Buckeyes, because he wants to make a decision this spring.
In your personal opinion, do you see any chance Jalen Hurd or Quin Blanding flip to the good guys or do you think that they are recruits that stick with the home-state team on National Signing Day? 
It's difficult to predict the future that far in advance but my answer now would be that they stick with their original commitment. I've heard nothing that would make me think otherwise. The only scenario I could see a possible flip would be a significant coaching change. Tennessee has a new staff so that would likely only be possible for Quin Blanding's situation at Virginia.
What is going on behind the scenes? It seems to be pretty slow right now. What's the deal on the quarterbacks? Why was Henderson's visit canceled? Do the 2015 offers show us the staff is going all in on Watson and not pursuing any other quarterbacks?
As previously stated, Ohio State's recruitment is progressing at about the same pace as last year's and that class was one of the best ever assembled in Columbus. Worrying about recruitment at this juncture would be very premature. 
Caleb Henderson's visit was rescheduled for this upcoming weekend, due to a scheduling conflict for the original date. Henderson still holds the Buckeyes in very high regard and an offer to him at some point is not out of the question. The staff contacts Henderson and Kyle Allen regularly. The 2015 quarterbacks would have received offers regardless, because getting a leg up and starting early is essential. It worked out for Clemson who now have the pledge of Deshaun Watson.
What's the latest on the posse of Georgia standouts?
LB Raekwon McMillan will be visiting the first few days of April, and the plan is that he will be joined by ATH Myles Autry. Ohio State remains in very promising position for McMillan. With Autry, it's a little harder to read, but the visit will bring a little more clarity. WR Demarre Kitt will also be making a return visit to Ohio State's campus during the first week of April in what appears to be a huge week for unofficial visitors in Columbus. Whenever recruits are willing to travel long distances multiple times for unofficial visits, it is something to pay attention to.
Who will be the next recruit to drop into the "committed" column?
It is always difficult to time when recruits may decide to publicly announce their college choice but I will pose two situations that make sense.
LB Dante Booker has visited Ohio State multiple times and has not spent too much time on any other campuses. This upcoming weekend Booker and Akron St. Vincent-St. Mary's high school compete for a state championship in basketball. It would be quite the feat if they were successful as they also brought in the championship hardware on the gridiron. With his pursuit for a ring in hoops coming to a culmination, it could open up time for Booker to get serious about making a college choice.
WR Derek Kief picked up an offer from OSU in the past month and will be visiting the Buckeyes unofficially at the end of the month. A verbal commit on the visit would not surprise me, but it may be determined by what he hears on his trip to Alabama this weekend. The Crimson Tide have already offered and if he likes what he hears and sees, he could consider Alabama moving forward. The Ohio State spring game is near Kief's home so I would also expect him to be on hand to see Meyer's squad for that as well.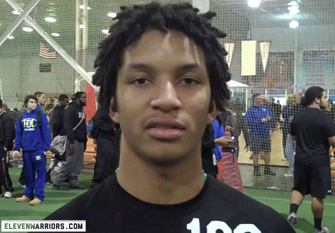 Do you think it's a possibility that Ohio State takes six offensive linemen in Kyle Trout, Marcelys Jones, Jamarco Jones, Jermaine Eluemunor, Chad Mavety, and Braden Smith?
Six offensive linemen seems unreasonable with the 82-man scholarship limit and 20 being the approximate number for scholarships available in this class. 
Jamarco Jones has the Buckeyes high on his list but will continue to consider other schools. Florida may be a school to watch as they are expected to have him in Gainesville for their spring game. Eluemunor is supposed to be in Columbus soon for an unofficial visit, as is Mavety. Both are linemen in the junior college ranks and it may be a direction the OSU coaching staff decides to go in with depth being a bit of an issue at the position. I have a hard time seeing a scenario in which two junior college kids end up in the class at the same position. Braden Smith just finished up a visit at Ohio State, but has many others he still plans on taking. It is too early to tell where the Buckeyes stand with the 5-star offensive lineman.
What are your thoughts on where OSU stands with Marshon Lattimore, Erick Smith, and Dante Booker?
I think Urban Meyer and company have to feel fantastic about their chances with Booker. Again, it is way too early to put any kind of label on Cleveland (OH) Glenville Academy prospects Marshon Lattimore and Erick Smith since they are approaching their recruitment very slowly. However, with them visiting OSU a few times already the Buckeyes are where they need to be. At this point, I'd be surprised if they didn't don the Scarlet and Gray.
Do you think Watson will come on a visit and do we have a shot at landing him?
Urban Meyer and Tom Herman will continue their efforts to nab a visit from the elite signal-caller. Clemson will continue to attempt to prevent that trip from taking place. With Watson planning to enroll early, the coaches have about eight more months to see if they can make any ground. If a visit to Columbus comes to fruition, it is game on. If not, there is no chance. My thoughts continue to be that Ohio State's quarterback in this class will come from somewhere else.
Where does OSU stand at landing the giant from up north Malik McDowell?
McDowell has not spoken of any leaders yet, but I believe Michigan is in the best position. When I last spoke to him around a month ago in Cincinnati, he mentioned that a trip to Ohio State was in the plans. It is a wait and see situation for the massive defensive lineman.
Many of us are curious about Garrett's visit to Ole Miss over the weekend. Did you hear anything substantial on his visit to Oxford and do you think the Buckeyes still tentatively lead?
As I expected would happen, Garrett thoroughly enjoyed his trip down south. He is enamored with the idea of the brand of football that is played in the SEC. He will take his process slowly and do all of his homework. At the end of the day I still fully expect to see Garrett taking his talents to the capital city of Ohio.