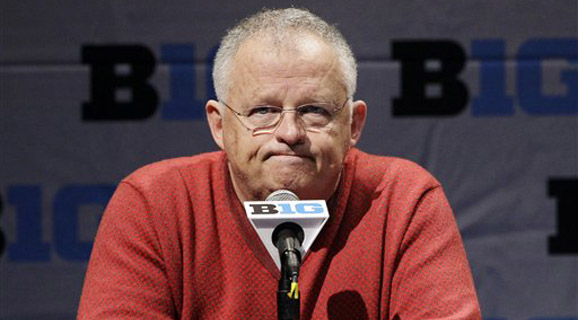 Ohio State women's basketball coach Jim Foster will not return, director of athletics Gene Smith announced today.
Foster coached at Ohio State for 11 seasons, compiling a 279-82 record. He is the winningest coach in the program's history and led the Buckeyes to a record six straight Big Ten championships from 2005-10, four Big Ten Tournament titles and a school-record 10 consecutive appearances in the NCAA Tournament.
He was named Big Ten coach of the year four times and just completed his 35th year as a college head coach. Foster has 783 career wins at St. Joseph's, Vanderbilt and Ohio State. He is one of only two coaches – men's or women's – to win at least 200 games at three different schools.
Ohio State finished 18-13 overall and 7-9 in the Big Ten this season, missing out on the NCAA Tournament for the first time in Foster's 11-year tenure.
"Jim Foster has meant so much to so many over his career," Smith said. "His work in mentoring young people on and off the court has been exceptional. The Ohio State women's basketball program was made better under Jim's leadership over the last 11 years. He and (wife) Donna have been wonderful representatives of our university and we wish them the best."

"I have known Jim for more than 25 years," Miechelle Willis, Ohio State Executive Associate Athletics Director and SWA, said. "We go way back to his days at St. Joseph's and mine at Temple. I have always had all the respect in the world for Jim's basketball mind and commitment to the development of young women in his programs. His contributions to women's basketball have been recognized nationally throughout his career. I am really appreciative of the 11 years that Jim has devoted to The Ohio State University."

A national search for Foster's replacement will begin immediately.