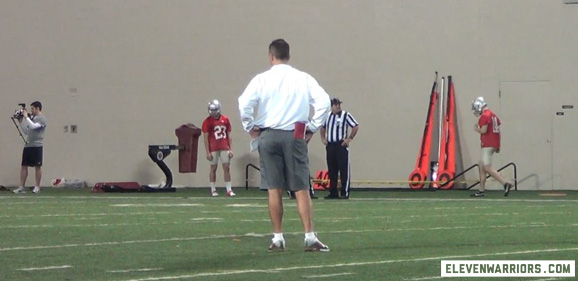 Spring practice resumed at Ohio State today after a week off for spring break. The calendar might say spring, but Mother Nature has other plans in the Midwest. Due to the blustery conditions and temperature plunging below 30 degrees, the Buckeyes were forced to practice inside the Woody Hayes Athletic Center.
Northern baseball teams often complain about the unfair conditions compared to those in the South. But football is a different animal. Despite being camped indoors every practice this spring, the quality of the play has not dipped.
Head coach Urban Meyer has three units – offense, defense and special teams – that have been readied to make a splash come fall. On that high-powered offense is one of the nation's most exciting players, dual-threat quarterback Braxton Miller. But he's surrounded with other weapons, including running back Carlos Hyde and H-back Jordan Hall.
That duo was on display today, going through and running around the defense. Hyde narrowly missed out on a 1,000-yard rushing season a year ago, while Hall's season came to a halt before it even began. Then, when he finally was healthy and productive, a season-ending injury put a clamp on things.
With a fifth year of eligibility allowing Hall to return to the field once more, he's taking every opportunity to become the playmaker Meyer yearns for. But a tweaked hamstring kept him out of drills on Day 3 of spring practice.
"(The spring) is critical because he's being cross trained at two positions," said running backs coach Stan Drayton. "But Jordan is a super football-savvy guy. He's been in the fire, he's super smart. There's not an issue with missed assignment. He's been in the scheme."
A guy still learning, but quickly coming along is Rod Smith. Fall security issues played a big part in his lack of playing time during his freshman and sophomore seasons. But the second half of last season acted as a springboard. 
A 30-yard dash through the defense today ended with a cocky flip of the ball. That earned Smith an earful from Drayton, who was none too happy about the incident.
"The first part was dynamic," he said, "could not stand the end."
"Rod's got to continue to grow. This is Year 2 in this system and he knows what he's doing. He's playing much more physical, playing fast and playing with a purpose. He wants to play."
With a stable of running backs, finding the field could be hard for some. Redshirt freshman Warren Ball showed why he was such a highly touted recruit with some exemplary runs on Tuesday. 
"Every day I'm going to wipe the slate clean because I watch these kids get better from competition," Drayton said. "That's the way it's supposed to be."
Hyde and PEAK
The most notable event – or events – during Carlos Hyde's breakout year of 2011 was his 104-yard, two-touchdown performance against Nebraska. The next week he didn't get a single carry.
Sure, Boom Herron returned. But it didn't sit well with Hyde, and he made sure to let everyone know by tweeting out his displeasure. Hyde apologized and everyone moved on. But his production and playing time dipped considerably.
When Hyde got an opening last season with Hall's injury, he took advantage and slammed the door shut on any possibility of him taking a backseat once Hall returned. Nearly 1,000 yards later, Hyde is the starting running back. Period.
"Carlos matured," Drayton said. "It became more than just about Carlos. That was the difference in his burst onto the football field last year. He cared more about his team and became more of a teammate. That's definitely the direct reason in the success he had."
"Carlos matured. It became more than just about Carlos."
Hyde scored 17 total touchdowns in 2012, using his body and running style to stymie defenses. It all culminated with 26 carries for 146 yards and a touchdown against Michigan. Following that game, Meyer said Hyde was developing into one of the best backs in the country.
That level of play has continued into 2013.
"He's 3-for-3 in what we call 'Grade the Day,' when each one of these kids walk in the meeting rooms they are graded," Meyer said. "There is still competition, but if he does what we saw at some points last year, I think he will be as good as any kid the country this fall."
Said Hyde: "This year, I want to just take my game to the next level. I want to make people miss instead of trying to just run people over. I feel like people are going to expect that this year coming up. My whole mindset in the spring right now is making the safety miss and making those big runs, those 60-, 80-yard runs.
"I definitely want to hit that 1,000-yard mark. That's a big goal for a running back. I definitely want to make that one of my accomplishments here."
Notes
Today was the first day in pads. No tackling, but it was still physical. Practice started with circle drill.
Jordan Hall has a tweaked hamstring. Coaches expect him to be at full strength soon, but don't want to rush him.
Meyer and Drayton both made it clear that they believe Hall can be the X-factor on offense. Urban said he has the potential to be great, not good.
Hall said returning for a fifth year was always his plan after the season ended. Urban was asked the same thing and said, "Where was he going to go, the NFL?" Then said there was no way that was happening.
Highlight of the day was Kerry Coombs unloading on an official after he called pass interference on Armani Reeves. Lots of expletives.
Urban to the team before practice: "This is the Chase, you have to go big."
Meyer said Thursday's practice two weeks ago was the best since he's been at Ohio State. He said there was rust today, but still OK.
Meyer joked that he was rusty too. He spent last week in Florida with family.
Best catch of the day went to Devin Smith from JT Barrett on a beautiful over-the-shoulder throw against great coverage.
There's been lots of talk about Barrett being great teammate. Well, I saw it firsthand today. Looks like the guy is a sponge. He always hangs around Braxton, Urban and Tom Herman when he can.
Braxton Miller was solid. Urban said he's 3 for 3 on good practices. He did throw a pick-six today, though.
Buckeyes used six DBs in some defensive sets today (3-2-6). Interesting look, but it was effective. The offensive line was definitely confused at times on the blitz.
Alignment: Spence, Bennett, Washington, Grant, Perkins, Powell, Brown, Roby, Grant, Bryant, Barnett
Defensive back group as a whole was impressive today. However, Doran Grant dropped an interception today, which resulted in he and the rest of his defensive teammates doing 10 pushups.
Tyvis Powell is one DB that continues to impress the coaches. Still out there with the first team. Pittsburgh Brown also showing good stuff.
Ryan Shazier remains out with an injury. It's still nothing serious. Philly Brown returned.
There were some great WR-DB battles. Philly Brown, Devin Smith, Michael Thomas, etc. going against Bradley Roby, Doran Grant and Co.
Curtis Grant still looks like a work in progress to me. He and David Perkins were with the 1s. Cam Williams and Josh Perry with the 2s.
Drayton said the offense operated at 60 percent last year. He's seen at it 100 percent while coaching at Florida. OSU still went 12-0.
Noah Spence is the most impressive defensive player. He looks unblockable at times. Even Mewhort and other experienced offensive linemen have trouble containing him.
The OL-DL matchups were entertaining. Taylor Decker impressed at times keeping Adolphus Washington from getting the edge.
There are a lot of young guys getting playing time. Reeves, Cam Burrows, Eli Apple, and Tyquan Lewis all were part of the second team, and some even got time with the 1s.
There were a lot of former Buckeyes on hand today including Jim Heacock, James Laurinaitis, Big Hank, Garrett Goebel, Bobby Carpenter, Troy Smith and Malcolm Jenkins.
Bonus
A few notes from Carlos Hyde, err, the newly minted @el_guapo34: "I got that from the @11w story. I liked that article."

— Jeff Svoboda (@JeffSvoboda) March 19, 2013
Hyde said he knows "El Guapo" means "the handsome one." Hyde: "I can't argue with that at all."