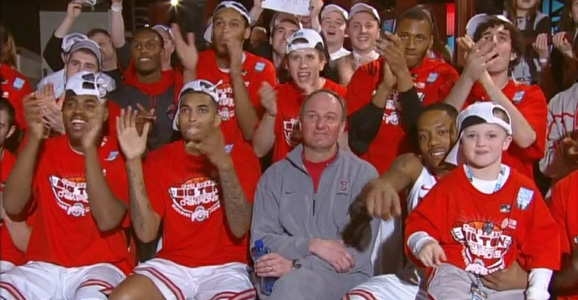 CHICAGO – Ohio State stood triumphantly on the United Center court, confetti falling, nets flailing. The Buckeyes had just won their third Big Ten Tournament in the past four years, fourth in the Thad Matta era and fifth overall.
But that conquest quickly took a backseat to a massive flat screen TV in the victorious Ohio State locker room. The NCAA Tournament Selection Show is a must-see event in the United States, and it doesn't just stop with fans.
Huddled together with the Big Ten Tournament championship trophy close by, the Buckeyes found out they'd be playing the first weekend of the tournament in Dayton, a mere 78 miles from Value City Arena.
Ohio State, a 2 seed in the West Region, will play No. 15 seed Iona in the first round on Friday. If the Buckeyes win, they'll play the winner of No. 7 seed Notre Dame and No. 10 seed Iowa State on Sunday.
Game times will be announced late tonight.
"Hopefully we hit our stride at the right time," Ohio State head coach Thad Matta said. "We have to go back to work. We've learned the past two years one bad half of basketball can end your season."
Potential regional semifinal matchups at Staples Center in Los Angeles include No. 6 seed Arizona, No. 11 Belmont, No. 3 New Mexico and No. 14 Harvard. The regional final and path to the Final Four includes No. 1 Gonzaga, No. 16 Southern, No. 8 Pittsburgh, No. 9 Wichita State, No. 5 Wisconsin, No. 12 Ole Miss, No. 4 Kansas State, No. 13 Boise State and No. 13 La Salle.
But the Buckeyes first must take care of business at UD Arena, which might be close to home but hasn't exactly acted as a kind host in recent years. Ohio State is 1-2 in the last three games in the venerable gym, losing as a 2 seed in the second round to No. 7 Georgetown in 2006 and as an 8 seed to No. 9 Siena in double overtime in 2009.
"The fun is just about to begin," said Ohio State point guard Aaron Craft. "We need to take it one game at a time, and hopefully there's more than one game we can play."
Ohio State drew a favorable road to the Final Four. The highest-ranked competition are both so-called mid-major programs – Gonzaga and New Mexico – and the rest of the higher seeds are arguably the weakest in the entire tournament.
First comes the Iona Gaels, 20-13 and champions of the Metro Atlantic Athletic Conference. But don't let that number in the loss column fool you; Iona can pose problems for major programs. The Gaels beat Wake Forest and Georgia this season and lost to Rutgers by two.
Iona possesses the country's second-highest scoring offense, averaging 80.7 points per game. Point guard Momo Jones, a transfer that led Arizona to the brink of the Final Four in 2010, is the nation's third-leading scorer at 23 points per game. The Jones-Craft duel will be one of the most talked about first-round storylines. Count Craft among the excited parties.
"Absolutely," he said. "They're a great team. Obviously there's no bad teams left in the tournament. They like to get up and push the ball up and down a lot. This is going to be a keep-your-poise game. We're going to see if we can have some fun with it."
One month ago to the day, Ohio State lost by 22 at Wisconsin. On Sunday, the Buckeyes defeated the Badgers by seven, a 29-point swing. Madness in Madison morphed into elation at the Madhouse on Madison for Ohio State.
The Buckeyes enter the NCAA Tournament on an eight-game win streak, with four wins coming against ranked opponents. Every team strives to play its best basketball in March, and Ohio State more often than not has been able to accomplish that under Matta. He is now 50-12 during college basketball's most competitive time of year.
High expectations were levied at this season's team, mostly due to the end result a year ago – the Final Four. But most saw a No. 4 national ranking a bit much in the preseason. The February swoon – three losses in four games capped by the blowout at Wisconsin – seemed to reinforce those thoughts. This hasn't been your normal year, though, and maybe Ohio State is just following the strange script in an unusual season. 
"I've loved this team the whole way through," Matta said. "I didn't know how talented we were going to be or how many games we could win. But I love going to practice with them, watching film and doing all those things."
A coach with equally impressive credentials as Matta is Gonzaga's Mark Few. For 15 seasons, the Bulldogs have been trying to beat down the door occupied by major programs. They finally did it this season, earning a No. 1 seed.
"Gonzaga gets everybody's best shot when they show up," selection committee chairman Mike Bobinski said during the selection show on CBS. "In our judgment that's a very complete and very strong basketball team, and in our collective estimation they deserve to be on that 1 line."
Few has gone to the NCAA Tournament in all 14 seasons at the Spokane, Wash., school. But he's never been able to guide Gonzaga to the regional final and has only reached the Sweet 16 three times.
One of those short stays was last season, when Ohio State beat Gonzaga in the second round, 73-66. A rematch would be for the Final Four.
Tournament success for the Buckeyes has been at every level except national champion during Matta's tenure. There has been a trip to the national championship game and a first-round loss.
One common denominator in the good years was playing well all of March. But anyone who believes there is a plan for March Madness is mistaken. The only thing known is that it's a three-week stretch of the unknown.
"It's all business," senior forward Evan Ravenel said.
Here's a look at Ohio State's group: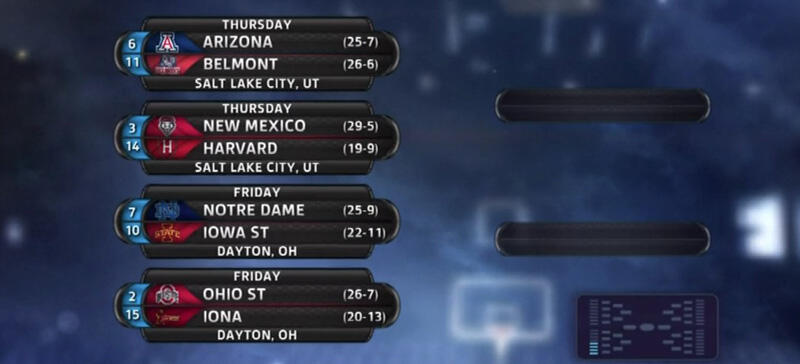 Finally, we want your bracket. If you come out on top, you'll take home a signed Jared Sullinger ball.