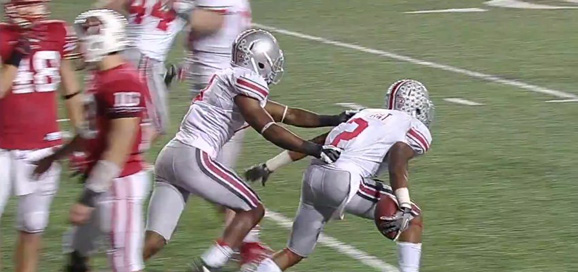 As you know, the 2013 Ohio State Buckeyes have a lot of defensive starters to replace. With only four returning starters — including none on the defensive line — the defense this fall will have more question marks than Frank Gorshin's Riddler suit.
Among those queries will be the usual ruminations on which young players will step up, which freshmen are likely to see playing time, who among last year's backups can make the leap, and whether or not the D can continue the evolution it began over the last quarter of 2012.
But perhaps the biggest question of all is: where will the defensive leadership come from in 2013? The Buckeyes will be as green as the Ohio Stadium turf on the defensive side of the ball.
As spring ball inches ever closer, now seems a good time to speculate about it (despite the fact we won't find out until September, if then).
Leadership is a squishy term to pin down. It goes beyond just being a good football player or making big plays on the field. It starts away from the field. It goes far beyond doing things the right way. It also entails getting teammates to do the right things, too. In Ohio Stadium. On the practice field. In the film room. In the weight room. In the community.
Ohio State will no longer have John Simon, one of the better team leaders in the last decade. Simon set the tone with his experience, his play on the field, and his natural ability to lead. Sadly, his eligibility is now as exhausted as the offensive tackles who tried to keep him off their quarterback.
The object of Urban Meyer's first man crush in Columbus, Simon's work ethic and ability to get others to follow caused his coach to gush like a smitten school girl at times. He even discussed the possibility of naming a kid after the bear-like defensive lineman.
(But who are we to judge? We all gushed over John Simon, and rightfully so.)
In addition to Simon, the Buckeye defense lost the rest of a veteran defensive line that included seniors Garrett Goebel and Nathan Williams, and junior Johnathan Hankins. All four players were leaders who provided stability to the youngsters who filled in around them in situational substitutions.
On the second level, the Buckeyes lost senior linebackers Etienne Sabino and Zach Boren. While Sabino made some plays throughout the season, it was Boren's leadership and aggressive, downhill play that turned the defense around. His stabilizing presence turned a leaky defense into one of the better units in the country in November.
In the secondary, Ohio State lost senior Travis Howard at one corner position and backup safety and starting "star," Orhian Johnson. Both players earned their keep and provided leadership by how they carried themselves on the field.
Who will lead the unit in 2013? It starts with a look at the few returning defenders. The defense returns senior safeties Christian Bryant and C.J. Barnett, junior cornerback Bradley Roby, and junior linebacker Ryan Shazier.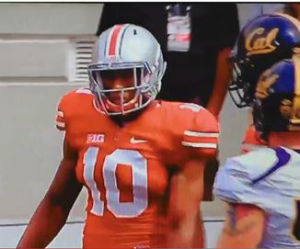 Meyer recently called Bryant the "emotional leader" of the defense, but acknowledged that he had no idea from where the leadership on his defense would come. Bryant and Barnett are both good candidates as team leaders. The Buckeyes will rely heavily on their safeties against both the run and the pass. Bryant will provide big plays, and inspirational ones. Barnett is a smart veteran who understands Ohio State's defensive philosophy.
Roby will be the unit's best returning starter. His playmaking will provide a beacon for his young teammates to follow. If he's a leader, this is the time to show it. It's likely he will grade out very highly and leave Columbus to play on Sundays after this year.
The secondary isn't a bad place to look for leaders. Ohio State has had plenty over the years: Malcolm Jenkins, Antoine Winfield, Shawn Springs, William White, Jack Tatum, Mike Doss, Neal Colzie, and Chris Gamble, to name a few. With all the young players lining up in front of them, the trio of Bryant, Barnett and Roby will need to step up and provide some form of leadership.
Shazier, like Bryant, will provide inspiration with his devastating hits and exciting plays. He's a vocal player. But can he lead? In his third season as a regular, and the only returning starter at linebacker, his teammates will look for him to do so. If he can, Ohio State's defense will benefit greatly by having one of its more dominant players showing the way.
Who else might show some leadership qualities?
Michael Bennett is a possibility. Bennett, a junior, will be a rare veteran on the defensive line. Quick and powerful, Bennett will make plays. That attribute alone will provide some sort of guide for his young linemates.
Among the younger returning players, Noah Spence, Tommy Schutt and Adolphus Washington will play a lot more in 2013. One or more may emerge as a leader. It's a bit much to expect a sophomore to be a team leader, but every once in a while it happens. Guys like Chris Spielman and James Laurinaitis come to mind.
At least one young linebacker will need to step up and make plays, if not provide some form of leadership. And, unless the team stays in the nickel, this defense might need two guys to do so. Joshua Perry and Curtis Grant could be those guys.
In the secondary, we'll likely see a lot more of Doran Grant. It's too early to say if he's the leader type.
Freshmen don't often become leaders. But is it possible that some of the newest Buckeyes will be able to provide some of that valuable attribute? It might be.
Guys like Joey Bosa, Mike Mitchell, and Eli Apple are guys who might be able to step into a leadership role early.
In the end, it doesn't really matter where the leadership comes from, so long as it comes from someone (or someones). The Buckeyes should have plenty of offense to win most of its games in 2013. Ohio State can be a good team without defensive leaders. But it can't be a great one unless at least one guy shows the others the way.