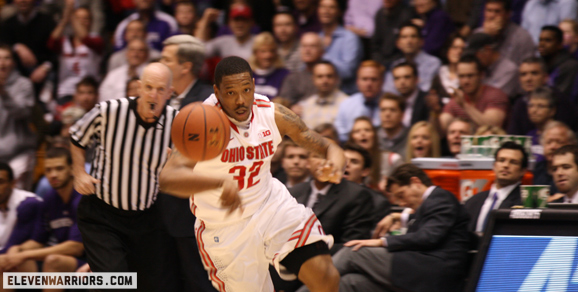 EVANSTON, Ill. – In a week when being a favorite meant walking the plank, Ohio State came out on top. But it's never easy in Evanston. Thursday night was no different, as they overcame a second-half deficit to win, 63-53.
The 16th-ranked Buckeyes made everything in the first 10 minutes of the game, roaring out to a 12-point lead. Lenzelle Smith Jr., who grew up less than an hour from Northwestern's campus, led the charge with four 3s – more points than he had in two games all of last week. But Ohio State scored just nine points in the final nine minutes of the first half to allow the Wildcats to hang around, trailing 29-22.
When Northwestern converted its first four field goal attempts in the second half, it was game on. The Wildcats lost narrowly the past two times Ohio State came to Welsh-Ryan Arena, and despite being down to seven scholarship players three weeks ago, Northwestern nearly upset Ohio State in Columbus.
Entering Thursday, Northwestern had lost five straight, including the past three by a combined 80 points. That was all irrelevant, though, in the second half.
"Maybe they just have our card," Smith said.
A 12-3 Northwestern run cut the advantage to two, with the Wildcats grabbing the lead midway through the second half. Helping Northwestern was four point-blank misses by the Buckeyes. Ohio State would trail twice, only to overcome the Northwestern barrage.
Ohio State never panicked, and its head coach was the ringleader.
"I was honestly thinking, 'hey, let's score,'" said Thad Matta, on his mindset when Northwestern took the lead late in the second half.
The deciding factor was those final four minutes, when Ohio State closed the game on a 14-4 run. Northwestern had the Buckeyes on their heels, but like the game in Columbus, it couldn't finish off the upset attempt.
"That last four-minute war is toughness time," Smith said. "It's drawing a line and telling each other, 'we're going to get stops and help each other. We're not going to let them score.' That's what it ended up being. Everyone played with great confidence."
Ohio State forced 15 turnovers for the game, turning them into 18 points.
"That was probably the difference," Matta said.
Smith finished with a season-high 24 points, including six three-pointers, and six rebounds. Deshaun Thomas added 19 and seven.
"Playing in my home state, I saw a lot of familiar faces," Smith said. "I wanted to come out with an edge, as some of my coaches tell me. Initially, I was trying to get rebounds. Luckily, I was making shots."
Smith was 6 of 11 from long range after making only 5 of his previous 20 three-point attempts.
"Lenzelle was able to stretch the defense tonight," Matta said. "That was something that we needed. We were trying to pick the pace up as much as we could."
In the final 10 minutes, Matta went to a small lineup, with Thomas playing the 5, much like the Buckeyes did to corral Northwestern the first time the two teams played. Amir Williams and Evan Ravenel did not play during the last stretch.
They combined to go 1 of 5 from the field with seven rebounds, one turnover and a serious tongue-lashing from Matta.
One major difference the second time around was Northwestern 7-footer Alex Olah's presence. He was out with a concussion two weeks ago. Going against Williams and Ravenel, Olah was effective to the point that it created major disruptions for the Ohio State defense.
He finished with nine points, five rebounds and four assists.
Still, Matta didn't think Ohio State's defensive intensity was lacking.
"(Northwestern) played well," he said. "We didn't want to gamble and do what we did in Game 1 and over extend."
With a low offensive firepower this season, grinding out victories has become the method of choice for Ohio State. It starts and ends with defense, and the final four minutes was the blueprint.
The Buckeyes got out on the perimeter and guarded Northwestern's three-point shooters, when screens were set, help defense was close by and aggression that was missing for more than 30 minutes finally came into focus.
"That's when were at our best – when everyone helps everybody," Smith said. "That's just the way we play basketball, and we usually win when we do that."
Now Ohio State finds itself in the thick of another Big Ten championship race. They're 1.5 games back, meaning three consecutive wins are needed. But a chance is all they ask for. More realistic now is a first-round bye.
Survive and advance is a popular basketball cliché at this time of the year, and that's exactly what Ohio State did in a week when No. 1 Indiana and No. 4 Michigan each lost on the road as a favorite.
Matta might not know what the Big Ten standings indicate, but his players clearly do. 
"Yeah," Smith said, when asked if he was aware of the topsy-turvy week. "That's great for us, that's great news. But I just want to keep winning with my team."
Ironically, it was a loss that put Ohio State in the position it is in today. Ever since the 21-point defeat at Wisconsin that both humbled and embarrassed the Buckeyes, a corner has been turned.
Smith even hinted that rock bottom was needed for a directionless Ohio State team to find its way.
"It just goes to show you that if we don't come to play and think we can walk on the court to win, it's not going to happen," he said.