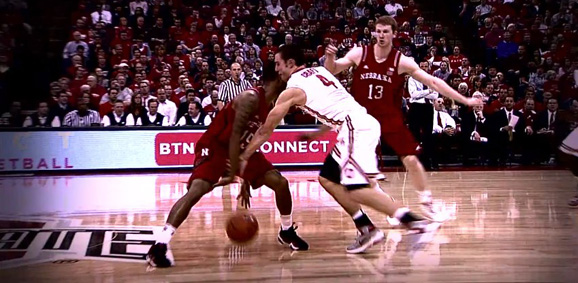 Thad Matta's thoughts shifted to the 2012-13 season in the aftermath of Ohio State's excruciating loss to Kansas in the Final Four last year. The Buckeyes' offense disappeared in the second half, allowing a Kansas team that had overcome halftime deficits throughout the tournament to, once again, rewrite the script.
Looking ahead, Matta knew it would take the best defensive effort in the country for Ohio State to repeat its success from the previous season. Gone were Jared Sullinger and William Buford, so the offense would be lacking.
That assessment has been correct. Ohio State has struggled to find offense outside of Deshaun Thomas for much of the season. But defense has carried it to another 20-win season and a space off the NCAA Tournament bubble.
It's no coincidence that the Buckeyes have looked like an elite team when their defense has been at its best.
"I (knew defensively we had) to be at an all-time high," Matta said. "When we've done that we've been very, very good."
The proof not only lies in wins over Michigan and Michigan State, but also razor-thin losses to the Wolverines, Spartans and Duke – all on the road. But getting his team to take the proper approach each night has been problematic, as Ohio State's recent stretch, when it lost three out of four games, shows.
"I think that's the difficulty of coaching, trying to get guys to understand strengths and weaknesses even when it's maybe something not real glorified in the way you look out there," Matta said. "But when push comes to shove and wins and losses are on the line, you have to do what you have to do."
That's the approach Ohio State has taken in its past two games, since bottoming out at Wisconsin. It wasn't necessarily the 21-point loss or 49 points scored by the Buckeyes that were most concerning. Instead, it was Wisconsin's 71 points and 52 percent shooting performance.
Said Matta, following the Buckeyes' worst loss in three seasons: "We've got to get back to (good defense). We've seen the results. If we're not going to play defense, we're not a good basketball team. If we're going to rely on outscoring people, that's not going to happen. We have to play defense. Every time we've played good basketball, we've defended well."
Defensive principles went AWOL for a two-week stretch, prompting a players-only meeting. Since Ohio State's 12-man roster gathered, it's won two games in spectacular fashion.
Every defensive fundamental was displayed by Ohio State in the past week – active hands, helping, rotating, communicating. On defense, it's the little things that made the biggest difference.
"We played great defense," Thomas said. "That's what Ohio State basketball is all about."
The Buckeyes limited Minnesota to just 29 percent shooting, while a second-half surge stifled Michigan State. Aaron Craft's defense is one of college basketball's main talking points, but it was his offense that was most apparent versus the Spartans. Teammate Evan Ravenel helped weaken the production of Michigan State big men Derrick Nix and Adreian Payne.
"I wanted to win," Ravenel said. "I knew those two guys were pretty much the focal point of Michigan State's offense. They go inside and they finish. They were killing us on the boards. It was just my drive to want to win the game and play hard and be physical and just help my team do whatever I could to get the win."
Offense has never been a strong suit for Ohio State this season. And recently, Thomas' offensive efficiency has declined. Second-leading scorer Lenzelle Smith Jr's season average also has dipped under 10 points per game, putting an even bigger premium at the other end of the court. Defense – along with the three-point shot – is basketball's great equalizer.
"When we become a defensive team, we put ourselves in the best position to win."
"We came off our loss against Wisconsin and knew we had to win," Thomas said. "When we become a defensive team, we put ourselves in the best position to win. It takes energy and effort, and we need to focus on our defensive principle to win games."
Where Ohio State's defense is best is creating fast breaks. Transition offense has been a best friend for Buckeye hoops throughout the season. Craft, Smith, Sam Thompson and Shannon Scott thrive in the up-tempo nature. The sole way to get out in front of the opposing defenses is to force turnovers and missed baskets.
The Buckeyes have more than six steals per game and opponents are shooting less than 40 percent against Ohio State. In 27 games, Ohio State has forced 361 turnovers – an average of 13.3 per game. Last week the Buckeyes had 26 points off 24 Minnesota turnovers, a season-high for the Gophers. Part of that total included Ohio State's 20 fast break points. Eight second-half turnovers helped doom Michigan State a few days later. For the game, Ohio State had 19 points off those Michigan State miscues.
"When our defense is really rolling, it helps our offense get going," Scott said. "We knew we wanted to pressure them the whole game, but we didn't want our defense to speak for itself," he said. "If they turned the ball over, we were going to execute off of that."
With three games remaining in the regular season, staying aggressive and generating havoc on defense remain the path to victory for the Buckeyes. Persistence and effort could lead a team with numerous shortcomings to realize its full potential.
"We made some mistakes, but we corrected them," Matta said.