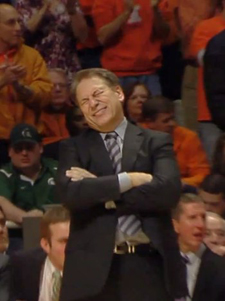 The Big Ten Conference is home to some of the most hotly contested rivalries in sports – Ohio State-Michigan in football and Indiana-Purdue in basketball. But there's another game that has evolved into a matchup of titans in recent years – the Ohio State Buckeyes vs. the Michigan State Spartans on the basketball hardwood.
Since Thad Matta arrived at Ohio State in 2004, the Buckeyes are 8-9 against Michigan State, but Tom Izzo sported a 12-3 record over the Buckeyes prior to that. Matta liked what he saw in East Lansing when he took over Ohio State and wanted to put the Buckeyes on equal footing with the Spartans. He's nearing that goal.
Matta has won five Big Ten championships and advanced to two Final Fours in eight full seasons, compared to Izzo's seven conference titles, six Final Fours and a national championship in 17 seasons.
"I have the utmost respect for what they had done," Matta said. "The biggest tell-all is just standing the test of time in college basketball. It's a lot easier said than done.
"You've got what I would consider two of the top college basketball programs going head-to-head. We've won five of the last seven Big Ten Championships, and they've probably won the ones we hadn't. I don't know if there's a style clash, but there have been some unbelievable battles in here."
In fact, Ohio State and Michigan State shared last season's title. The Spartans would have won it outright if not for a Buckeye comeback for the ages, capped by a William Buford jumper from the top of the key.
Classic games with high stakes make a rivalry possible. So, too, does winning on the other's court. Matta is 4-4 in the Breslin Center, a venue Ohio State went more than 20 years without a win. Izzo is 3-3 at Value City Arena.
The first meeting between the two teams this season was the latest in a long list of close games. The second half featured numerous lead changes and a dramatic conclusion. With 7.9 seconds left, the Buckeyes had an opportunity to force overtime, but Shannon Scott threw up a wild shot that never had a chance.
"I don't know if it was pretty to watch or not, but it was a helluva game,'' Izzo said, following the Spartans' 59-56 victory.
Ohio State can play spoiler again this season. After losing to Indiana on Tuesday, Michigan State faces must-win games the rest of the way if it hopes to have a chance at winning yet another Big Ten title.
"It feels like there's always a trophy on the line when we play one of the top-tier teams in the conference," Ohio State's Lenzelle Smith Jr. said. "It's clutch time now. It's gut-check time. Now toward the end of the season, the good teams step up and make big plays and win games. That's what this game is going to be about."
Opponent
Last weekend, Ohio State was embarrassed at Wisconsin, losing by 21 points and showing little effort. Michigan State hosted No. 1 Indiana on Tuesday, blowing a four-point lead in the final two minutes, eventually losing, 72-68.
The margins and opponents were night and day, but the reactions were strikingly similar.
Ohio State's coaches and players were harsh in a self-assessment – and rightfully so. But the same tune was heard from Michigan State's players, which was a surprise considering how well the Spartans played overall.
"The film was so heartbreaking that it was too hard to discuss," Spartan point guard Keith Appling said.
He finished 1 of 8 from the field after struggling in the first meeting between the Spartans and Hoosiers. But it was Appling who hit two clutch free throws against Ohio State.
Izzo pointed at fatigue being a factor in Appling's sloppy play. If that is indeed the case, Ohio State would be wise to have Aaron Craft push the point guard extra hard. Appling was 6 of 13 from the field against the Buckeyes in January and just 1 of 5 from beyond the arc. He also had three assists and two steals to go along with four turnovers.
"We beat the hell out of Keith Appling," said Izzo, making reference to the Indiana game. "Lots of teams play guys 38 minutes, but a lot of teams don't rely on that guy that is playing 38 minutes to push it and check the hell out of the best player."
Backup point guard Travis Trice missed five games after a concussion. But he returned Tuesday and logged six minutes. In his absence, Denzel Valentine provided Izzo with solid minutes and earned the coach's trust. The options are present if Izzo would like to move Appling from the point to the 2.
For Ohio State, there is much more to worry about. Michigan State's roster is loaded with names, as it tends to be on a yearly basis. Gary Harris, Branden Dawson, Derrick Nix and Adreian Payne, along with Appling, make up the star-studded roster.
"All around, they have a great team," Smith said. "This is one of the top teams I'm talking about where everybody's worrying about everybody. It's not just stopping their guards. You have to stop their guards and their bigs. So hopefully we can stick to our principles."
Nix and Payne – the Michigan State big men – have been playing lights out recently. They're averaging 20 points and 13 rebounds combined, and have presented major challenges for opponents. Michigan State is one of the top rebounding teams in the conference.
It's Michigan State's strengths and the zaniness of the Big Ten that has Nix and Izzo still thinking championship.
"With the way teams are in the Big Ten, I think it's going to end up being shared because anybody could be beat because it's hard," Nix said. "It's the hardest year it's ever been since I've been here."
Said Izzo: "We're still playing right now for our fourth Big Ten championship in five years. We're still playing as a team that has a chance to be a top three or four seed, no matter what happens, for a chance to go to our third Final Four in five years somewhere down the line."
The Buckeyes could derail those plans.
Buckeye Breakdown
It's amazing what happens when a team has the proper mindset entering a game – or gets inspiration from Ray Lewis. Days after a humiliating defeat, Ohio State got its mind right and clobbered Minnesota Wednesday night. A pregame video of Ray Lewis delivering a profanity-laced pep talk to Stanford contributed to the attitude change.
"He said nobody can give you effort but yourself, so it's all on you to give effort," Deshaun Thomas said of Lewis' message.
Now it's about sustaining it. To do so, the Buckeyes are attempting to hold that chip on their shoulder. Matta wants his group to be angry and remember what it feels like to suffer a beatdown.
"I don't know if guys felt like this win relieves us or people forget, but I still remember it," Smith said. "I'm not going to let it go, and I don't expect anybody else to let it go. That was a painful game."
The season has been up and down for Matta. But it appears that the Wisconsin game has finally given him the ammunition to make his team realize things needed to change. For much of the season, it looked like there was no answer, until the loss on Sunday.
Get Smart
MSU leads the all-time series 61-52, but Ohio State has won 4 of 7
An OSU win would mean Matta's 20th win for the 13th-straight season
Kevin Harlan and Clark Kellogg have the call
"I'm glad (Smith is) thinking that way," Matta said. "You're constantly looking for teachable moments, through the good and the bad. We played better, but I don't think we played perfect on Wednesday night."
If you sense Matta being more gruff this season, well, he has been. But he has his reasons. The head coach said he's just searching for the right mix of teaching and motivator to keep the Buckeyes on track.
"I've probably been a little bit harder on this team than some teams in the past," Matta said. "So much of coaching sometimes is trying to find the right buttons to push. You're trying to be aware of their legs, you're trying to be aware of their minds – all that stuff. But I think with this team, I've probably stepped outside the box more than I have in the past."
One constant inconsistency has been the lack of five guys being in-sync on the court. It isn't necessarily that five guys don't gel; instead, none of them have been able to have everything click when on the floor together.
Evan Ravenel started at center until being replaced by Amir Williams in late-December. Since then, there have been no changes to the starting lineup, and Matta said he doesn't foresee any in the future.
"This program is five guys connected," Smith said. "This year, for some reason, it's been the hardest year for us to find five guys connected. I don't know the reason why. To this day, I still feel sometimes we're not connected on the floor. You've got guys out there doing their own thing or worried about something other than winning this game."
If the 2012-13 season produces more Matta magic, the coach's anger could serve as the turning point.
| # | Name | YR | HT/WT | PTS | REB | ASST | P | # | Name | YR | HT/WT | PTS | REB | ASST |
| --- | --- | --- | --- | --- | --- | --- | --- | --- | --- | --- | --- | --- | --- | --- |
| 4 | A. Craft | JR | 6-2/190 | 9.2 | 3.7 | 4.3 | G | 11 | K. Appling | JR | 6-1/190 | 13.8 | 3.6 | 3.9 |
| 32 | L. Smith Jr. | JR | 6-4/205 | 9.9 | 5.0 | 1.7 | G | 14 | G. Harris | FR | 6-4/205 | 13.2 | 2.5 | 1.2 |
| 12 | S. Thompson | SO | 6-7/190 | 7.0 | 3.3 | 1.1 | F | 22 | B. Dawson | SO | 6-6/230 | 10.5 | 6.1 | 1.3 |
| 1 | D. Thomas | JR | 6-7/225 | 20.1 | 6.0 | 1.4 | F | 5 | A. Payne | JR | 6-10/240 | 9.8 | 7.0 | 0.7 |
| 23 | A. Williams | SO | 6-11/250 | 4.4 | 4.1 | 0.1 | C | 25 | D. Nix | SR | 6-9/270 | 9.4 | 6.4 | 1.4 |