Talent and coaching go a long way in sports. Rarely, if ever, do championship-caliber teams have those missing ingredients. What often pushes them over the top, though, is defense. The age-old cliché "defense wins championships" is probably overused, but there's a reason it's preached at every level, from fourth grade to the pros: it's true.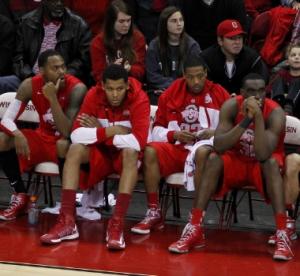 Ohio State is fortunate to have one of the top defensive players in the country on its roster. Since he first walked on campus three years ago, point guard Aaron Craft has personified relentlessness and effort. Head coach Thad Matta is a defensive-minded coach, but even he can't teach the assets Craft brings to the team. His presence alone gives Ohio State a chance to win every time it takes the court.
Matta's philosophies have lent the Buckeyes to being a defense first team. But suddenly, all has gone wrong. Whether it's allowing opponents to make a high percentage of three-pointers, not protecting the paint or just giving up too many points, Ohio State's defense has become nearly nonexistent.
On Sunday, concerns about defensive lapses and shortcomings evolved into panic about what's now a startling trend. Ohio State didn't just lose, it was embarrassed, falling 71-49 at Wisconsin. If the Buckeyes are to reach their potential, which could result in another memorable March, serious issues have to not only be addressed, but corrected.
"We've seen the results. If we're not going to play defense, we're not a good basketball team," Matta said. "If we're going to rely on trying to outscore opponents, that's not going to happen. We have to get back to playing good defense."
Two short weeks ago, Ohio State was 17-4 and still eyeing a fourth straight Big Ten title. A 1-3 record has eroded those chances and, in the process, made Ohio State stop and look at itself. Wisconsin shot its highest field goal percentage of the year at the conclusion of a week when the Buckeyes' defense was already a messy topic due to consecutive questionable appearances.
Indiana roasted Ohio State a week ago, but the No. 1 team in the country playing flawless basketball doesn't raise too many eyebrows. When a Northwestern team with only seven scholarship players leads for more than 30 minutes on the road, the distress become more real. And when you look as disinterested as Ohio State did in a game that could have finally served as a marquee road win, alarm bells start sounding.
During Ohio State's 1-3 stretch, opponents have shot nearly 50 percent from the field and connected on 45 percent of their three-point attempts – a recipe for disaster.
"Where's our defense? I don't understand. I don't know who's in your jerseys right now," Matta said to his team during Wisconsin's decisive 18-0 first-half run. "In terms of being where you're supposed to be and doing what you're supposed to do, we've got to get back to that.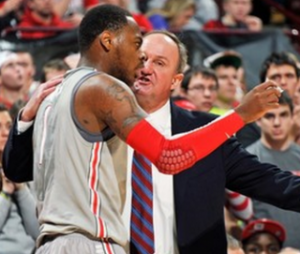 "We shut down defensively. Why? I don't know."
Blame doesn't solely lie with the defense, though. On Sunday, Ohio State had its lowest scoring output of the season and shot less than 40 percent from the field. Take away Deshaun Thomas' stats and Ohio State only made one-third of its field goal attempts.
Craft was 2 of 9 and LaQuinton Ross finished 1 of 7. The Buckeyes took some low-percentage shots and forced the issue early in the shot clock on several possessions. But the number of missed shots at the rim was almost unheard of.
"We walked off the practice floor in Columbus and I felt like we had two great preps coming in," Matta said. "We were specific with what we were going to do. Whatever I did didn't work in terms of getting this team to compete at the level we needed to compete at."
Asked following the game if he thought the team was mentally prepared for the Badgers, Thomas said without hesitation, "No."
"You can't teach that," he said. "Coach (Matta) really can't get your mind right. He can help, but it's on us. We have to be ready."
The one factor still present, however, is that all seven of Ohio State's losses have come against ranked teams, three to the top five, with No. 20 Wisconsin being ranked lowest. Still, three losses in four games, regardless of the strength of the competition, will cause the heart rate to quicken.
Ohio State will have an opportunity to help its case this week with games versus Minnesota and Michigan State, both at home. The Buckeyes are currently in fifth place in the conference, meaning they would not have a first-round bye in the conference tournament.
Another rough stretch at this time a year ago served as the turning point in a Final Four season. Rock bottom also came in a loss against Wisconsin. But from there on, Ohio State was a completely different team, living up to lofty expectations. The makeup of the Buckeyes one year later, however, is wider than the Grand Canyon.
"The one thing about last year's team, we had heart, we fought with passion, we trusted each other," Thomas said. "This year, we don't know what guys are thinking. We don't know what guys want."
It's a powerful statement from Thomas, and behind closed doors, maybe it's the kind of tough love Ohio State needs to jumpstart its postseason push. But there is some pause as to whether there's a strong voice like Jared Sullinger's present on this season's team to deliver the hard truths.
"I want to win. I'm pretty sure my teammates wants to win," Thomas said. "I feel like we need to just change it around and pick it back up. The season is about to end. We don't want guys worrying and second-guessing each other. We need to trust in each other and stay together."
Said Matta: "You have to take ownership."