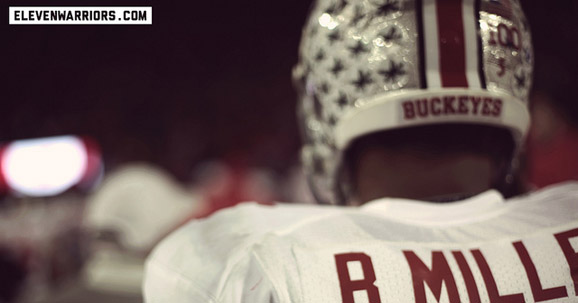 When Urban Meyer inherited the Ohio State football program, sweeping changes were needed. The Buckeyes were coming off one of their worst seasons and were mired in turmoil searching for hope. 
It arrived like a caped crusader in the night. Meyer's mere presence instituted an immediate culture change. But on the field is where he knew improvements were most in store, particularly at the skill positions. The deficiencies were glaring and easily identifiable.
Meyer-coached teams, starting at Bowling Green, have been built on athletic speedsters at wide receiver and running back. Space is his offense's best friend. The first recruiting class at Ohio State yielded little in the way of game-changing players. It was headlined by running back Bri'onte Dunn and wide receiver Michael Thomas. Those two played sparingly during the Buckeyes' undefeated season, but did offer glimmers of a bright future.
That isn't what Meyer is looking for, though. Sure, his eye is pointed beyond 2013, but he wants true freshmen to make an impact in Year 1. This year's recruiting haul has several candidates that could become household names before the month of October.
The happy recipient is dynamic quarterback Braxton Miller, who was already one of the nation's best players. Miller amassed more than 3,000 yards last season and helped Devin Smith and Corey Brown reach the combined total of nearly 1,300 receiving yards and nine touchdowns.  
An almost 1,000-yard rusher in Carlos Hyde further bolstered the offense. He ran through holes produced by an offensive line that evolved into one of the Big Ten's best.
Still, Ohio State lacked that true home run threat that could consistently be a nuisance to the defense, especially on the perimeter. That contributed to a passing offense that ranked 101st, though the Buckeyes did turn in the No. 10 rushing attack in the country.
"We were the most flawed undefeated team in college football history."
"We were the most flawed undefeated team in college football history," offensive coordinator Tom Herman said. "There's a lot to improve on. We have a lot of work to do still. That's exciting knowing what we accomplished last year, not being at the potential we know we can be."
Enter Dontre Wilson, Jalin Marshall, James Clark, Corey Smith and Ezekiel Elliott.
"We wanted to get some playmakers," Meyer said.
Mission accomplished.
Speed. Agility. Elusiveness. It's all there.
The popular description for what Meyer is searching for is another Percy Harvin, the playmaking wide receiver that helped lead Florida to two national championships. The current Minnesota Viking also has found success in the NFL with his speed and ability to make defenders tackle air.
The leading candidate for that role is Wilson, a Texan who spurned Oregon after Chip Kelly bid the Ducks adieu. The four-star athlete can play wide receiver or running back. Regardless, running free is what he does best. Meyer called him an "unusual athlete" due to his level of production. His senior season yielded 2,600 yards of offense and nearly 50 touchdowns.
"You sit there and look at his track time. His track times are national times," said running backs coach Stan Drayton, who knows a thing or two about speed, having spent time with Meyer at Florida. "He can be a collegiate track athlete and be an All-American – he is that fast."
It's not just the speed, though. Wilson's style of play fits like a glove in Meyer's system. Marshall, Clark and Smith are wide receivers that could give Miller targets that are one broken tackle from paydirt, while Elliott is a running back with burner speed.
"When you're recruiting a guy, I think you've certainly got to look at a guy's ability to make people miss in space," Herman said. "To break tackles, to show toughness and to make big plays when big plays are there to be made."
Asked if he was excited about the players Meyer brought aboard, Miller answered with an emphatic, "Heck yeah!"
"It's going to help out a lot. I can't wait. It helps to get explosive guys in here. We want to score a lot of points."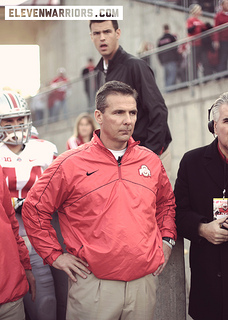 That wasn't a major problem in 2012. Ohio State scored more than 30 points in seven games and topped the 50-point threshold in four games. Over the course of the season Ohio State averaged 37 points per game. Explosive plays were still few and far between. The Buckeyes' formula for wins was mostly predicated on simply being the better team for 12 weeks of an underwhelming schedule.
Ohio State's longest rush of the season from someone not named Braxton Miller was 33 yards. That is coupled with only five rushes of 30 yards or more. Those numbers are nowhere near what Meyer and Herman are expecting.
"Big plays are a problem for us," Meyer said. "We didn't have the home-run hitter explosiveness, open-space players on offensive. But you know what? Some guys really grew up and did a good job for us."
That reference would be Smith and Brown. Even then, there was little in the way of breaking tackles or embarrassing defenders with deft moves in the open field.
"We felt like we were pretty deficient last year in terms of getting the ball in space," Herman said. "We get one-on-one with a safety or one-on-one with a corner, or even a linebacker at times, and we can't make that guy miss."
At one time, Meyer's Gators were the gold standard for that type of athlete. The Pacific Northwest is now home to college football's most exciting players. Oregon's brand of football isn't what Ohio State is looking to replicate – the Buckeyes just want the same explosiveness.
The important thing to remember in this conversation is that none of the skill position players Ohio State could turn to next season will be enrolled when spring practice begins on March 5. Instead, they'll all be finishing up their senior year of high school. Some are even playing other sports.
Herman believes being absent for spring drills makes it that much harder on the true freshmen. But Meyer has a prior history with turning guys into first-year wonders.
"The farther you get away from the ball, the easier it is for you to play early," Herman said.
"They haven't played a snap of college football yet. The main focus is development and improvement of the guys that are here. We wouldn't have signed (the 2013 recruiting class) to scholarships to Ohio State if we didn't think they could help us win a national championship. To say that we're going to depend on them is absolutely false. They don't get here till June and don't start playing football until August, and the last time I checked we play August 31."
Chances are scarlet jerseys with the names Wilson, Marshall, Clark, Smith and Elliott adorning them will find their way into the stat sheet that afternoon.