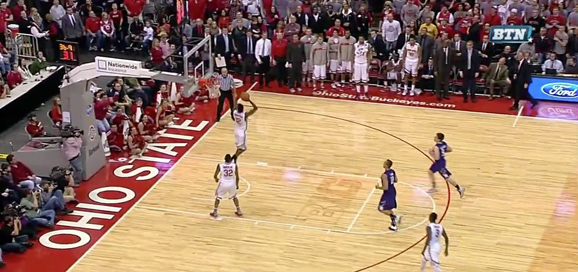 COLUMBUS, Ohio – The ball stopped momentarily on the back of the basket. More than 15,000 people in Value City Arena held their breath until, finally, the ball, and Northwestern's chances at the biggest upset of the Big Ten season, fell back to earth.
The Wildcats led for most the game, using an effective 2-3 zone defense to slow down Deshaun Thomas, the Big Ten's leading scorer. Thomas scored five points in the first half and was two for his first 11. But when Ohio State needed him most, he was converting baskets and getting to the free throw line.
Thomas scored 17 points in the final 15 minutes, including six during the Buckeyes' 12-2 run to end the game. Ohio State may have won by 10 points – 69-59 – but don't let that deceive you into thinking it was just another win over the Wildcats in Columbus, a city Northwestern hasn't tasted victory in since 1977. 
"Every time we play these guys it's a grind," said Ohio State point guard Aaron Craft, who finished with seven points, three rebounds, six assists and three steals. "It definitely wears on you mentally. We'll take any win we can get at this point of the season."
Making Northwestern's near-win even more remarkable was the fact it is down to only seven scholarship players after a rash of season-ending injuries. 
Ohio State's victory ended a two-game skid and gives it an 8-4 record in the Big Ten, two games in the loss column behind first-place Indiana and Michigan State.
The Wildcats trailed by just two points with 2:28 remaining when Reggie Hearn attacked the rim with the shot clock running low. The ball caromed vertically off the back of the basket before resting for two full seconds. There was a brief moment of uncertainty – Would it be a jump ball? Does Northwestern retain possession? – but when the ball came down Ohio State had the area around the basket secured like Fort Knox. Thomas ended up with one of Ohio State's 41 rebounds, and Northwestern wouldn't score again until the Buckeyes had a double-digit lead.
"I thought it was going to go in," Northwestern head coach Bill Carmody said. "It didn't, and we didn't get a second shot. We had some good looks in that last 90 seconds, we just weren't able to knock them down."
Said Matta: "That was unique. Quite honestly, I liked how we had three guys there to get the basketball when it fell off."
Ohio State's players talked this week about being up for the challenge of going against Northwestern's Princeton offense and confounding zone defense. But the first 30 minutes were a struggle to stay above water for the Buckeyes.
"We thought a 2-3 zone was the best thing to do without getting in foul trouble," Carmody said. "It was really effective most of the game."
Northwestern scored 10 straight points in the first half and had its largest lead of six. When Ohio State finally did wrestle the lead away in the closing minutes of the first half, the Wildcats hit a 30-footer at the buzzer to tie the game at halftime.
"We knew we had a ballgame," Thomas said. "We knew they weren't going to back down. We knew we had 20 more minutes and had to play Ohio State basketball."
Major adjustments were warranted in the Buckeye locker room – on both sides of the ball. Northwestern came out in the second half, though, and drained 3s on three of five possessions. That was a theme for much of the night. The Wildcats finished 11 of 26 from long range.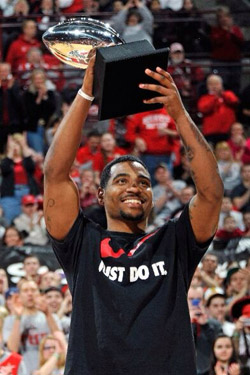 An even bigger issue was Ohio State's lack of shots – or at least made shots. The Buckeyes hoisted 55 field goal attempts during the 40-minute slopfest, converting 25 of them. Northwestern built a 48-43 lead with less than 10 minutes remaining thanks in part to Ohio State's stalled offense.
But that's when the Buckeye defense finally showed up. Northwestern only scored 11 points the rest of the way and was forced into several critical turnovers. A 9-2 run, capped by a Shannon Scott three-pointer, gave Ohio State its first lead in nearly 15 minutes.
"It was all going to be on the defense," said Matta, about the final minutes. "I felt like we were eventually going to figure it out. During the stretch, I think we did a decent job of it."
"We tried to get consecutive stops," Craft said. "There was a point where we were just trading baskets. We wanted to push it before they were able to set up their zone. Guys made big shots and Sam did a great job on the boards. That's what it takes to win games."
One look at the final box score reveals Ohio State's dominance in the critical areas. The Buckeyes outrebounded the Wildcats, 41-21 overall and 22-5 on the offensive glass. That contributed to Ohio State's 23 second-chance points, compared to Northwestern's six.
Ohio State also enjoyed an overwhelming advantage at the free throw line, holding a 14-2 mark on Northwestern. The Wildcats attempted just three free throws, instead settling for jump shots. Late in the game, with the offense stagnant, Ohio State's bread and butter became the line.
"Getting (Thomas) to the foul line was huge for this team," Matta said. "It was good because he was struggling shooting the ball early. Guys found him."
It took a team effort, though. Ohio State had four total players finish in double figures; Lenzelle Smith had 12 points – all in the first half – while Sam Thompson scored 11 and Amir Williams had a career-high 10.
"This is all me growing up. Knowing when the shots aren't falling, I'll have guys give it to me in the right spots," Thomas said. "I just have to be patient. For a player like me you have to be patient on the offensive end. I just did the little things to try and help my teammates win."
The Buckeyes must regroup quickly, because they venture to the unfriendly confines of the Kohl Center for a date with the Wisconsin Badgers Sunday afternoon.