Ohio State and Cincinnati had played once in 50 years. But here they were again, paths crossing in the NCAA Tournament with visions of the Final Four encompassing both teams. It was March 22, 2012, and the new Boston Garden opened its doors to the state of Ohio for the Sweet 16 matchup.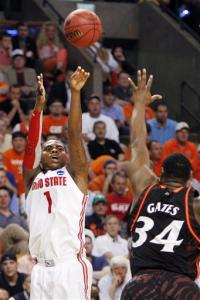 The Bearcats were poised for the upset, rallying for a second-half lead against the heavily favored Buckeyes. But a Deshaun Thomas-led surge ignited Ohio State as they dispatched Cincinnati, 81-66, en route to a Final Four berth.
In another part of the country, Deshaun Thomas Jr. was born as daddy's heroics were taking place on the East Coast. Thomas finished with 24 points and six rebounds with all the outside factors taking form in his life.
Buckeye Nation and head coach Thad Matta may have been happy with the performance, but the mother of Thomas' child wanted Deshaun beside her to see the newborn. 
"It was kind of hard (being away)," Thomas said. "The mother was kind of sad about it, but she understands what it takes and the business side of it.
"I told myself at the time, no pressure. I always went to bed at night and said there was no pressure. It was hard to think about it. But we were making a run to the Final Four. It was a blessing. Against Cincinnati, he was born and I had a big game. I was happy. I told myself I was going to be happy and there was no pressure. I said, 'You have a beautiful son coming into your life.' It was all motivation."
In the future, Thomas hopes his son realizes that same thing.
"One day when we get to talking and he asks that question, 'Dad, were you there?' I'll be like, 'Son, I was there in spirit. I had a great game against Cincinnati, 24 points, and it was all for you,'" he said. 
That one-month spurt provided Thomas with some of the best moments of his life and catapulted him into the minds of NBA scouts, which could change his life once more. Thomas averaged 22 points and 8.5 rebounds in the Buckeyes' four-game jaunt to the Final Four. It acted as a starting off point for a preseason All-American junior campaign.
So far, the 2012-13 season has brought more on-court riches Thomas' way. He's averaging a Big Ten-best 20.1 points per game, along with 6.1 rebounds and 1.5 assists. Thomas is one of only three players in the country putting up 20 points and six rebounds per night, a feat Michael Redd and Evan Turner matched during their days in scarlet and gray.
The Buckeyes would not be ranked 13th in the country without Thomas, as his electrifying offensive game has kept them afloat in the hyper-competitive Big Ten.
His play will almost certainly lead to off-court riches as well. Thomas would have been drafted if he left Ohio State a year ago after his sophomore season. But he wasn't a sure first-round pick, so he returned for another season. The chances of history repeating itself are slim.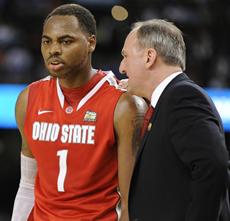 During a game, few people are more in the zone than Thomas. But when he steps off the court, his fatherly intentions take over. That was never more apparent than when the team arrived home after defeating Syracuse in the East Regional Final. Instead of a raucous celebration to mark the journey to New Orleans, Thomas met his son, a moment that forever altered his life.
"That changed me," he said. "I went home and he was there – just how small he was, it really changed me. It brightened my eyes knowing I have somebody looking up to me.
"You can't do anything negative. You've got to watch what you do and just know that you've got to work even harder and harder for somebody in your life who's very important."
In a recent episode of The Journey on the Big Ten Network, Thomas and his son were profiled. In the piece, a grinning Thomas is shown with little Deshaun. Above the toddler's crib is a sign reading, "Future Buckeye No. 1."
Matta is yet to sign a member to his 2030 recruiting class, but he already has an inside track on Deshaun Jr.
"He looks just like me," Thomas said. "The best thing about him is he's a happy baby. It's a lot of pressure. But, then again, when you see him smile, that's the best thing. It keeps you motivated. I'm just blessed to have him."
During his time away from home as the NCAA Tournament was ongoing, Thomas received support from his players and coaches. They noticed an almost immediate transformation in the happy-go-lucky Thomas. He usually carries a smile on his face, and still does, but it's come with more sound judgment.
"Deshaun has obviously blossomed as a person in terms of where he started on Day 1 to where he was now."
A clearer mind also has accompanied Thomas during games. He plays smarter at both ends of the floor and has developed an all-around game.
"Deshaun has obviously blossomed as a person in terms of where he started on Day 1 to where he was now," head coach Thad Matta said. "I know the parenting situation is something he takes very serious. His life is a little different now than most college guys and him accepting that responsibility, I'm very proud of how he handled that situation."
Said Thomas: "Jared (Sullinger) and Jordan (Sibert) were keeping my head up and telling me to stay strong. When we were at the hotel, I told Will (Buford) and Jordan he was born. They were like, 'Don't worry about it. It's OK. I know you want to be there, but we have what we're working for now.'"
One year later, there is a bit of unfinished business Thomas would like to take care of.
"I want to be the Big Ten player of the year," he said. "It's something that has always been my dream."
It's another memento he can share with Deshaun Jr.