Urban Meyer and his staff landed a bevy of top-notch offensive playmakers in the 2013 class, including Ezekiel Elliott, Dontre Wilson, James Clark, Jalin Marshall, Corey Smith, and Marcus Baugh.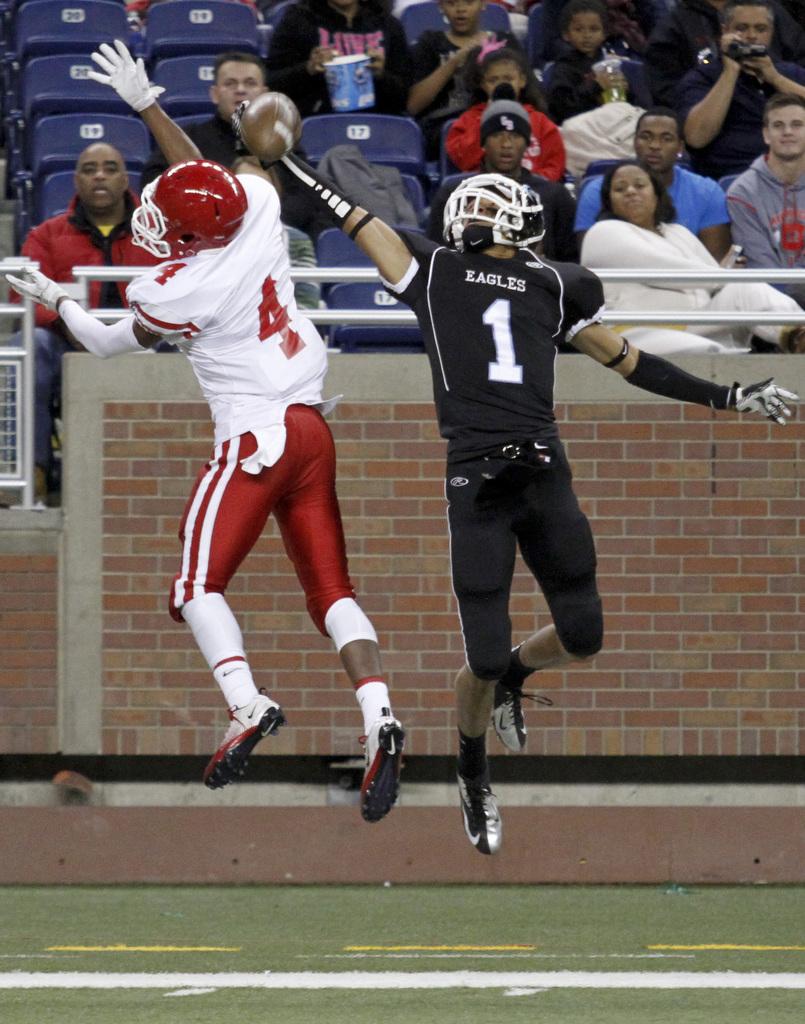 With that group being signed, sealed, and delivered, the coaches now have their eyes set on recruiting more playmakers in the 2014 class.
One of the top targets on their board is Grand Rapids (MI) Christian WR Drake Harris, who many consider to be the top junior wideout in the Midwest.
The 6-4/180 Michigan State commit is rated as the fifth-best wide receiver and 47th-best overall player in the nation by the 247 Composite. He was originally going to play both football and basketball in college, which is one of the main reasons he gave Sparty his verbal this past summer. But recently Harris decided he was only going to take on the gridiron in college, leading him to open up his recruitment.
Harris visited Ohio State last spring on his way home from an AAU basketball tournament, but the visit then was a very short one. He wants to get back up to Columbus again in the near future to get a better look at what Ohio State has to offer and it is thought Urban Meyer has an excellent chance to land yet another prospect from the state up north.
We caught up with Drake to talk about his interest in the Buckeyes, his relationship with Urban Meyer, when he may make it to campus for a visit, and more.
Keep reading to learn more about rising junior wide receiver, Drake Harris.
Why did you opt to only play football in college?
I feel like I had more success playing football. I've been playing basketball since I was little and have lost some of my love for the game. I also just really like playing football.
What was your conversation with Coach Izzo like when you gave him the news?
It was really hard to call him and tell him I wouldn't be playing basketball in college. He was the first coach to recruit me to play any sport. He was really understanding though and said he would be recruiting me to play football at Michigan State.
Do other schools have a legitimate shot at flipping you from MSU? Would you say the Spartans are your leader as of this moment?
Yeah, when I committed to Michigan State, it was to play football and basketball. When I decided to play only football I opened up my recruitment. I would not say they're in the lead, as right now I have a list and everyone is about even.
Which schools are on that list?
Ohio State, Alabama, Michigan State, Michigan, Florida, and Notre Dame are the main schools I'm looking at.
What kind of relationship do you have with Urban Meyer?
I talk to Coach Meyer every week. He's my main recruiter. He tells me they really want me and I'm the top receiver on their board.
What does it mean to you that he's your main recruiter?
I'm really happy about it. He's one of the best to ever coach in college football. He's just an awesome coach.
How often do you talk to Coach Coombs, your area recruiter?
He was actually up to see me every week when they were allowed to visit me. He's a great person and a great coach.
Do you have a relationship with Damon Webb or Lawrence Marshall, Ohio State's two commits from your state?
I've been talking to Damon Webb a lot recently. He's a really good player. I have never met Lawrence Marshall, though.
Do you have plans to visit Ohio State?
I'll probably visit sometime in the spring or February 24 for the basketball game against Michigan State. Coach Meyer wants to spend some time with me and wants me to get to know the campus better.
What are you looking forward to seeing on your visit?
I definitely want to see more of the educational side of the school. I'm interested in business as a major. I also want to see the football stadium. I got to see the facilities on my visit last spring.
Are you camping anywhere this offseason?
I'm planning on attending the Nike Football Training Camp in Chicago, then hopefully The Opening from there.
HIGHLIGHTS: