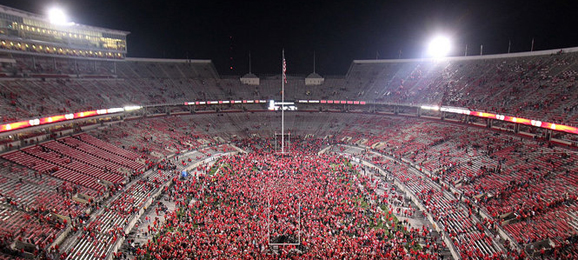 We all love watching the Buckeyes play football. We all (well, most of us) hate spending money. But for many, the former outweighs the latter, much to the detriment of many bank accounts. Even so, last month's announcement that Ohio State is raising its ticket prices for all fans — including students — was met with anger and astonishment from some corners Buckeye Nation. 
I currently belong to the esteemed group of America's future gatekeepers known as college students. And just like all other fans, we put everything on hold once the band starts to march out of the north tunnel. Even with ticket hikes we'll still gobble up season tickets like Ramen. Still, that doesn't mean we are happy about seeing what we already see as an exorbitant price increase, especially because this is, ahem, our team.
Now I know that in context the ticket reform makes sense, especially with the excitement generated by Urban Meyer's first season. I also realize that these years we're on campus will be our best chance of getting tickets for the rest of our life, and that compared to the average fans we get considerable bang for our buck. However, we're college students, so if there's something to complain about, we'll do just that.
Amid the many headlines that came out of National Signing Day, one in particular stood out even though it had nothing to do with the fine class Meyer had put together:
Urban: We need to start getting more night games in here. Meyer not a fan of Noon games. Thinks night games are way better for recruiting.

— Kyle Rowland (@KyleRowland) February 6, 2013
That's right, noon games, the slot many associate with fall weekends in the Big Ten, could be a thing of the past, if the league's biggest coach has any say in the matter.
I felt like Buddy the Elf on Christmas Day hearing that news. You see, besides downing a late-night Caniac or complaining about construction, there is probably nothing else that Ohio State students love more than spending a fine Saturday at the Shoe. It's clear, though, that within that undying affection there is still one aspect of the experience that is forever met with disparagement by the legions of studying Buckeye believers: noon games.
But it wasn't until I saw the reaction to something I tweeted that I began to realize just how many people agree with me — and how opposed I really am to the traditional lunchtime kickoff.
Noon games aren't just a one of the many unpleasant realities of college football to an Ohio State student, they're the worst reality of college football to a student at Ohio State. 
When I think of noon games, I think snoozers that lack atmosphere. I am reminded of Minnesota, Illinois, Indiana and various other states of mediocre football. I think of half the student population hungover, praying that their sunglasses will help ease the pain.
Those who have been through them in the south end and in C-deck will know all about the yawns, droopy eyelids and faded bar stamps on the back of students hands, the sum of which must surely outnumber the total attendance for that day's contest.
Having zero energy and unlimited apathy at an Ohio State football game must be some sort of oxymoron, but in the case of these fixtures, it's the norm.
While antipathy is undoubtedly the consensus, there is a part of me that sees 12 p.m. as an important historical tradition of Ohio State football, especially when it comes to The Game. But in the canon of Ohio State-Michigan matchups, there is one notable example of the rivalry being played later in the day: 2006's Game to End all Games, Greatest Game Ever Played, Game of the Century between the top two teams in the nation. 
The much-hyped encounter was moved to 3:30 p.m. — as close to prime time as the Big Ten would allow. While that edition of The Game is a strong candidate for the greatest in a long and storied series, at the time, I thought at the time that moving it from noon was a huge mistake.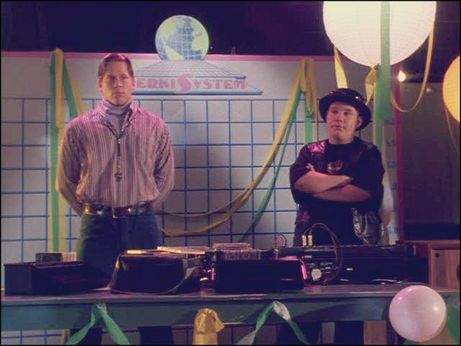 You know I'm a student. A bit of math will show that the game was played during my middle school glory years, specifically eighth grade. And even though I was a Buckeye fanatic then (I even went so far as to watch the 2003 National Championship Game on DVD bi-weekly), teenage me had priorities and that game, unfortunately, was not one of them that day.
It just so happened that the night of November 18, 2006, was to be one of our middle school dances, which only happened a few times per term. Pass up the opportunity to interact with girls in a non-school setting for three hours to watch sports? Nonsense.
It was a time of bizarro personal priorities: dancing to "1985" on a Saturday was infinitely more important than continual helpings of "Across The Field."  So this was the reason why I wound up missing arguably the rivalry's biggest ever game. The only positive consequence of my decision was joining the entire dance floor in singing "We Don't Give a Damn" once we found out the game was over and the Buckeyes victorious.
Clearly my feelings have changed, and I wouldn't hesitate to go back in time and tell that 13-year-old just how much of a problem noon games present to society, while also sprinkling in the fact that not everyone likes Coldplay as much as you do.
Maybe it's just a question of how I was brought up. I've always associated early tailgates with the Muni Lot or the Ralph, and less so with St. John Arena or the Olentangy River. Even though fans have endured noon games for years, that doesn't mean they're untouchable. It's time for a change that is long overdue, and it is the wish of our fearless leader, after all.
Part of me wants to believe that this suggestion is Urban's tip of the cap to the students and also to fans who share our distaste, especially in the wake of the price change that has so many up in arms. In reality, I know it has more to do with giving his staff every recruiting advantage possible.
I know I'm preaching to only a small group of people, and that many fans that are out of college won't find sympathy with the perceived laziness of college students wanting to nurse their hangovers for a few more hours so they can be better at cheering on their football team. But I'd like to gently remind those detractors that without us, the students, there would be no university and no Silver Bullets.
Ticket price hikes are coming. I guess we can stomach that. But cutting down the number of noon starts will go a long way towards easing the pain. Being able to say that I was part of some of the best days a century-old stadium has seen means much more to me than the dollars and cents I spent to get there.