The second commit on a busy Sunday and fourth overall pledge for Ohio State's 2014 recruiting class was Southfield (MI) High DE Lawrence Marshall.
Marshall issued his verbal to the OSU staff during his unofficial visit to Columbus this past weekend, selecting the Bucks over offers from Michigan, Michigan State, Tennessee, and others.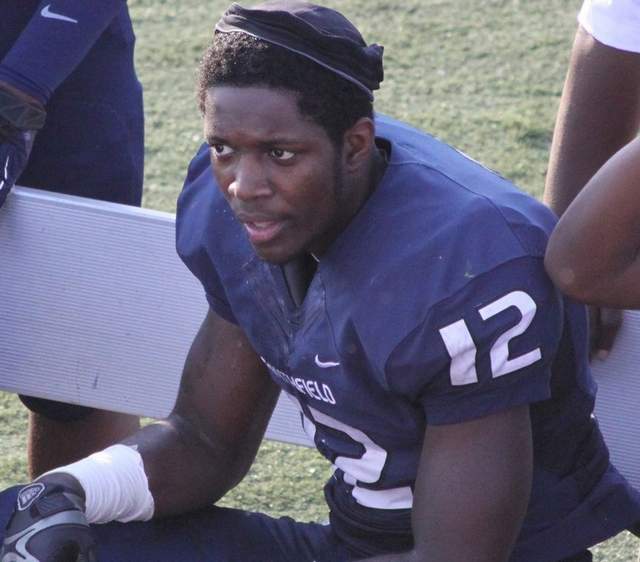 The four-star defensive end had seen the Buckeyes' campus before, when Marshall took in "The Game" back in November and enjoyed his experience, but it came as somewhat a surprise that he ended the recruiting process so soon, especially hailing from the state up north.
Ohio State and Kerry Coombs continue to work their magic in Michigan with the commitment of Marshall, and they also landed Detroit Cass Tech DB Damon Webb earlier in the year and are going hard after Grand Rapids Christian WR Drake Harris and Detroit Loyola DL Malik McDowell for 2014.
The state has been very kind to Ohio State in the past, as several natives from enemy territory have made significant contributions for the Buckeyes, including Craig Krenzel, Vernon Gholston, Reid Fragel, and Johnathan Hankins.
OSU hopes that trend leads on for the coming years with Webb and now Marshall, who both have the elite skills to succeed once they arrive on campus.
Join us after the jump to find out how Marshall delivered the news to the staff, what his role may be with the Silver Bullets, and what ultimately led the elite pass-rusher to choose the Buckeyes over the in-state Wolverines and Spartans.
How was your second visit to Ohio State?
It was a fantastic visit. I got to see the academic side of things to show me what it would be like if I went to Ohio State. I plan on majoring in Sports Management and Ohio State has a great program for that. I also got to hang out with the players in the dorms and they made me feel like I belong. My future teammates are all great guys and it showed me it was where I needed to be.
Why did you choose the Buckeyes over the two teams in your own state?
The coaches, the players, and the program itself. I want to play for a program that is competing for championships year in and year out and Ohio State offers that opportunity as good as any other team. The coaches and the players share the same mission that I do. It was a perfect fit. It was the right place for me. I love everything about The Ohio State University.
What coaches were the most influential in your decision to commit?
My position coach, Mike Vrabel. He is one of the most knowledgeable coaches I have ever been around. Playing for Vrabel will be a tremendous honor. Coach Meyer is a guy that helped me know it was the right decision too. He didn't pressure me at all and showed me love. He was a guy that made it clear I was one of his primary targets. Coach Coombs was the most influential though. He comes to see me almost every week. Coach Coombs is who I have the best relationship with and allowed me to feel comfortable with the school.
How did you deliver the news to the staff?
I had a meeting with Coach Meyer in his office on Sunday morning. It was me, my mother, my sister, Coach Coombs, and Coach Meyer. Coach Meyer asked me when I thought I might end my recruiting process. I told them "right now, I want to be a Buckeye." Everybody in the room flipped out. The coaches did not expect that. My family wasn't expecting it either. I surprised everyone in the room. My family was on board with the decision. It was a great feeling.
Is your process completely over? Do you plan on taking any more visits?
I do not plan on taking any more visits. Ohio State is the pick.
What position does the staff want you to play?
They got me at defensive end. They want me as a guy that can get after the quarterback. That is my specialty.
Have you had the chance to talk to any of the other commits in your class yet?
I hit up Damon Webb and told him that I committed. He was a bit surprised too, but he loved it. The next step is to get Drake [Harris] and [Malik] McDowell on board too.
HIGHLIGHTS: