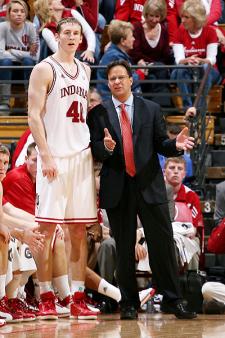 When the polls came out Monday, Ohio State realized the challenge that awaited them. Two games in one week versus the No. 1 and No. 3-ranked teams in the nation. It would be a shakeup week in the Big Ten title race, and the Buckeyes hoped to finish upright.
The first of those two benchmark contests was on Tuesday in Ann Arbor. Ohio State played its finest game of the season, but lost in an all-time classic in overtime. The two-point loss included a controversial ending. Aside from that, though, there was plenty of good to take from it, especially the play of LaQuinton Ross and Amir Williams.
Two nights later, it was Indiana's turn to go on the road in the unforgiving Big Ten and lose. The Hoosiers' defeat was even more dramatic than Ohio State's loss to Michigan. Leading by a comfortable margin throughout the game, Indiana was the victim of a 13-2 run that culminated on a wide-open game-winning layup from Illinois as time expired.
In a strange twist, the losses have added even more to Sunday's top-10 matchup. With the sprint for the Big Ten championship underway, the Buckeyes and Hoosiers face must-wins. Wisconsin's improbable win over Michigan added even more hoopla to today's festivities.
"It's take care of your own business but keep in mind it's a long season," Ohio State head coach Thad Matta said ahead of Sunday's titanic tilt. "It's about growing, and it's about keeping the focus on.
"You can't fathom at this moment how much basketball we still have to play in this season. It's incredible when you stop and think about it."
Four of Ohio State's six games in February are against ranked opponents before winding down the season at Indiana and at home against Illinois.
"If there's ever a time we have to stay in the circle, it's now," Matta said. "This is where people like to dissect and be negative."
Said Deshaun Thomas, the Big Ten's top scorer, "All we got to do is keep moving forward."
Opponent
Every direction you turn, Indiana has a talented player. Cody Zeller, Victor Oladipo, Christian Watford, Yogi Ferrell. That's why the Hoosiers are ranked No. 1. Zeller is the cornerstone, averaging 16.2 points and 8.3 rebounds per game. The sophomore hasn't had a national player of the year caliber season, but he's remained in the discussion involving who will be the No. 1 overall pick in June's NBA Draft.
"I don't think you can guard a guy like that with just one guy," Matta said. "He plays hard, he plays smart and he's very, very athletic and deceivingly athletic. He's added a couple of things from last year to his game. He really drives the ball well both ways. He's kind of everywhere it seems like."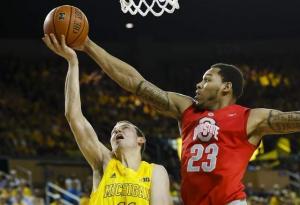 Zeller is exceptional in the paint and running the floor. In Indiana's win over Michigan a week ago, Zeller had several putback dunks in transition when the Wolverines failed to box him out.
"That guy runs the floor," Ohio State sophomore center Amir Williams said. "He's probably one of the best in college basketball at running the floor in transition. That's one thing I've got to key on."
Indiana doesn't just own the paint via Zeller scoring – offensive rebounds also are a specialty. The Hoosiers are fifth in the country in offensive rebounding while Zeller grabs three per game. Second-chance points come rapid fire when Indiana out-physicals opponents. 
The paint isn't the only area the Buckeyes must cover. Between Oladipo, Watford, Ferrell and Jordan Hulls, Indiana can shoot 3s with the best of them. The Hoosiers average 83.3 points per game.
Aaron Craft's defensive abilities have been discussed since his freshman season, but Oladipo is making a run at him for defensive player of the year honors in the conference. Oladipo and his teammates were able to contain Michigan, forcing Trey Burke and Tim Hardaway Jr. to score 43 points on 40 field goal attempts.
"It's going to be fun," Thomas said. "They're a great team, they're a great defensive team. It's going to be a great challenge, and it's going to be great for the fans to see three great scorers and great players that are playing against each other. It's going to be like another rivalry game."
Few players in the country have been as productive as Oladipo on both ends of the court. He's converted on nearly 65 percent of his shot attempts, driving to the rim and shooting from outside. On defense, he's gotten 2.5 steals per game.
"He came here with the athleticism and the work ethic," Indiana head coach Tom Crean said. "It's a great example of the old boring statement about daily improvement. I have not seen him have a day when he wasn't doing something extra in the day, whether it's after practice, in the summertime, in the springtime. And the extra time with watching film has really helped increase his knowledge base."
Buckeye Breakdown
The 2012-13 college basketball season has been one of the most unpredictable in recent memory. Five top-ranked teams have lost in the past five weeks. The one constant, though, has been Ohio State's ability to follow a loss with a win.
That streak has now grown to 121 games, dating back three seasons. When Kansas dropped consecutive games earlier this week for the first time in seven years, Ohio State's avoidance of back-to-back losses became the longest in the country.
"I don't know if I can pinpoint one thing as to why this has happened," Matta said. "We really haven't mentioned it. I think our guys are probably aware of it. Hopefully it goes to 122 on Sunday."
Matta's claim that the streak is an unspoken topic didn't mesh with Thomas' version of events. He said it's a point of pride for the team.
"Coach Matta always talks about it," Thomas said. "When we lost one at Michigan, we were like, we own the record, we've never lost another game or never lost twice. This program takes great pride in that. That's what Ohio State basketball is all about. If we get knocked off, what do we do next? We pick up and keep fighting. We learn here, and we stay together."
The fans also stick together. Ohio State's student section, the Buckeye NutHouse, has taken to camping out for first-come, first-serve seats behind the benches. The tent village, aptly named Mattaritaville, includes dozens of tents filled with students that have been set up in the cold living conditions since Wednesday.
Get Smart
Ohio State is 2-4 all-time vs. No. 1-ranked Indiana teams, winning the past two games.
The Buckeyes are 2-1 against No. 1 teams under Thad Matta.
Kevin Harlan and Clark Kellogg have the call. 
Prior to the Michigan game in January, the team delivered pizzas to those students braving the elements. The Buckeyes came to the rescue again on Saturday, providing their classmates with food.
"I think it's awesome," said Matta, about the support. "To see the environment in the Schottenstein Center and how that has just evolved in terms of the excitement level, I couldn't be more excited. To have that brand, Mattaritaville, I think is a tremendous thing. I'm just hoping they do hats and T-shirts and calendars and mugs and all that stuff."
Matta already enjoys love from Buckeye Nation, but another win over a top-ranked team would elevate that status even more. In his career, he's 3-3 against No. 1 teams, with two of those wins coming at Ohio State. The Buckeyes are 8-10 all-time versus No. 1, including wins the past two times they've played a No. 1 Indiana.
"We've always tried to be like, hey, it's the next opponent, because that doesn't get you anything in terms of you still have to play the games, you don't get a head start or a point advantage," Matta said of facing the top-ranked team.
If Ohio State is to win, Williams will have to play a key part. If the past two weeks are any indication, Williams is ready for the task of going up against Zeller.
Williams' intensity – or lack thereof – had left the coaching staff baffled for most of the season. But in practice last week, there were hints that Williams was busting out of that shell. At Nebraska, he finished with seven points, eight rebounds, three blocks and two steals. The intensity continued against Michigan with Williams recording nine points, four rebounds, and four blocks in 36 minutes, the most of his career.
"As you know, I had a problem at the beginning of the year just not being consistent," Williams said. "Lately, I've been more consistent than I have been my entire basketball career. There's still more in the tank, and I'm ready to go out and play more basketball."
Already this season, Williams has battled against Duke's Mason Plumlee and Kansas' Jeff Withey, two of the premier big men in the country. Those two games came during Williams' aforementioned malaise. He scored four points and grabbed 10 rebounds in 27 minutes at Duke and finished with six points, eight rebounds and two blocks in 20 minutes versus the Jayhawks.
The offensive numbers weren't stellar, but the production of Plumlee and Withey was more troublesome. The two combined for 35 points and 27 rebounds.
"There's no room for error right now," Williams said. "You're playing to win the Big Ten title and the Big Ten Tournament as well. If that's the case, I've got to give it my all every single night. I've been doing a better job of that lately."
So, too, has LaQuinton Ross. The enigmatic shooter is coming off his best game as a Buckeyes, scoring 16 points on 7-of-10 shooting in 23 minutes. Ross added five rebounds in the breakout performance. He had played well in non-conference games, but was never able to turn it up in the Big Ten.
"They grew up," Thomas said the sophomore duo. "That's one thing about this team, we showed heart. We fought until the end."
In the topsy-turvy Big Ten, it will take all 40 minutes again Sunday – or maybe even more.
| # | Name | YR | HT/WT | PTS | REB | ASST | P | # | Name | YR | HT/WT | PTS | REB | ASST |
| --- | --- | --- | --- | --- | --- | --- | --- | --- | --- | --- | --- | --- | --- | --- |
| 4 | A. Craft | JR | 6-2/190 | 9.3 | 3.8 | 4.5 | G | 11 | Y. Ferrell | FR | 6-0/178 | 7.7 | 2.7 | 4.5 |
| 32 | L. Smith Jr. | JR | 6-4/205 | 10.5 | 5.3 | 1.7 | G | 1 | J. Hulls | SR | 6-0/182 | 11.1 | 2.6 | 3.2 |
| 12 | S. Thompson | SO | 6-7/190 | 6.9 | 3.4 | 1.1 | F | 4 | V. Oladipo | JR | 6-5/214 | 13.8 | 5.7 | 2.4 |
| 1 | D. Thomas | JR | 6-7/225 | 19.9 | 6.1 | 1.6 | F | 2 | C. Watford | SR | 6-9/232 | 12.9 | 6.7 | 0.9 |
| 23 | A. Williams | SO | 6-11/250 | 4.5 | 4.1 | 0.1 | C | 40 | C. Zeller | SO | 7-0/240 | 16.2 | 8.3 | 1.3 |