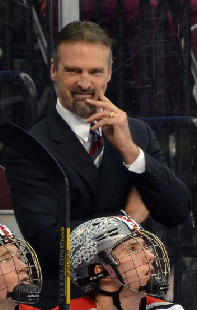 Oh, how things can change. 
After two home weekends that garnered 10 points in total, the Ohio State men's hockey team now find themselves in 5th place in the CCHA standings, and are suddenly putting together the consistent performances they've desperately needed since the turn of the year.
But just before that time, they were sliding quietly down the conference standings after losing three games in a row. To their credit, they regrouped quickly to sweep Lake Superior State at home to right the ship.
Then the team faced the task of playing a top 10 Notre Dame team last weekend, and the Buckeyes responded in the best fashion possible, winning their first game, 6-3, on Friday night behind five second-period goals.
Saturday night saw Ohio State become the more defensive side, as they were outshot, 47-22, but still managed a 2-2 tie behind the continued excellence of goalie Brady Hjelle. Although his team's performance didn't match the previous evening, head coach Mark Osiecki understands different factors contributed to giving up so many chances.
"It was a combination of Notre Dame playing well and a lot of other guys not having the same jump," Osiecki said. "For whatever reason I think it [the performance] had a little bit to do with the back end and [defenseman] Curtis [Gedig] being out. But more to do with just the lack of jump from our forwards."
For sophomore forward Max McCormick, the question had a much less clear answer.
"I don't know what it was," McCormick said. "We just didn't have it."
Still, the game was OSU's fourth straight without defeat, the team's longest streak of the season. That positive stretch will surely be tested as the team faces its longest trip of the year: roughly 3,800 miles due northwest to face the Alaska Nanooks in Fairbanks.
The last time Ohio State made this journey was two years ago, when the home team swept the visiting Scarlet & Gray. But it wasn't just the games that were the difficult part, as junior forward Chris Crane could attest.
"I think we got on three planes, seven hours of flight time," Crane said. "We got there and none of our luggage is there, our hockey bags aren't there, we can't even brush our teeth...it was a bit of a rough trip."
Crane isn't too worried about getting acclimated though, saying that the journey is "something everyone has to get through at some point" and asserting that he felt the team is "ready" for the trip. 
"The challenge is just getting there, and trying to get back to normal as quickly as you can," Coach Osiecki said. "We try not to talk about it at all. Just be very matter of fact about it and get up there and [get] playing."
One could safely assume that the Buckeyes' success this season has stemmed from their strong defensive play. They rank sixth nationally in team defense, thanks in no small part to the superb Hjelle, whose goals-against average and save percentage are both in the top five nationally.
His accomplishments have not gone unnoticed. Hjelle has won the CCHA Warrior Goaltender of the Week five times this season, and for the second time in a row this past week thanks to his 45-save performance on Saturday. He will need to be at his best again in Alaska against a team who took four points from two games back in November against the Buckeyes.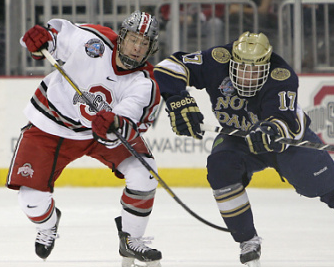 Hjelle might have to be ready for some quick attacks coming his way. Speaking about the challenges the Nanooks will pose, Osiecki described them as "a team that plays with high energy, high skill, and high speed." He also called them "a tough team to play against," citing their transition game as a specific area of strength. 
The Buckeyes sit one place and one point above Alaska, and also with two games in hand on their opponents. A continuation of their recent success would go a very long way to cementing their place in the top five of the CCHA standings, a position that would guarantee them a first-round bye in the postseason conference tournament. Last season the team finished ninth and was subsequently ousted in the play-in round by Notre Dame.
With two of the final three series after Alaska coming against the top two teams in the CCHA — Miami of Ohio and Western Michigan — the upcoming doubleheader has extra importance. Crane said some of the veteran players have been giving the more inexperienced ones tips on how to handle such an exhausting excursion.
"It's important to stay concentrated and stay hydrated throughout the day. Maybe carrying the pillow on the plane so you're comfortable and you're not sore when you get off. Just some small details," Crane said.
It's those small details that could prove the difference between an acceptable trip, and a great one.