It started at 7:28 a.m.
Inside the Woody Hayes Athletic Center, a fax machine began spilling out paper. The national letter of intent from four-star defensive lineman Joey Bosa had arrived. It was the beginning of a day that ended with Ohio State having the first or second-ranked recruiting class in the country, depending on which service you look at. It doubled as arguably the single best class in program history.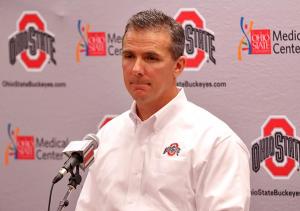 Urban Meyer and Co. plucked talent from far and wide, scouring the nation for the requisite pieces to win a national championship. Offensive and defensive linemen, linebackers and speed at the skill positions were the top priorities for the Buckeyes, and each area resulted in high grades from the coaching staff and recruiting experts alike. 
But the news that sent the war room at the football facility into full-scale euphoria was Vonn Bell's signature. The five-star defensive back from Tennessee was the mystery prize for Ohio State. Throughout the recruiting process, Bell was never perceived as an Ohio State lean, and even minutes before his announcement several national prognosticators had him tabbed for Tennessee. Even Shelley Meyer told her husband on Monday night that she didn't believe Bell would commit to Ohio State.
Then just past 10 a.m. on the East Coast, Bell delivered the good news to the Buckeyes, causing cornerbacks coach Kerry Coombs to display his patented exuberance. 
Said Meyer: "Vonn Bell called me and said, 'You know I'm in, right?' I said, 'No, I didn't know you were in. Congratulations.'"
Meyer described the recruitment of Bell as a "street fight." He said he was so nervous that he had to step off his treadmill during his Wednesday workout and step away from Everett Withers, the prime recruiter of Bell. Once the announcement was made, relief swept over Meyer.
"Start to finish what Everett Withers did with Vonn Bell, that's as good a recruiting effort as I've ever seen," said Meyer.
But there were more big fish in the class of two five-stars and 16 four-stars, according to Rivals.com. That list includes linebacker Mike Mitchell, athletes Jalin Marshall and Dontre Wilson and wide receiver James Clark.
The latter two were final week coups orchestrated by Tom Herman and Tim Hinton. Wilson was a longtime commit to Oregon, but reopened the process after Chip Kelly fled to the NFL, while Clark, a Florida native, was thought to be solidly in the Gators' corner.
Meyer, though, who's earned a reputation as one of the best closers, only threw strikes this week. It was bad news for the rest of the country.   
"We went into the final week hoping for three guys that could have gone either way," he said. "James Clark, Dontre Wilson, Vonn Bell; if we get one of three, that's all right; two of three, that's great, but to get three out of three – it's a great day to be a Buckeye.
"I thought it was going to be a very good day, but it goes into the great category."
A classic Meyer running back/slot receiver combo, Wilson is 5-foot-10, 174 pounds. Any part of his size that might be a disadvantage is offset with his speed and elusiveness.
"Dontre Wilson, I'm hoping Buckeye Nation really enjoys watching that guy play," Meyer said. "If he's who we think he is, they'll love him."
Ohio State has long had its radar locked on Wilson, not just in the weeks since Kelly left Oregon. Meyer reiterated that point, saying the Buckeyes started recruiting him in the spring.
A day full of highs didn't pass by without surprise, however. Punter Johnny Townsend was expected to confirm his commitment with Ohio State at a noon press conference. It was then pushed back to 4 p.m. before being cancelled altogether.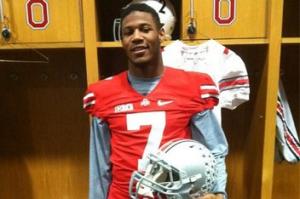 It isn't often that a punter causes high drama, but the Buckeyes only have a walk-on on roster this season. Place-kicker Drew Basil could handle punting duties and wide receiver Frank Epitropoulos punted in high school.
Meyer said he is concerned and said another recruit could be added, almost certainly referring to Townsend.
Townsend, one of the top-rated punters in the country, hails from Florida and has been a Meyer fan since his days patrolling the sidelines in Gainesville. When he received an offer from his dream coach, Townsend quickly jumped aboard the Urban Express.
The athletic director at his high school, Doug Patterson, described the matter as a family situation.
"Right now it's a personal matter between the Townsends and Ohio State, and they are working as fast as they can to make sure that any concerns they have are taken care of," Patterson said. "They really want to hold off on a binding commitment until they feel 100 percent comfortable with everything from the university."
Intrigue surrounding Missouri running back Ezekiel Elliott that popped up during January ended up being all for naught. Elliott committed to Ohio State in April, but visited the homestate Tigers, where his mom and dad were varsity athletes. In the end, his original word was firm, though Elliott said he's a "Missouri Tiger for life" at his announcement ceremony.
Linebacker Trey Johnson, who de-committed from Auburn after Gene Chizik was fired and pledged his allegiance to the Buckeyes at the Under Armour All-American Game, didn't waver when the time came to send his national letter of intent. 
The competition for Johnson was a "feeding frenzy," according to Meyer. But he never faulted the staffs at Auburn or Tennessee for trying to pry away blue-chippers late in the process. Instead, Meyer pointed out it's all part of the deal.
"It happens every year when new coaches come in," he said. "I always watch who gets hired."
In two years at Ohio State, Meyer has made late pushes in each. But this year wasn't a mad dash full or uncertainty. A year ago, Meyer had to juggle filling a staff, recruiting and getting to know the players on the roster all at once. He had the luxury of staff continuity in 2013.
"Tom Herman did a great job in Texas, an area Ohio State hasn't traditionally been as strong in," Meyer said.
The Lone Star State wasn't the only part of the country the Buckeyes planted a flag in. They secured commitments in the states of Florida, California, Georgia, North Carolina, South Carolina, New Jersey and Indiana. Only 10 of the 24 signees are from Ohio, with 14 coming from outside the state borders. It's a trend that is likely to continue in 2014 due to a weaker than usual talent pool in Ohio State.
"We do want to cherry-pick and recruit nationally," Meyer said. "We'd much rather have a base in Ohio and then branch out."
In the never-ending world of recruiting, the preparation for the 2014 class begins Thursday – or maybe even Wednesday tonight. The thought process also turns to spring practice and how to incorporate the five early enrollees into their role.
Early playing time is not only available, it's expected when you become a Buckeye.
"Now we go from recruit phase to prep phase because we don't redshirt guys here at Ohio State," Meyer said. "We tell guys we aren't recruiting them to sit a year or two. We want guys who are ready to play."
After a year's worth of work came to fruition, Meyer is ready for a 7:28 a.m. tee time on Wednesday. Weather permitting, of course.