If things had gone the way Trey Burke wanted, he'd be suiting up in scarlet and gray in the visitor's locker room tonight in Ann Arbor. Instead, he'll be wearing the colors of the enemy. Columbus natives are taught at birth to shudder at the mere sight of maize and blue. That Burke wears the hues proudly verges on treasonous.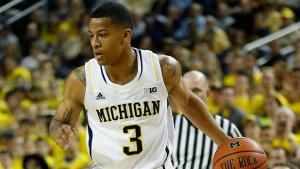 But the Benedict Arnold label doesn't fit cleanly with Burke. It's more like trying to fit a square peg into a round hole. A longtime teammate and best friend of Jared Sullinger, Burke was always the less heralded member of the ballyhooed Northland high school basketball teams that took the nation by storm.
He was a year younger, thus received less of the spotlight. Sullinger was destined for stardom at a young age, gifted with generous bloodlines and an equally impressive skillset, while JD Weatherspoon blossomed into a valued talent as he progressed through high school. Sullinger and Weatherspoon ended up at Ohio State (Weatherspoon transferred to Toledo after last season), helping lead the Buckeyes to back-to-back Big Ten championships and an appearance in the Final Four.
A three-star recruit, Burke first committed to Penn State during his junior season. He thought better of that after head coach Ed DeChellis fled Happy Valley for Navy in the very offseason following the Nittany Lions' first NCAA Tournament berth in nearly a decade, an indication of how bad the support is for the basketball program. In came John Beilein, and, as they say, the rest is history.
While Burke was in high school, the lack of attention from Ohio State stung, especially since Buckeye assistants were a regular presence at his games.
"I could have saw myself going to Ohio State," he said. "But, now that I'm here at Michigan and I've already learned the culture here, I feel like I'm in the right place."
Few would dispute that claim after the first season and a half of Burke's career. The former Ohio Mr. Basketball averaged 14.8 points, 3.5 rebounds, 4.6 assists and one steal during his rookie season that ended with Big Ten co-Freshman of the Year honors. Burke led Michigan in points, assists, blocks and steals. Not only that, he played a major part in the Wolverines winning a share of their first conference title in 26 years.
But year two has yielded even more impressive numbers – 18.2 points, 3.1 rebounds and 7.2 assists per game. He's the engine of a powerful locomotive that generally fires on all cylinders. Third-ranked Michigan is averaging almost 80 points per game this season.
It's those outputs that have Burke atop most national player of the year straw polls.
Due to his hometown roots, Buckeye Nation looks at Burke like he's the one that got away. But in truth, Shannon Scott was a more highly touted point guard in high school, and the Buckeyes went after him early. Once Scott committed, they weren't going to take another point guard in the class, especially with Aaron Craft already entrenched. Therein lies the mystery as to why Burke never received an offer from Ohio State.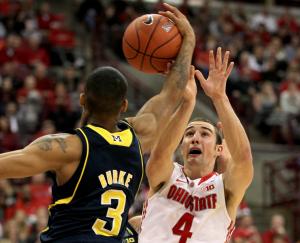 "I understood that they had already had Aaron Craft and they were looking at Shannon Scott," Burke said in January. "In high school, it fueled me. It made me work harder. But now, I feel like I'm in the best situation I could have been in. I'm happy here. It's not personal anymore. Playing against them is going to be fun."
It was Burke's own nightmare in the teams' first matchup this season. Not only did Ohio State hand Michigan its first loss of the season, the Buckeyes also denied the Wolverines an opportunity at their first No. 1 ranking in more than two decades. Michigan finally reached that plateau a few weeks later, but Saturday night's loss at Indiana sent them tumbling once again.
"Michigan just took a loss, and they're going to be ready to get after it," Craft said. "We were their first loss. They'll be ready."
In a game that marked a homecoming for Burke, he would probably rather forget Jan. 13. A missed three-pointer that would have been a game-winner ping-ponged around the rim before popping back out. He finished with 15 points but shot the ball 13 times, and Craft put a dent in his efficiency, limiting Burke to four assists against four turnovers.
The head-to-head battle between Craft and Burke has almost become a game inside a game. So far, Craft has the upper hand. Ohio State fashions a 3-1 record against the Burke-led Wolverines. All three losses have included subpar performances from Burke that were havoc induced by Craft.
"Craft is as good as I've ever seen," Beilein said. "He's tremendous."
It's a sentiment Burke agrees with, but that doesn't mean he shies away from facing the best.
"I love playing against him because he makes me better and he makes me work," Burke said.
In four games against the Buckeyes, Burke has turned the ball over 20 times and scored just over 10 points per game. The defensive prowess of Craft is well-documented, but the art of his shutdown abilities against one of the nation's most productive players offers a vision like no other. When Michigan is on offense, Craft doubles as Burke's shadow.
Injecting too much energy into a personal rivalry also has possibly led to Burke's lackluster play against the Buckeyes.
"It's always in the back of your mind, but when you tend to make things personal in games like this, you tend not to play your best," Craft said. "He's still learning, he's a sophomore."
It was Craft's sophomore year when he led Ohio State to within a blip of playing for the national championship. Might that ascent follow Burke and the Wolverines?
"Trey is a hard worker from a great family," Craft said. "I've seen him be very successful at every level. We kind of grew up together and it's great to see him have success."
Burke would have enjoyed sharing that success with his childhood friend in his hometown. But now Craft is forced to hope Burke's triumphs don't come at the expense of Ohio State.