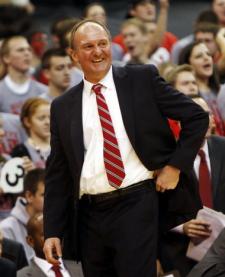 It's a kindler, gentler version of "The Game." Yes, there is still animosity and distaste among the participants, as well as a level of respect. But the Ohio State-Michigan basketball rivalry just doesn't carry the same cachet as the contest their football brethren play each November.
For one, in basketball, the Buckeyes and Wolverines lock horns multiple times a year. The level of significance also varies, as does the competitiveness. Incredibly, tonight's game is the first top-10 regular-season matchup between the two schools. Football might be king on each campus, but the basketball programs at Ohio State and Michigan are rich in tradition and success.
"People try to draw the comparison to football," Ohio State head coach Thad Matta said. "But in basketball, we just played them a couple weeks ago and could maybe play them again in the Big Ten Tournament. In my opinion, this is more along the lines of a great Big Ten matchup."
With signing day looming, though, the magnitude of the Ohio State-Michigan game becomes apparent. Visions of five-star running backs and future championships will cloud the brains of fans from each school. But hours before the madness begins – no, it's not March – they'll tune in for a hardwood battle between the heated rivals.
Matta's tradition has been his dominance of Michigan. He is 17-3 all-time vs. the Maize and Blue, by far the best win percentage ever for an Ohio State coach against the Wolverines.
"In the last decade or so, Ohio State has really done very well against Michigan," U-M head coach John Beilein said. "We're finally getting up to the point between our facilities and our recruiting – we've been in catchup with a lot of Big Ten teams. We'll find out in years to come how caught up we are, but (Ohio State) has a tremendous program. They have a very, very fertile recruiting base down there. Thad Matta's a terrific, terrific coach with a great staff and they've done a great job."
That comment could also be used when referencing the football programs, considering Ohio State's victories over Michigan in 10 of the past 12 games. Not to mention, the Wolverines are trying to catch up after the Rich Rodriguez era.
Similar to the football field, the teams might not be fond of one another, but there is a mutual respect that brings a sense of class to the proceedings.
"You look at the job coach Beilein has done at building that program," Matta said. "They're playing at a tremendously high level."
| # | Name | YR | HT/WT | PTS | REB | ASST | P | # | Name | YR | HT/WT | PTS | REB | ASST |
| --- | --- | --- | --- | --- | --- | --- | --- | --- | --- | --- | --- | --- | --- | --- |
| 4 | A. Craft | JR | 6-2/190 | 9.2 | 3.6 | 4.7 | G | 3 | T. Burke | SO | 6-0/190 | 18.2 | 3.1 | 7.2 |
| 32 | L. Smith Jr. | JR | 6-4/205 | 10.5 | 5.4 | 1.6 | G | 10 | T. Hardaway Jr. | JR | 6-6/205 | 15.6 | 4.8 | 2.4 |
| 12 | S. Thompson | SO | 6-7/190 | 6.9 | 3.5 | 1.1 | F | 11 | N. Stauskas | FR | 6-6/190 | 12.5 | 2.9 | 1.3 |
| 1 | D. Thomas | JR | 6-7/225 | 20.0 | 6.2 | 1.5 | F | 1 | G. Robinson III | FR | 6-6/210 | 11.7 | 5.7 | 1.3 |
| 23 | A. Williams | SO | 6-11/250 | 4.2 | 4.1 | 0.1 | C | 52 | J. Morgan | JR | 6-8/250 | 6.1 | 4.9 | 0.3 |
Opponent
John Beilein celebrates a milestone birthday today – No. 60. If it's to be a happy celebration, several things must change from the first game between Ohio State and Michigan.
In a January loss to the Buckeyes, Michigan struggled out of the gate and never got the production it needed from Nik Stauskas and Glenn Robinson III.  Both freshmen, it looked like the wild atmosphere may have gotten to them. The same scene took hold again in Bloomington.
"We have to get the freshman going early," Michigan point guard extraordinaire Trey Burke said. "That is something that we failed to do in Columbus."
Avenging the loss would allow Michigan to stay one step behind Indiana, which travels to Ann Arbor for the final game of the season. Playing in front of the home crowd tonight should give Michigan an extra oompf of energy.
This scenario played out last season, with Ohio State winning the first game and then heading north. The rematch resulted in defeat for the Buckeyes.
"We have to come out with high intensity and throw the first punch," Burke said.
While it makes sense to concentrate on arguably the best player in the country, Ohio State must also contribute resources to slowing down Tim Hardaway Jr. His season averages represent what the Buckeyes would like in their secondary scoring option, and he's also developed into a team leader and defensive whiz kid for the Wolverines.
"I'm just trying to help the team any way I can, to just have that type of mentality," Hardaway told the Big Ten Network's Tom Dienhart. "I think that's maturity coming into play and having the right group of guys around you to help you out. I spent time working on many aspects of my game in the offseason. I knew I could get better. We all can.
"I'm just trying to be a leader out there, just trying to do what I can to help the team. We all have specific roles, and mine is to be a veteran out there and to help the younger guys out any way I can. I try to make sure everyone stays composed while they are on the court."
Said Beilein: "He realized in the past, that his footwork, his closeouts, the technique that he was using, his habits were holding him back a little bit. He worked very hard on his closeouts and his posture, and how he shuffled his feet."
Freshman Mitch McGary also has blasted off and given Beilein reason to smile. Against Indiana, McGary held his own against Cody Zeller, finishing with 10 points, seven rebounds and two steals. The real issue was boxing out, as Zeller had multiple putback dunks.
With Amir Williams and Evan Ravenel giving Ohio State a physical and energetic presence in the paint, McGary could help offset that and spark the Wolverines.
But the main event remains Burke and Craft, a matchup that favors Craft.
"We've been trying to find different ways in our scouting to give Trey the freedom to do some things, just to get him away from Craft," Beilein said.
The ultimate form of respect.
Buckeye Breakdown
Long before the regular season even started, Big Ten coaches, players and those in the media began chattering about how difficult the conference would be this season. All those predictions have turned out true. The Big Ten is home to three of the top 10, four of the top 12 and five of the top 18 teams in the nation. That includes No. 1 Indiana and No. 3 Michigan.
It just so happens that Ohio State faces both of those star-studded rosters in back-to-back games this week. It's a torture chamber Matta has never experienced in the regular season.
"It's another week," said Matta, with a sheepish grin across his face. "I think that probably from top to bottom (the Big Ten) is as good, and we haven't seen everybody yet, but seeing on tape, seeing scores, seeing the standings, I would probably agree (this is the best it has been).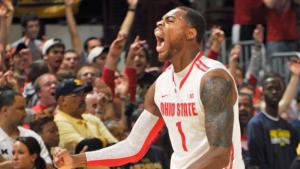 "To be honest, we haven't even talked about Sunday's game. Obviously the mindset is on (tonight's) game, knowing that they have a great team."
While coaches might fret about the complexity of games, players often embrace the marquee matchups. It's no different at Ohio State.
"It's why you come to Ohio State and play in a conference like the Big Ten, for weeks like this," junior point guard Aaron Craft said.
This week could go a long way in determining Ohio State's candidacy for the Big Ten championship and the conference's pecking order. Indiana has a one game lead on the Buckeyes and Wolverines. It isn't just this week that's brutal for Ohio State. The entire second half contains few gimmes.
Ohio State plays at Michigan, Indiana twice, at Wisconsin, and Minnesota, Michigan State and Illinois at home. The combined win-loss record of those teams is 90-20. There's no more Nebraska and Penn State. The easiest games left are two dates with Northwestern.
"We lost two (conference) games and we just wanted to get to the halfway point in the Big Ten season 7-2, and we were fortunate enough to do that," Craft said. "You always have got to play with a bigger picture in mind. That helps us play better. It gives every possession and every situation more significance. You take it more seriously if it's in the grander scope of things."
With so much uncertainty facing the Buckeyes in the final month and a half, this week could trigger a boost or decline.
"It's going to mean a lot for this team, especially if we get two wins against Michigan – they're highly ranked," junior forward Deshaun Thomas said. "If we get a win against IU, we know we got to go down there and it's going to be tough. It's going to be big if we can get these two wins."
Mission impossible starts tonight. Winning on the road against anyone is challenging, even more so when your opponent is one the nation's top teams. But Michigan has shown they can be beat, and Ohio State is proof of that.
The common denominator in both of Michigan's losses this season has been slow starts. Ohio State and Indiana each roared out to double-digit leads in the opening minutes of the game. The Wolverines came back each time, but the deficit was too great to make up.
"With the number of people they can put out there, the number of people that can score the ball, it's really tough to play normal defense when you're worried about the number of shooters they have," Craft said.
Burke is a jack of all trades, Tim Hardaway Jr. is one of the top shooters in the league, freshman Nik Stauskas can make 3s at an incredible rate, and fellow freshman Glenn Robinson III has himself positioned in the lottery of 2013 NBA mock drafts.
"Defensively, I think we're pretty sound," Matta said. "We're trying to get our guys to have a prideful mentality in terms of getting stops. We want to continue to get them to understand we have to have that for 40 minutes."
A replay of Burke's final shot on Jan. 13 will reinforce that point.
Etc
Ohio State owns a 93-72 record all-time versus Michigan.
Since the fall of 2004, Ohio State is 25-4 against the Wolverines in football and men's basketball. 
With a win Thad Matta would tie Harold Olsen with the most victories over Michigan by an Ohio State head coach. Olsen was 18-19 vs. the Wolverines from 1923 to 1946. Fred Taylor sported a 17-11 mark against Michigan from '59 to '76. 
Deshaun Thomas is on pace to become the 14th Buckeye to score 500 points in a season multiple times.
Mike Tirico, Dick Vitale and Samantha Ponder have the call.