Yesterday's 63-56 win over Nebraska brought Ohio State to the halfway point of the B1G regular season.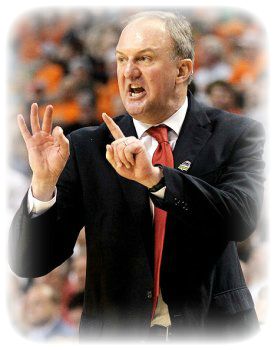 The team, as a whole, has been a bit enigmatic with the Buckeyes losing four of five against ranked teams but after nine conference games, the Scarlet and Gray have posted a 7-2 mark, good enough for a 2nd place tie with Michigan and Michigan State, with all three teams trailing Indiana's 8-1 record.
League play got off to an easy start as the Buckeyes pummeled an awful Nebraska squad behind 22 points from Deshaun Thomas, including 18 in the first half, which was one more point than the entire 'Husker team produced. Lenzelle Smith Jr. added 17 but unfortunately, that was not a sign of things to come.
On a Husker high, the Buckeyes got absolutely ambushed three days later as Illinois brandished the whooping stick, crushing Buckeyes, 74-55, in Champaign. The Illini guards physically dominated the OSU wings, repeatedly finding success of dribble penetration. Offensively, Thomas again led the charge with 24 points but the no-second-scorer theme remained a constant as Aaron Craft was the only other Buckeye to reach double figures with 11 on 4/10 shooting.
To their credit, Ohio State bounced back with a 10 point win in West Lafayette behind 22 from Thomas and 15 from Craft, giving Thad his 100th B1G victory, and setting up a showdown with then #2 ranked Michigan.
Though Vegas had the Buckeyes as a one-point favorite, the most common Buckeye fan sentiment was that Ohio State might be walking into a turbine. In easily their most outstanding performance of the year, OSU beat the Wolverines, 56-53, behind 20 from Deshaun and an outstanding defensive performance from Craft, who held Trey Burke to 4/13 from the floor with four turnovers. Even in victory, however, the festering wart was evident as no other Buckeye joined Thomas in double figures.
The Buckeyes weren't able to keep the momentum going six days later in East Lansing, with Sparty coming away with a 56-53 win. The loss itself wasn't such a big deal, knowing how tough it is to win conference roadies but the manner in which Ohio State fell was tough to swallow. Again, it was the Deshaun Thomas Show as he scored 28 points while no other Buckeye scored more than six. Adding to the pain was Shannon Scott's panic-play on the final possession in which he unnecessarily raced up court and launched a running three-point try that had no chance.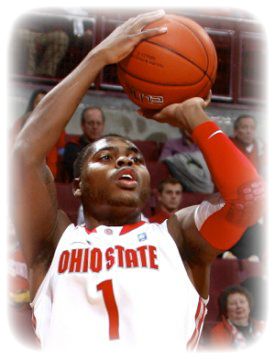 Once more, to their credit, the squad rebounded with back-to-back wins over a mediocre Iowa squad and a dismal Penn State outfit before putting the clamps on Bo Ryan's Badgers in a 58-49 home victory. Thomas was again in beast mode with 25 points and OSU used a 15-0 run to pull away in the 2nd half.
Defensively, the Buckeyes kept Wisconsin from attempting a single free throw and applied heavy perimeter pressure, forcing Bucky to jack up 28 three-point tries out of 52 total field goal attempts.
Finally, to cap the first half of the conference slate, Ohio State got the aforementioned win over Nebraska last night as Lenzelle Smith Jr. poured in a season-high 21 points to cap the 7-2 start. 
Looking at the roster, Deshaun Thomas is still carrying this team on his back. Last Sunday, I took a deep dive into Deshaun's season, examining how he stacks up against previous Buckeye leading scorers in both overall production and the burden he's taken on as he nearly single-handedly keeps this Buckeye team afloat. Not surprisingly, he's taken on an even greater scoring burden as the Buckeyes have weaved their way through conference play.
On the season, he's scoring 28% of the total team points and through nine conference games, that number has increased to 32% of Ohio State's total output.
Including Deshaun, here's a look at how the rotation-players are performing in B1G conference play only:
Ohio State Rotation Player Stats - B1G Games Only

| player | mpg | ppg | rpg | apg | fg% | 3fg% | % of Team pts |
| --- | --- | --- | --- | --- | --- | --- | --- |
| D. Thomas | 36.9 | 20.3 | 5.2 | 1.1 | 48% | 40% | 32% |
| L. Smith  | 29.3 | 9.6 | 6.0 | 1.1 | 47% | 46% | 15% |
| A. Craft | 34.8 | 9.6 | 4.0 | 4.6 | 39% | 22% | 15% |
| S. Thompson | 26.1 | 5.9 | 3.0 | 0.9 | 47% | 33% | 9% |
| A. Williams | 17.7 | 3.9 | 4.6 | 0.1 | 48% | n/a | 6% |
| E. Ravenel | 19.1 | 5.4 | 4.1 | 0.4 | 57% | n/a | 6% |
| L. Ross | 14.2 | 5.0 | 2.1 | 0.3 | 49% | 50% | 5% |
| S. Scott | 18.3 | 2.7 | 2.2 | 3.1 | 28% | 0% | 4% |
Lenzelle has been the 2nd leading scorer all season but Craft has caught up to him in conference action thanks to his own resurgence coupled with Smith Jr.'s repeated no-shows against good teams. Smith Jr. has reached double figures in league games against Nebraska (twice), Iowa and Penn State but averaged just 6.2 points per game against the combo of Illinois, Purdue, Michigan, Michigan State and Wisconsin while shooting just 9/30. He's rebounded the ball but against the better teams, he has struggled to find any offensive consistency. 
Craft isn't exactly setting the world on fire thanks to poor shooting percentages from the field and beyond the arc but he has reached double figures in three of his last four games while also looking to drive and create for others at a rate he couldn't match earlier in the season. He's handed out at least five assists in four of the last five games and he has taken his defense to another level during most of that same stretch.
Ohio State will continue to rely on high ball screens for Craft to initiate the offense and his ability to not only make good decisions with the basketball but also to hit 17-19 foot jumpers will be critical as teams will continue to sag off him and put more attention on Thomas if he can't deliver. Down the stretch, despite Lenzelle's 21 yesterday, I have to believe Craft will continue to emerge as Ohio State's 2nd leading scorer.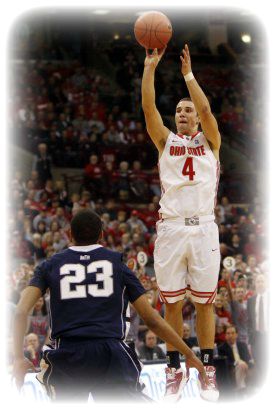 Thompson has reached double digits in just one league game, a 6/7 shooting performance that yielded 16 points against a bad Penn State team. He adds the wrinkle of freakish athleticism but doesn't get to the rim or rebound as well as he should considering his hops and he's not much of a creator for his teammates. The fact he doesn't turn the ball over and plays adequate defense are the chief reasons he continues to average 25+ minutes, at least five more than I personally think he should be receiving.
Amir has hit the glass pretty hard the last two, games pulling down six in 17 minutes against Wisconsin before grabbing eight in a season-high 28 minutes last night. His hands are still a source of frustration but he has 11 blocks over his last four outings and he's shooting a combined 10/14 from the line over that same stretch. Clearly, Amir hasn't come close to reaching the perceived potential many had for him coming into the season, considering he's recorded 10+ boards only once and never reached double figures in the scoring column. With games still remaining against bigs like Zeller, Mbakwe, Berggren and Nix, Williams will have his hands full. At this point, it's still hard to come to grips with the fact he was tabbed a McDonald's All-American. 
Though he's come off the bench in league play, Ravenel continues to see a hair more minutes than Amir. Ravenel is clearly the more polished offensive player, though that's not saying much, but he at least forces the opposing post defender to pay attention to him up to about 16 feet out, especially on the baseline, a shooting spot Evan is comfortable with. 
On a team with more balanced and consistent perimeter scoring, their combined 9.3 ppg and 8.7 rpg from the five-spot would actually be more than serviceable. On this team, their flaws stick out a much greater level. 
The game might finally be slowing down a bit for Ross. Thad has shown increased confidence in LaQuinton's defense and handles, and the result is an increase in minutes. After playing just 12 combined minutes against Purdue and Michigan, Ross has received 10+ minutes in each of the last four games and is averaging 17.5 mpg in the last four outings. 
It's no coincidence, in my mind anyway, that Q's minutes saw an uptick immediately after Shannon Scott's stinker in East Lansing. Beyond the poor decision on the last play of the game, Scott hit only 1/5 shots, bringing him to a combined 4/18 from the floor (22%) in the first five games of the conference schedule. To his credit, he was dishing out assists at an impressive rate but with Craft showing signs of coming out of his offensive funk, Thad's love for having Thompson on the court and Smith's shooting woes, Ross got more minutes almost by default because the team needed a respectable shooter to take a bit of pressure off Thomas. Ross hasn't exactly gone off but he has shot a combined 8/17 with just two turnovers in his last 50 minutes of action. 
With Ross taking baby steps and Craft's improved offensive aggressiveness, coupled with the team needs, Scott has seen him minutes plummet from 22.2 over the first five conference games to just 13.5 over the last four. I expect that trend to continue. 
Moving on to the overall conference picture, the Buckeyes still find themselves very much in the thick of things. A run toward at least a share of the B1G regular season conference crown for a fourth straight season isn't as far-fetched as it once appeared when you look at the 2nd half schedules for teams still in the thick of things. I'll leave Wisconsin (5-3) in the discussion for now but I'll cut Minnesota (4-4) since they're already sporting four conference losses. 
B1G Standings & Remaining Opponents (Through 2/2/13)

| Team | W-L | REMAINING OPPONENTS |
| --- | --- | --- |
| Indiana | 8-1 | @ILL, @OSU, NEB, PUR, @MSU, @MINN, IOWA, OSU, @MICH |
| Michigan | 7-2 | OSU, @WIS, @MSU, PSU, ILL, @PSU, MSU, @PUR, IND |
| Michigan State | 7-2 | MINN, @PUR, MICH, @NEB, IND, @OSU, @MICH, WIS, NW |
| Ohio State | 7-2 | @MICH, IND, NW, @WIS, MINN, MSU, @NW, @IND, ILL |
| Wisconsin | 5-3 | @ILL, IOWA, MICH, @MINN, OSU, @NW, NEB, PUR, @MSU, @PSU |
The Hoosiers currently sit atop the standings after last night's eight-point win over Michigan in Bloomington but Indiana does play five of their final nine games on the road, including stops at Ohio State, Michigan State, Minnesota and Michigan plus a home date with the Buckeyes next month. I absolutely think they are on a different level than anyone else in the B1G, including Michigan, and should win the league outright but they still have a bit of a gauntlet to run. As much as it pains me to say it, Crean's just got too many experienced weapons.
Michigan is one of three teams in the 7-2 logjam and four of their final nine games are roadies. Having one extra home game compared to Indiana will be a bonus, plus two of their roadies are against a bad Penn State squad along with a trip to West Lafayette. That said, the Wolverines still have to face an Ohio State program that's had their number before a trip to the Kohl Center in addition to a home-and-home with Sparty before closing the regular season slate at home against the Hoosiers.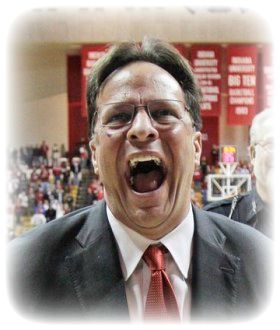 The Spartans sport the best coach in the league and also play five of their final nine games at home but they do face a difficult stretch that, beyond a trip to Lincoln to beat up on the hapless Cornhuskers, sees them face Michigan and Indiana at home before traveling to Columbus and Ann Arbor in back-to-back games. 
For the Buckeyes, four of their final nine games are roadies but the good news, hopefully, is that one of those is in Evanston, where the Buckeyes have won seven of their last eight.
The next four games will go a long way in determining where Ohio State finishes as they travel to Ann Arbor next Tuesday before hosting both the Hoosiers and Northwestern ahead of a trip to Wisconsin. Winning three of those four is undoubtedly a bit of a stretch but would be a virtual necessity if they have designs on sharing another title. A split would put the Buckeyes at 9-4 in league play and while that would make it nearly impossible for them to capture the crown, four of their final five look to be difficult, but winnable games. They get both Minnesota and Michigan State at home, where the Buckeyes are typically tough to beat. After that, the noted date in Evanston precedes a trip to Bloomington, before the Buckeyes come home to finish the regular season in a revenge tilt against Illinois. 
If they were to split next week by beating either Michigan or Indiana, that makes 14-4 a very optimistic possibility but if they get swept, 13-5 becomes the most likely best-case scenario. Keep in mind, this team is still an enigmatic bunch that relies far too heavily on one player offensively and is still searching for a consistent scoring sidekick despite already playing 21 games, so something worse than 13-5 is still very much in play. 
For history's sake, this is the sixth year in which the teams play an 18 game conference schedule. Over the past five years, 13 wins has only been good enough to win the league once and that occurred last season as Ohio State, Michigan State and Michigan all claimed a share of the title. In fact, 14 wins has only been good enough to win the league once as well, in 2009-10, when the trio of Ohio State, Michigan State and Purdue all shared a piece of the crown. In the other three years, 15 wins gave Michigan State a title and 16 wins pushed Wisconsin to the 2007-08 crown and Ohio State to the 2010-11 regular season championship. 
With Indiana looking to be the cream of the conference crop, Michigan trying to stay just one notch below, and Michigan State having Izzo and some battle-tested post players, it's hard to imagine Ohio State having enough juice to keep their championship streak alive but if Craft can find some consistency and Ross continues to evolve and earn more minutes, Matta's squad might at least be able to make things interesting. 
It's certainly far from guaranteed that they'll make significant noise but that's why they play the games.