Nearly two years into a career that was supposed to bring instant returns, LaQuinton Ross remains an enigma. The sharpshooting Mississippian was tabbed as Ohio State's 'next big thing,' but an academic snafu all but ended his freshman season. Entering his second year, Ross was penciled in as Ohio State's secondary scoring threat and mentioned among the nation's top surprise players.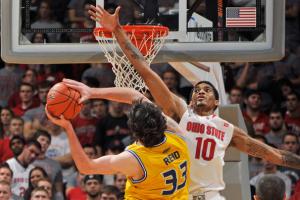 Instead, those lofty forecasts went the way of the phony weatherman. Ross is averaging 7.8 points and 3.2 rebounds in 17.1 minutes per game. Playing time and production has been sporadic. In high-profile games against Duke (11 minutes), Kansas (nine), Illinois (15), Michigan (three) and Michigan State (11), Ross played a combined 49 minutes, well under his season average.
Ohio State lost four of those five contests, as Ross shot 28.5 percent (6-21) from the field, including 2-of-10 from three-point range, and finished with just six rebounds and seven turnovers. In the three games following the Buckeyes' defeat in East Lansing, Ross has played more than 18 minutes per game and is shooting at a 50 percent clip.
Over the past 16 months, few, if any, would blame Ross for complaining. He played a grand total of 31 minutes in Big Ten games and did not appear in the NCAA Tournament last season. But he hasn't been a dividing force inside a rock-solid locker room.
"It's not just about scoring," said Ross, after tallying eight points Tuesday in a win over Wisconsin. "You have to do stuff on the other end. That's what this team is known for."
It's been a hallmark of Matta's teams, and one year after not only being devoid of points but also minutes, Ross now values the less glamorous aspects of the game and the intangibles.
"For me as a player, the biggest area I have grown in is listening," he said. "Last year, I was rebellious and it really hurt me. I wasn't playing so I was like, 'You can't tell me nothing.' It's not all about scoring. I do what I can for my teammates."
A change in attitude, philosophy and outlook has been the catalyst in Ross' transformation. On a team that is expected to practice with an in-game intensity, he's held up his end of the bargain.
"Starting out the season, I thought he was really making strides, and then he took a little step back," Matta said. "But he's bounced back and I like the way he's playing right now."
Still, Matta's trust level with Ross is nowhere near what veteran players experience. Mistakes on offense and defense continue to plague Ross all too often. But in the past he'd find a warm seat on the bench. Now Matta is allowing him to learn on the fly.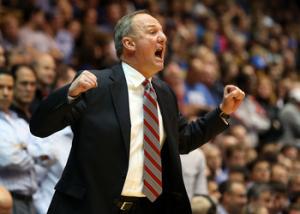 Twenty minutes against Wisconsin produced eight points on only four shots and a golden goose in the all-important turnover category. Perhaps most important was Matta's belief that Ross was capable of handling the meaningful minutes late in the game with Ohio State clinging to a lead.
"Him coming off the bench, hitting big shots, it's another piece to the puzzle," said Deshaun Thomas, the Big Ten's leading scorer. "It helps the team a lot by him coming in and producing."
Ross' psyche is also uplifted.
"It helps his confidence from the standpoint of being in there in critical junctions of the game," Matta said.
Ross connected on a 3 during a decisive 15-0 second-half run and even had a steal. Long known as a defensive liability, Ross helped frustrate Ryan Evans, causing a 40-minute episode of The Twilight Zone in which Evans finished 1-of-10 from the field with three turnovers.
Ohio State may not solve its scoring riddle this season, but the Buckeyes' demise may have been greatly exaggerated. Spreading the scoring around as opposed to having two primary scorers has proven to be effective and efficient in recent weeks. However, back-to-back games against No. 1 Michigan and No. 3 Indiana will require a Brinks truck defense.
"Our team is versatile, so we have the option to have more players play," Ross said.
Never was a winning defense more prominently displayed than Tuesday against the Badgers. Wisconsin forced up 28 three-pointers, converting 11, while making a dismal eight total shots from inside the arc. All told, Wisconsin shot 36.5 percent.
Even more impressive, Ohio State only committed 12 fouls, none of them shooting fouls. The Badgers shot zero free throws. It's that type of defense, with Ross contributing, that wins three consecutive Big Ten championships.
"They're long and athletic and they work extremely hard," Wisconsin forward Mike Bruesewitz said. "That's a pretty tough combination."
As evidenced by the blemishes in the right-hand column and the accompanying box scores, Ross' playing time is a pretty good indicator on the game's result. Along with Shannon Scott, another non-starter, the Buckeyes tend to be a smoother bunch when those two are on the court. And unlike the previous eight seasons, Matta has been more inclined to use his bench.
But for all the positives, there are still shortcomings with Ross that can be striking. It's not unusual to see point guard Aaron Craft get frustrated with Ross on offense and walk him through a play during a stoppage after Ross' cluelessness, while boneheaded defensive play could almost be considered a ritual.
"In essence, Q's a freshman," Matta said. "He needs to focus on all of the little aspects of the game, and to his credit he has done that recently and been very tuned-in in practice and in games."
Slowly, the complicated LaQuinton Ross is being simplified, with March minutes awaiting a talent born to shine amongst the Madness.