Good morning and welcome to your Wednesday Skull Session.
The basketball Buckeyes delivered one of their finest offensive performances of the season last night against Wisconsin, as Deshaun Thomas was in full attack mode all night. 
When you shoot 63.6% against the stingy Wisconsin defense, you know your chances are good to come out with a win. Behind Thomas' 10-for-17, 25-point, and four-assist performance, the Buckeyes won, 58-49. 
The win pushed Thad Matta ahead of Bo Ryan for best winning percentage among Big Ten active coaches. 
Elsewhere in college basketball, Minnesota beat Nebraska with ease, Virginia upset NC State, 58-55, and Kentucky finally looked good, defeating ranked Ole Miss by 13. 
IN PURSUIT OF PLAYMAKERS. As we inch closer to National Signing Day, Urban continues his pursuit of top playmakers on both sides of the ball. 
Star WR Corey Smith's (no, not this one) commitment was easily the biggest news of the day and I'd imagine Meyer, Herman, and wide receiver coach Zach Smith are happy to finally wrap this recruitment up. 
As an experienced JUCO player, Smith will immediately compete for time with Evan Spencer and Michael Thomas as one of the top candidates at outside wide receiver. I'm particularly impressed with his speed off the line and ability to gain separation from defenders. 
Smith's commitment leaves the Buckeyes with one more open spot, though another spot might open up in the future. 
Fan favorite Ryan Timmons has scheduled his decision for February 5 after deciding to take his last official to Florida. If you are still hoping to see Mr. Timmons in scarlet and gray next year then you have to hope he's just seen Columbus enough already. 
Finally, current Oregon wide receiver commit Darren Carrington is supposed to drop by for a visit this Friday. This will definitely be one to watch if he actually makes it in to town.
RECRUITIN' AIN'T EASY. Unless you're Urban Meyer, I suppose. 
Rivals.com's Rob Cassidy breaks down the unfortunate (for fans and coaches at least) trend for early football commits to reopen their commitments after early pledges. Speaking about (current) Oregon commit Thomas Tyner's flirtation with other programs:
"I think he de-committed because he had been committed for so long and felt pressure to look at other programs," said West recruiting analyst Adam Gorney...For better or worse, the culture of early commitments leaves more time for doubt. It creates indecision. It also adds another bullet point to the case for adding a basketball-esque early signing period to the football world.
The question is what to do in response. Many suggest that an early signing period is the way to go – lock the kids down before they can change their minds later in the recruiting cycle. However, some argue that this would actually cause more harm than good, leading to even more costly transfers rather than the relatively innocuous decommitments.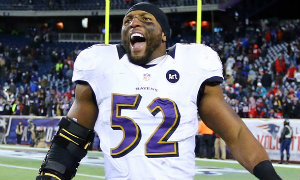 S.W.A.T.S. In one of the oddest series of stories in sports lately, Sports Illustrated broke the news about S.W.A.T.S., or "Sports With Alternative to Steroids." 
S.W.A.T.S. has apparently taken some segments of the NFL and college football world by storm by offering quasi-legal (and less than quasi-scientific) alternatives to steroids in order to boost performance on game day, recover more quickly, and train more effectively. 
The S.W.A.T.S. world is one of deer antler spray, pyramid hologram, and negatively charged water – the stuff of science fiction applied to sports. For instance: 
Ross is quick to tell visitors that his spray is no different from that sold by other supplement purveyors and that the hologram chips "are just stickers" -- that is, until the spray and the chips are "programmed" with both S.W.A.T.S.'s "performance" light beam and with radio waves emitted by the Christmas ornaments, which are actually radio frequency transmitters.

The theoretical underpinning offered by Key is that radio waves can be stored in fluids (the spray) and in holograms (the chips), and that when an athlete consumes the fluid or wears the holograms, the radio waves are re-emitted and prompt his body to create specific nutrients and hormones -- from vitamin B to testosterone.
Right. 
Ray Lewis is among several high-profile users of the company, meaning that Lewis allegedly consumed the banned substance IGF-1. It also appears some from the college ranks have enjoyed S.W.A.T.S's services, as several Alabama players have used the company's products before big games. 
This isn't the first bit of pseudo science to become popular for elite athletes and likely won't be the last, but it's still pretty fun that "deer antler spray" has found its audience. 
THE PURSUIT OF HAPPINESS. ..or television money, whichever comes first. 
There was a bit of exciting (non-basketball) court action yesterday as Judge Claudia Wilken dismissed a motion by the NCAA to strike down a class action law suit that would share live broadcast revenues with student athletes:
The NCAA had objected to the players amending their lawsuit last year to claim a share of all television game revenues, not just those from rebroadcasts.

 

"Now the (NCAA and its co-defendants) are facing potential liability that's based on the billions of dollars in revenue instead of tens or hundreds of millions," said Michael Hausfeld, interim lead counsel for the plaintiffs. "It's a more accurate context for what the players deserve."
Essentially this means that former players are not prevented from pursuing this case further. Nothing about the final outcome is set in stone just yet, but this does open the door for questions about amateur athletics and fair compensation at the college level:
In the event that the plaintiffs prevail, Hausfeld has set up a mechanism for players to collect licensing revenues. The Former College Athletes Association (FCAA) would negotiate licenses with the NCAA, member colleges, video game and media companies
My only question is that that has to be a ludicrous sum of money – where would that come from, exactly? 
LINK TIME. Never a good idea to tweet pictures of cash as a college athlete... How did those top running backs turn out?... Webb makes her debut... Elliot and Lisle get shout outs from 247... Any of you apply?... Money problems in the SEC... Well that was embarrassing... Not all running backs want to play for Bret... Just positivity resonance?