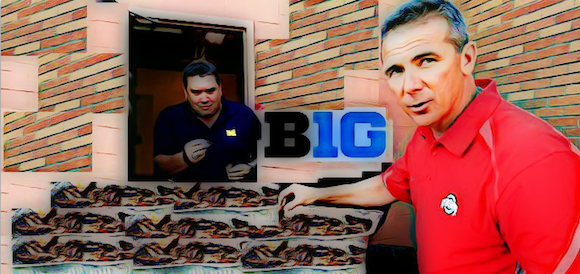 Remember that fun little narrative that gestated for about eight whole seconds before birthing itself all over Urban Meyer's introductory press conference?
You know – the one about the NEW TEN YEAR WAR set to take place between Ohio State and Michigan while the rest of the Big Ten is forced to lower its collective ceiling for either Orlando or America's gentleman's club capitol Tampa on New Year's Day? 
The one where following Lloyd Carr and Rich Rodriguez veering Michigan football into Bump Elliott territory, the Wolverines' resurgence under Brady Hoke meets and occasionally barely exceeds what Ohio State re-established ten years ago and is set to maintain with its new reinvigorated world-beater running things?
Yeah, funny thing about that little narrative: It's happening. And based on how both coaches are recruiting and the rest of the B1G isn't, the new War might actually be ahead of schedule.
National Signing Day is one week from tomorrow. Per its usual grand finale fare, a few genuinely torn players will decide and sign their college decisions in blood. There might even be a few surprise twists. Perhaps someone at Illinois will get fired for failing to put toner in the fax machine.
The final five percent-or-less of the nation's recruiting board will shake out and the 2013 recruiting season will finally bow, but on a macro level in the Big Ten there will be no surprises.
The majority of highly sought-after players going to play in the Big Ten will be heading to two schools. Again.
Last season, coming off of arguably the worst year – holistically – in Ohio State football history, Meyer exploited the two whole months he had to recruit and came away with 13 of the Rivals 250 prospects. Hoke grabbed nine of those players for Michigan as he continued to rebuild from Rodriguez's failed experiment.
The rest of Big Ten's current programs landed seven in total. So Ohio State – with a fresh postseason ban, NCAA sanctions and coming off a full year of bad news – still almost doubled what the rest of the conference without any of those anchors, save for Michigan, was able to lure.
If you're wondering, Maryland and Rutgers landed two each. We will always (almost) have Paris, Stefon Diggs. *sigh*
The 2013 recruiting derby, with one week left to go, shows the Buckeyes and Wolverines each carrying 13 of the Rivals 250. The rest of the current teams share 16. Penn State and Indiana have half of them.
Michigan got six of those players to commit during a single weekend. That's how you recruit. Hoke has always been quite decent at turning programs around. Meyer is pretty okay too.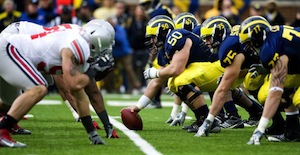 Don't like Rivals? Use 247 or Scout rankings instead. If you're feeling squirrely, you can even use ESPN's. It all shakes out about the same. Regardless, they're a solid indicator of what's to come.
You still don't buy into recruiting rankings or two-year trends? Bad news: This isn't a just two-year trend (well, for Michigan it is – but it's not going to atrophy anytime soon). 
Michael Bird at SBNation compared Ohio State/Michigan recruiting to the rest of the conference over the past dozen years, looking specifically at four and five-star players (including Nebraska for the entire period, not just its B1G tenure).
He found that the disparity between Ohio State/Michigan and the rest of the league was at its greatest last season. This year, with one week still left before Signing Day, it's trending toward being even greater.
And that's where the new Ten Year War accelerates to the point where it's ahead of schedule: It's not just that Meyer and Hoke are recruiting far better than everyone else in the Big Ten. Everyone else in the Big Ten is also recruiting worse.
There are reasons why Michigan State had 10 four-star players in its most recent senior class and is on pace to sign just three (one in the Rivals 250) in 2013: One of them is handling moderate success better. Replace promoted/departed assistants with better assistants is a good start.
The majority of highly sought-after players going to play in the Big Ten will be heading to two schools. Again.There's only one remedy for the rest of the B1G to stopping the new War from happening: Be better. Try harder. Aim higher than 8-4 with five wins coming against schedule fillers booked for the sole purpose of nudging the program into bowl eligibility.
Only half of the conference currently attempts this, with just Ohio State and Michigan following through with the right investment in assistants and infrastructure.
Little periods of success have consequences. Northwestern is at the precipice. Nebraska is at a crossroads, as are Iowa, Michigan State and Wisconsin. Indiana, Illinois and Minnesota are building, albeit largely with sleepers and projects.
And Purdue just hired Jim Bollman and John Shoop. The Buckeyes and Wolverines are probably safe.
They're all going to have to do better than this. Penn State will eventually be back and Bill O'Brien is currently overachieving, even measuring for how completely checked out his predecessor was. It won't be enough anytime soon.
You can blame migrating populations, the college football arms race, inflated rankings, getting fat/happy/overly-content on BTN paychecks and Rotel recipes. Those details don't change what's already happening.
In aggregate the recruiting indicators and trends are clear: Two programs will rule the conference in the foreseeable future – the familiar boss and the resurgent one. As the recently fired Danny Hope once famously said: Get used to it.