Recruiting is a vital part of the college football world and is considered the "life blood" of every program across the country.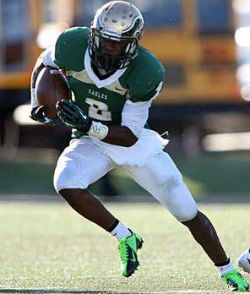 Woody Hayes used to have a saying that "anything easy ain't worth a damn" and that certainly can be held true when it comes to the process around pursuing the nation's top high school prospects.
Just when it seemed that everything was coming into place for Ohio State right after the new year, multiple developments have occurred in the last few weeks that have made the picture more hazy as we stand just two weeks away from National Signing Day.
Sitting at 22 commits and a class that is ranked in the top five in the country, nothing bad can possibly happen to the Buckeyes, even if they weren't to get another pledge from their remaining targets. That scenario is unlikely though, as there are a number of talented prospects still interested in playing for Urban Meyer and vice versa.
Predicting who those players will be is the tough part though, even with the reality that OSU likely only has room for two to three more signees in the class.
In this edition of the 11W Recruiting Notebook, we gather the recruiting staff together and take our best stab at predicting how Ohio State's recruiting class of 2013 will finish when players sign on the dotted line two weeks from today.
Dontre Wilson, ATH, DeSoto (TX)

Alex: Wilson is supposed to make an official visit to Columbus this weekend. If he makes it as expected, I am calling him to flip from Oregon to Ohio State, giving Urban Meyer another dynamic playmaker for his offense.
Derek: I see Dontre taking his planned visit to Columbus this upcoming weekend and I think it results in a verbal commitment. Ohio State is the pick.
Miles: I think the Chip Kelly departure had a big impact on Wilson. He's visiting OSU this weekend and I wouldn't be surprised if he committed and I think he will at some point in the near future. He could be a slot receiver or running back for the Bucks.
Darren Carrington Jr., WR, San Diego (CA) Horizon

Alex: The Buckeyes visited him yesterday and were able to make plans for him to visit. An offer has not been made yet and I don't expect Darren to end up at OSU, even if it does come at some point. If he actually makes the visit I will follow this one more closely, but for now I'll go with Carrington sticking to the Ducks.
Derek: It could be any West Coast team for Carrington, but I say he sticks with Oregon.
Miles: I think Carrington stays committed to Oregon when his recruiting process comes to an end, despite recent news he may take a couple visits.
James Clark, WR, New Smyrna Beach (FL)

Alex: This one is interesting as what once looked like a non-story could turn into one quickly. Clark was supposed to visit Florida this weekend, but is thinking about checking out Columbus instead. If that happens it is game on, but right now I am thinking he picks Clemson if there is room for him and the Gators if the Tigers can't fit him in.
Derek: This is more of a mystery than it was last week, as he may now take a visit to Ohio State. If he does, the Buckeyes become the favorite, and I see that happening. Ohio State is my pick.
Miles: I think it's Clemson or Florida for Clark. In the end, I see him choosing Clemson.
Corey Smith, WR, East Mississippi Community College

Alex: At one point it seemed like a formality that Smith would be in this class and that still could be the case. On the other side of the fence though, the Bucks are offering a bunch of receivers late for a reason. This is tough to call, but as of now I see Smith ending up at Mississippi State or Tennessee.
Derek: The longer this one takes, the more likely it seems like the Buckeyes and Smith cannot make it work. I think he stays with his Mississippi State commitment.
Miles: Smith is an Ohio boy and the Buckeyes could use a receiver that can come in and make an immediate impact. The JUCO receiver is their guy and I think Smith goes to OSU.
Cameron Hunt, OL, Corona (CA) Centennial

Alex: The Buckeyes were sitting in a good place following Hunt's official visit to Columbus a few weeks ago. Michigan got its sixth offensive line commit, turning Hunt off there, and Chip Kelly decided to go to the NFL, leaving Oregon, Hunt's supposed favorite, without a coach.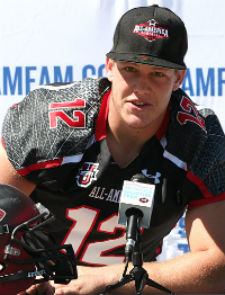 Things changed a bit this past weekend as Mark Helfrich, the Ducks' offensive coordinator, was promoted to head coach and Hunt's visit to Eugene went fantastic.
He is claiming that the Bucks and Ducks are his favorite, with an official visit to California on tap. Hunt originally committed to the Bears under Jeff Tedford, but I think this one is down to OSU and Oregon, with the Ducks winning out in the end due to proximity to home.
Derek: I am hearing Hunt had a great visit to Oregon and see them as the favorite right now. Oregon is the choice.
Miles: I think the Bucks could get him, but it seems like Dan Skipper is higher on the priority list right now. I am going to say Hunt lands at Oregon.
Dan Skipper, OL, Arvada (CO) Ralston Valley

Alex: I prefer Hunt as the offensive lineman the Bucks take in the class, but it looks like Oregon made a strong move this past weekend. As per the above, I am saying Hunt to the Ducks, so I think Skipper becomes a priority and the official visit this past weekend may have convinced him that Columbus is where he belongs. 
A visit to Ole Miss is on tap for Skipper this weekend and they are a dangerous player, but I am going with Ohio State in the end.
Derek: If Ohio State continues to push for a commitment I think they can get him. In my opinion, the Buckeyes will make an even stronger push than they are now if they cannot get Hunt. I think that happens and Skipper ends up at OSU.
Miles: From talking to Skipper, he seems to be very high on the Buckeyes. Ohio State wants another offensive lineman in this class and I think they found their guy.
Vonn Bell, S, Rossville (GA) Ridgeland

Alex: The good news for Ohio State fans is that Bell did not give a verbal pledge to Nick Saban following his official visit to Tuscaloosa last weekend. Urban and the Buckeyes are still in this and are fighting every day for Bell, but it still looks like a slightly uphill battle.
Up next is a visit to Tennessee, but barring a miracle, Butch Jones doesn't really have a chance. Bama and OSU will fight until 10 AM on February 6 for Bell's signature, but I see Saban edging Meyer when pen goes to paper.
Derek: I think it'll be a tight race until Signing Day, but I see Alabama winning out in the end.
Miles: I've always felt Bama held the lead and I don't see that changing over the next two weeks.
Corn Elder, ATH, Nashville (TN) Ensworth

Alex: If Ohio State wanted Elder they could get his verbal pledge today. The fact that he is keeping UCLA, Vanderbilt, Ole Miss, Tennessee, and others waiting until he hears from the Buckeyes if there is room for him is telling on who his favorite is.
That being said, I think Dontre Wilson possibly committing to OSU soon makes it difficult to bring in Elder and the Nashville native will have to go to one of his other choices. I think he ends up staying close to home and picking Vanderbilt.
Derek: I think a commitment from Wilson could push Elder out of the picture for the Buckeyes. UCLA, who is second on the list, would get a nice player in Elder if this happens.
Miles: I think if the Buckeyes want him that they can get him, but I just don't think there's enough room for him. UCLA is the pick.
Tyrell Robinson, ATH, San Diego (CA) Lincoln

Alex: The Robinson twins were set on Oregon, but Chip Kelly's departure has them looking around a bit. With Mark Helfrich being promoted to head coach in Eugene, it looks more and more likely all they are doing is "just looking".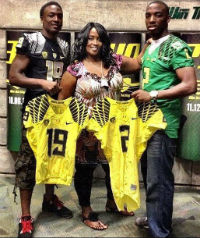 They canceled their visit to Columbus this coming weekend, so it appears the Bucks are out of it. Washington and USC are other schools being mentioned and if there is a sleeper pick here it may be the Huskies.
In the end though, I like Oregon to hold on.
Derek: I doubted the planned visit to Ohio State would ever happen and I guess I was right. I say he sticks with Oregon.
Miles: I think both the Robinson twins like Oregon enough to stick with their commitments. Watch for visits, but it appears all is well in Eugene when it comes to the super twins.
Tyree Robinson, ATH, SAN DIEGO (CA) LINCOLN

Alex: You can pretty much say "see the above", as both Robinsons will be attending the same school. The key here will be seeing where they actually take visits, but as I said, it looks like they are all Oregon.
Derek: The Robinsons are a package deal and since I have Tyrell sticking with Oregon, I think Tyree does the same.
Miles: See the above. All Oregon.
Ryan Timmons, ATH, Frankfort (KY) Franklin County

Alex: I think with Wilson in the class it will be hard to take Ryan Timmons, but the staff did visit him yesterday and supposedly came in with an offer, although I am not sold it is of the committable variety just yet.
With the recent offer from Florida, the staff has to be wondering if passing on Timmons may be a mistake, but I think in the end there just isn't enough room and he stays in state with Kentucky.
Derek: I think he tries to stay close to home if Ohio State isn't an option. Mark Stoops' club has a lot of recruiting momentum right now and I think Timmons is buying into that, so I am going with Kentucky.
Miles: I felt Kentucky was the team to beat until the Gators offered a couple of days ago. If the Buckeyes' offer is legitimate I think they'll have a very good chance, but for now I say Timmons lands at Florida.
How We See It

Alex: Ohio State finishes strong with Dontre Wilson to play the slot role and possibly handle return duties, Dan Skipper at offensive tackle, and possibly one more player-either Vonn Bell or Corey Smith if they can somehow land the former or clear the latter's transcript issues. 
Derek: OSU finishes with Dontre Wilson, James Clark, and Dan Skipper, giving the Buckeyes 25 verbal pledges comes Signing Day.
Miles: The Buckeyes finish strong with Corey Smith at receiver, Dontre Wilson as a versatile athlete, and Dan Skipper at offensive tackle.