EAST LANSING, Mich. – Shannon Scott could do nothing but bury his head into his jersey. The three-pointer that was to send the game into overtime barely hit anything. It was a stunning end to an otherwise glorious game.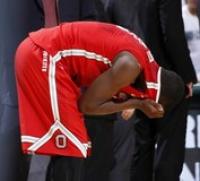 Michigan State had several opportunities to put the game away, leading 46-39 midway through the second half. But Ohio State refused to play the role of road team that becomes overwhelmed in the final minutes. That's why the Buckeyes found themselves with a chance to further solidify their status as a Big Ten contender with 7.9 seconds left.
Trailing by three, Ohio State was 94 feet away. But it still had a chance. Deshaun Thomas had scored 28 points, including a career-high six three-pointers, placing a target on his back and chest that could be seen from Traverse City.
"I was knocking down shots all night," a truthful Thomas said.
Ohio State head coach Thad Matta knew what his counterpart was thinking.
"Michigan State knew we were going to go to Deshaun," he said. "We would've liked to have got it to him there."
At the end of the first half, a similar scenario played out. Ohio State had the ball with 21 seconds left, but Michigan State head coach Tom Izzo opted to foul the Buckeyes twice in the final five seconds because the Spartans had two fouls to give. The end result was a desperation three-pointer from Aaron Craft that had little chance of going in.
So when the No. 11 Buckeyes went to the bench before the final possession, Matta reminded his players that due to a three-point lead, Michigan State might foul to send Ohio State to the free throw line. It proved to be a horrible miscalculation.
Scott took the inbounds pass and went upcourt. When the foul never came, he appeared panicked and threw the ball toward the rim, but more than three seconds still remained. Scott was hoping for a whistle that never came. The ball also never came close to the rim.
"I was relieved," Izzo said.
Michigan State 59, Ohio State 56.
Scott pulled his jersey over his head and Thomas walked away in disbelief. But another flashback to the first half tells a story of Scott bringing the Buckeyes back from the brink of a blowout.
With the home crowd in a frenzy well before the opening tip, Michigan State started with much more energy than Ohio State. The Spartans scored the first 10 points of the game and led, 13-2.
Then Scott entered the game, and Ohio State scored the next 15 points.
The rest of the first half seesawed from one side to the other, until 17th-ranked Michigan State scored the final four points to take a 30-26 lead at the break. Ohio State was plagued by eight first-half turnovers – three by Craft – which led to 11 Michigan State points.
But the real problem for the Buckeyes was not putting the ball into the basket. The talk of Ohio State finding a second scorer has been a tiresome theme. Game after game, though, the same problem continues holding the team back.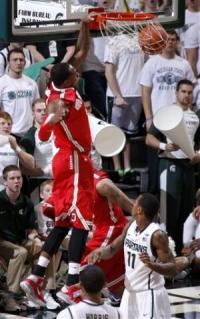 Take Thomas' 28 points and 10 field goals away and Ohio State is left with 28 points and nine field goals. Astounding figures.
Lenzelle Smith Jr., 2-of-7 with six points, was Ohio State's second-leading scorer.
"You'd like to have everyone in double figures," Matta said. "But Deshaun was smooth and efficient and it was a tremendous effort by him."
It was Thomas who tied the game at 50 with a three-pointer at the three-minute mark. On the ensuing possession, Adreian Payne put the Spartans back in front with an old-fashioned three-point play. Ohio State had no interest in backing down, though.
Craft twice stole the ball, leading to free throws from Evan Ravenel and Thomas to tie the game at 53. After Keith Appling made an easy layup, Craft had a chance to give the Buckeyes the lead. Ohio State inbounded the ball to Thomas under its own basket and his defender fell down. But Thomas noticed Craft wide open in the corner. He swung a pass to him, but Craft's 3 was off-target.
Michigan State used a fastbreak to take a four-point lead. Craft sprinted down the court and found Smith open for a 3 to cut the lead to one. Two free throws from Appling gave the Spartans a three-point advantage setting the scene for Scott's demoralizing miscue.
Appling led Michigan State with 15 points, followed by Payne's 14. Branden Dawson had 10 rebounds.
For Dawson, it was a performance to savor. When Ohio State last visited East Lansing, he suffered an excruciating season-ending ACL injury. Michigan State led, 24-9, when he fell to the floor. William Buford would end the day with a game-winning shot from the top of the key to give Ohio State a share of the Big Ten championship. Many believe Dawson's injury contributed to Michigan State's early exit from the NCAA Tournament.
"I remember it like it was yesterday," Dawson said this week. "March 4."
Saturday represented the first home win over Ohio State in three years for Michigan State. The Buckeyes had won the past two and four of the past six in the Breslin Center.
The game marked the 200th conference game at the venue that opened its doors in 1989. Michigan State has won over 80 percent of its games versus Big Ten competition. It has long been considered one of the toughest arenas to win in.
"When you play at Ohio State, everybody comes out," Ravenel said. "The crowds get into it, and everybody brings their 'A' game, so every venue in the Big Ten is tough to play at."
Ohio State's final possession became the biggest talking point due to its bizarre nature. But the Buckeyes had plenty of opportunities as the second half winded down. Turnovers, missed shots and a lack of rebounds ultimately did them in. Michigan State had a 34-25 advantage in rebounds. Ohio State had just six offensive rebounds.
The ever-competitive Big Ten requires focus each and every night. Tough losses come and go. Iowa visits Value City Arena on Tuesday, forcing Ohio State to forget about a heartbreaking defeat and making Scott rewire for another heroic moment.
"That's the beauty of basketball," Craft said. "You don't have to wait a week like you do in football. You get to play right away, and that's what you want to do when you lose a game like this."