Each sport has that one position that is so vital to the team that if taken away all suffer. The quarterback in football, the setter in volleyball and the attacking midfielder in soccer. All have the distinction of being the most important player on the playing field.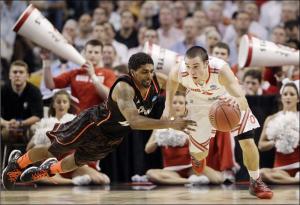 Point guards hold that distinction in basketball. And it's no coincidence that the Big Ten, regarded as the nation's best conference, has the best assembly of guards. From Michigan's Trey Burke to Ohio State's Aaron Craft to Michigan State's Keith Appling, the conference's teams possess an uncanny ability to create offense with one player. But those robotic offensive figures are multidimensional and bring the total package with equally impressive defense.
Need proof? Take one glance at the rankings. Six Big Ten teams are listed in the Top 25. And that doesn't even include first-place Wisconsin.
When the calendar flips to March, teams with solid guard play rise to the top. A Big Ten school hasn't won a national championship since 2000, when Michigan State did the honors, but Final Fours have become the norm for the Midwest-based league.
"It cannot be overstated how important the point guard position is in college basketball," former Tennessee head coach Bruce Pearl said.
Recent history and ancient history (in college basketball terms) reveal national champions with impeccable guard play.
In the past week, there has been a Craft-Burke duel and a matchup between Burke and Minnesota's Andre Hollins. On Saturday, Craft will take on Michigan State's Keith Appling. It seems like every night a college basketball game is on, two upper-tier point guards are doing battle on a Big Ten campus.
In fact, all of the aforementioned point guards are finalists for the Bob Cousy Award, which goes annually to the best point guard in college basketball.
It is Craft who has laid the foundation for the current crop of guards. In only two and a half seasons, he's become one of the faces of the sport and littered his name throughout the Ohio State record book.
He sits just five steals behind Jay Burson for first all-time on the Buckeyes' career steals chart, and Craft's 432 assists are currently No. 4 at the school. The tear he's gone on recently is the envy of all point guards. Craft has 23 assists and just six turnovers in the past three games. Even more impressive, he has at least on steal in 11 straight games.
"What makes him a tremendous defender is a desire to be a great defender," Ohio State head coach Thad Matta said. "He wants to be a defensive stopper. He wants to be a pest to the opposing team. He wants to create chaos."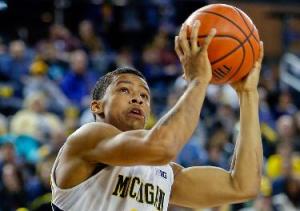 Craft may not accumulate the most fashionable of highlights, but he is as efficient as they come. His latest exploits came when the Buckeyes defeated then-No. 2 and undefeated Michigan on Sunday. Craft punished Burke the entire game, limiting him to four field goals and four assists while orchestrating four turnovers.
But it was better than Burke's 1-of-11, eight-turnover performance in last year's Big Ten Tournament. It was the beginning of an onslaught from Craft that landed him on the cover of Sports Illustrated.
"Craft is as good as there is and as I've ever seen," Michigan head coach John Beilein said. "He's tremendous."
Tenacity and leadership might be the most appropriate words in describing what Craft brings to Ohio State. His on-court presence delivers a calming effect for the Buckeyes and his leadership in key moments has proven to be invaluable. Statistics can put a value on Craft's worth, but a large segment cannot be quantified.
A few hours up the road, Appling has developed into Tom Izzo's most trusted player. It was a void left by Draymond Green that needed filled quickly. Appling has done that and more, keeping Michigan State near the top of the Big Ten by averaging almost 14 points, 3.3 rebounds and 4.5 assists per game.
It started early in the season, when Appling made several key plays late in a win over Kansas. That gave Izzo and Appling himself confidence that he could be 'the man' when called upon.
Another moment came at Iowa. Appling essentially won the game for the Spartans when he converted a jumper followed by four consecutive free throws to fend off the Hawkeyes. Despite struggling in the lead up to the Big Ten season, Izzo's trust in Appling has never wavered.
"It means a lot," Appling said. "It shows he has confidence in me and trusts me with the basketball. When he does that I try as hard as I can to make something happen for myself and for the team."
Izzo has even taken the uncommon step of considering naming Appling a captain in the middle of the season.
In Ann Arbor, there's no mistaking who's the leader and the best. Burke is Michigan's do-it-all guard. He's on pace to be the first Big Ten player to average 17 points and seven assists in a season since Magic Johnson in 1978-79. Burke is widely considered the best point guard in the country and arguably the best overall player in the country.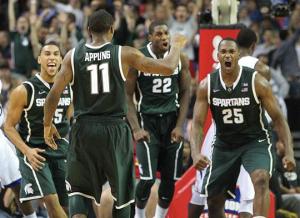 "You're not going to stop a great player like Trey Burke, but you've got to try to limit the things he can beat you at," Minnesota head coach Tubby Smith said. "He can beat you in many different areas, whether it's penetrating or pitching it to open guys or making the jump shot or driving all the way to the basket for layups. He's just a very versatile and very talented player."
When it comes to finding opportunities for his teammates and himself, few can be as productive as Burke. In Michigan's victory at Minnesota last night, Burke made three 3s en route to 18 points but also managed to tally eight assists. Even the second half of Sunday's loss at Ohio State was an example of Burke's high caliber of play.
After falling behind 21 points, Burke rallied the Wolverines back and nearly stole the game. Ten of his 15 points came in the second half.
"He really has things in great perspective," Beilein said. "As a result, his numbers are really incredible because of his focus on his teammates. For young players to do that, that's more of a junior and senior type attitude. For someone to do that as a sophomore, it tells a lot about who he is."
Then there's Hollins, a trio at Illinois – Brandon Paul, Tracy Abrams and DJ Richardson – and Yogi Ferrell and Jordan Hulls at Indiana. Not to mention, Penn State's Tim Frazier, who is out for the season.
Hollins, also a sophomore, has continued to blossom in Year 2. Like Burke, he can score, becoming a sharpshooter from behind the arc, and create offense with crisp passes.
"I've changed a lot (from last year)," Hollins said. "Just knowing how to run a team as a point guard, I obviously have to take care of the ball more than I did. Sometimes last year I'd come down the floor like a deer in headlights. This year I'm more in control."
Illinois' threesome has slowed down after a great non-conference season, but the guards make the team go. At Indiana, Ferrell and Hulls have been the complements needed to build off Cody Zeller and Victor Oladipo.
As January becomes February and February transitions to March, the college basketball season shrinks. The teams with multidimensional guards will be left standing when the season moves to April in the Georgia Dome. The odds favor the Big Ten landing at least one spot at the biggest dance party in the sport.
"I don't start thinking about the Big Ten really until late December," Matta said. "I try to keep my sanity knowing how good this league is."
The rest of the coaches in the country won't have that luxury.