It's a bird. It's a plane.
No, it's "Slam" Thompson. And yes, that broken glass was formerly a backboard, thanks for asking.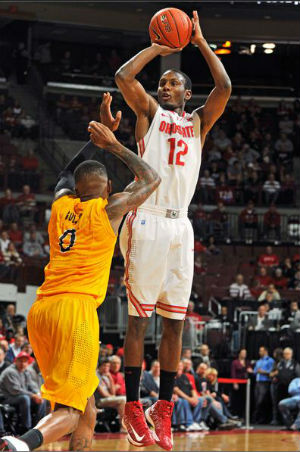 Obviously, we've all marveled at the aerial exploits of Slammin' Sam Thompson since his arrival as an OSU freshman last season. The 6-7 forward epitomizes the tired cliché of the hoopster who "jumps out of the gym." [/cringes at bad sports cliché.] [/cringes further at horrible lede cliché.]
Indeed, Thompson seemingly doesn't give a single damn about gravity. It's written all over his slamtastic finishes of alley-oop passes and his flying swats.
Now a sophomore, Thompson is developing into much more than just a regular on SportsCenter's "Top Plays" segment. One of the areas in which Thompson has shown the most improvement is on the defensive end of the floor.
The Chicago product is playing shutdown defense, which is his primary attribute right now, aside from murdering innocent rims with extreme prejudice. With outstanding performances from Thompson (and Lenzelle Smith Jr.) on the wing, the Buckeyes neutralized D.J. Byrd and Nik Stauskas in last week's victories over Purdue and Michigan, respectively.
Byrd has a history of being a thorn to Ohio State.  The sharpshooting Boilermaker senior scored 20+ twice against the Buckeyes last season. His total of 44 points against a Final Four-worthy OSU team came on 15/28 shooting (53.5%), including 11/19 (58%) from distance. Last Tuesday, Byrd shot 2/6 overall and 2/4 outside for just six points in an ineffective 26 minutes.
Stauskas, an impressive freshman from the Great White North, averages 12.7 points per game and hits more than half of his long-range bombs. On Sunday, he was so completely negated that he went 0/3 from the field (all from distance) and played only 23 minutes.
Aside from his defense and his always-popular commissions of dunkicide, Thompson is striving to improve other facets of his game, and it's starting to pay off. Though his outside shot is still a work in progress (7/28 for 25% outside the arc), Sam is finding other ways to contribute. He has done a better job of attacking the rim of late, as evidenced by his acrobatic kiss off the glass Sunday and his posterizing of A.J. Hammons at West Lafayette.
His offense, beyond thunderslams, is something he worked hard on in the offseason.
"I wanted to really refine my entire offensive game, but mainly my jump shot," Thompson said. "That was one of the biggest flaws in my game last year, so it's really been my main focus."
His mid-range jumper has looked good this season, but most of his attempts still seem to be dunks or treys. With more teams playing zone against Ohio State this year, the Buckeyes would do well to look for Thompson in the open spaces on the baseline, halfway between the three-point line and the paint—an area typically exploitable against a standard 2-3 zone defense. Sam has shown he can hit that shot.
Since B1G conference play began, Thompson has made a habit of providing a timely block, steal, rebound or assist. He appears to be turning a corner. If he can make 'the leap,' it would further enhance the Buckeyes' chances of a fourth consecutive B1G championship and a deep postseason run.
"You see this all the time when a light goes on in a young man's head, and I feel like it definitely went on for Sam," Thad Matta said.
Thompson may not become the second scorer Ohio State needs to augment Deshaun Thomas, but if he continues to grow, he can steadily contribute in the eight-point range, as he did in both games last week (eight at Purdue, nine vs. Michigan).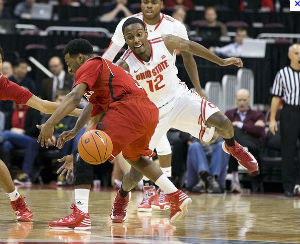 He has to. The Buckeyes cannot afford to play 1-on-5 on the offensive end. Too often this season Ohio State has relied on Thomas alone and crossed its fingers that a second shooter would emerge (which, to be fair, it usually did).
Thompson, Smith, Aaron Craft, Amir Williams, Evan Ravenel, Shannon Scott and LaQuinton Ross have all been inconsistent with their scoring. But none of them have to score in double figures if all of them contribute positively in some way.
This is how Ohio State overcame the No. 2 team in the country on Sunday.
While only Thomas reached double figures, Thompson and Craft both scored nine, with Williams and Ravenel chipping in six each. Smith, who has been very quiet offensively of late, added only four, but pulled down 10 rebounds, including a clutch one on Trey Burke's missed three-pointer in the closing seconds.
Thompson is fully capable of doing his part in a scoring-by-committee system to support Deshaun's 20-point average. And in so doing, it will take pressure off of Thomas the Tank, so that he can get his 20 without forcing things. Ohio State's offense is much more effective when Thomas hits his average in 13-15 shots, rather than 23-27 shots, because duh.
For that to work, of course, it takes five guys on the floor all looking for their shot.
"When we have five guys that are looking to score, five guys that are scoring within the offense, it makes it easier for everybody," said Thompson.
The next step for Sam is to improve his game on the road. In three true road games this season, Thompson has scored just 13 total points (4.3 PPG), with five turnovers. He is 6/19 from the field (31.5%) and 0/5 outside the arc.
He did have 12 rebounds in those three road games, but eight of those came at Duke. Obviously Matta and Buckeye fans would like to see more consistency on the glass away from The Schott.
The last road outing at Purdue was his best to date. Thompson scored eight points on 4/8 shooting and blocked two shots.
Ohio State fans hope Sam's performance in West Lafayette and at home against the Wolverines will serve as a springboard into this weekend's showdown at the Breslin Center in East Lansing.
The Buckeyes won in the Izzone last season in a game you'll remember forever for this, but they'll still be looking for revenge from that narrow defeat in Indy last March.
And Sunday's game is crucial. With trips remaining to Madison, Ann Arbor and Bloomington, the Buckeyes can't afford to fall two full games behind the Badgers in the standings.
Another good performance out of Thompson would significantly improve Ohio State's chances of leaving East Lansing with a win.
11W's Kyle Rowland also contributed to this story.