While most people saw the men's basketball team put Michigan to the sword on Sunday, many other Buckeyes were also in action. Here's a recap of what you may have missed.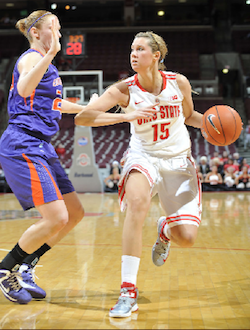 We'll start with the Ohio State women's basketball team, who – unlike their male counterparts – have had a rough time of it lately. After taking a 10-3 mark and a four-game winning streak into conference play, the Lady Buckeyes dropped four straight and find themselves unranked in the polls.
In the middle of that barren run was their first home loss in 31 games, coming against Illinois, and from there things only got worse.
Next up were trips to Minnesota and Purdue, with both games seeing Jim Foster's team come up short. During the loss in Minneapolis, senior guard Tayler Hill led from the front as usual, scoring 24 of the team's 74 points to go along with her 3 steals in a 83-74 defeat. Junior center Darryce Moore led the team in rebounds with 8, and freshman guard Ameryst Alston also contributed with 15 points, then a season high. 
The matchup in West Lafayette was always going to be difficult, with this strong Purdue side sitting at No. 12 in the AP poll and leading scorer Hill out due to illness. But the team was not fazed, and although they trailed by 6 at half, they rallied to force the game into overtime, and hung with their hosts for two extra periods.
But finally in the third overtime Purdue broke away, making good use of the three-point line as they came away with the 82-75 triple overtime victory.
In the loss, Alston had 24 points while playing every minute, and even a double-double from Moore couldn't lift the battling Buckeyes to a victory. 
"I'm proud of our team and the way we came out and competed," Alston said. "We never gave up and had our chances to win the game."
Things did finally turn around for the team last night, as they dispatched Indiana, 68-45, at Value City Arena. The Buckeyes had four players in double figures, led again by Tayler Hill, who scored 15.
The team is in action again on Sunday against Wisconsin in Madison, hoping to win only their second road game of the season. Tipoff is at 3 p.m. 
Men's Hockey
After about two weeks off, the Buckeye men's hockey team returned to action over the weekend. Though the team wasn't playing during that time, that doesn't mean that members of Ohio State hockey weren't in the news: head coach Mark Osiecki served as an assistant on the United States World Junior (U20) National Team as they competed in the 2013 World Junior Championships in Ufa, Russia.
As many of you may know, Team USA took home the gold, defeating Sweden, 3-1, in the Gold Medal Game. It's Osiecki's second gold as a member of the coaching staff, after he was an assistant on the 2010 team that won it all.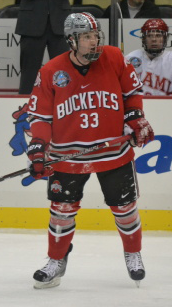 Back in the States his team competed against Ferris State on Friday and Saturday night, splitting the series 1-1, with each game ending in a 3-1 scoreline.
In the first bout, Ohio State were boosted by the return of freshman blueliner Sam Jardine, who had missed 12 games due to injury.
The Buckeyes were quicker out of the gate, with junior forwards Alex Szczechura and Chris Crane netting in the first period to give Ohio State a strong 2-0 lead. That difference held through the second and into the third period until Crane struck again, scoring his fifth goal of the season and effectively sealing the win for the Buckeyes. A late reply by Ferris State was mere consolation.
The next night was not so strong from OSU, with Ferris State taking the 2-0 lead into the third. A quick response was needed, and sophomore forward Max McCormick obliged with a goal almost halfway into the final stanza.
The visitors' onslaught didn't bring an equalizing goal though, and an empty-netter with less than a minute left condemned the traveling Buckeyes to a 3-1 loss.
Netminder Brady Hjelle continued his strong play, with 63 saves over the two games. Hjelle leads the entire NCAA in goals-against average with a mark of 1.44, and is second in save percentage at .952.
Another weekend doubleheader lies ahead for the Buckeyes, with two away games against Northern Michigan slated for Friday and Saturday. Both puck drops are at 7:30.
Women's Hockey
The No. 9 ranked Ohio State women's hockey team played their first competitive games for over a month as they traveled to Madison to face off against Wisconsin.
In the first matchup on Friday night, coach Nate Handrahan's team outshot the Badgers, 9-3, in the first period, but the score was still 0-0. It wasn't until late in the second period when the first goal of the game arrived, and it was Winconsin's. The home team then added a shorthanded goal early in the second, but the Buckeyes finally responded through junior forward Ally Tarr five minutes later, her fourth of the season.
Wisconsin then produced another shorthanded goal about four minutes later, and a power-play goal with just over five minutes to go sealed the 4-1 win for the Badgers.
The game the next evening was a much tighter affair, with Wisconsin taking the lead on the power play in the first period, only to have that goal canceled out by another power-play goal, this time from Ohio State. Again it was Tarr, with assists from sophomores Kari and Sara Schmitt.
But once again the home team came up trumps, with a goal midway through the third period giving them the winning advantage and sending the LaBahn Arena crowd into celebration as their team completed the sweep.
Ohio State returns to Columbus this weekend with two games versus St. Cloud State at the OSU Ice Rink. Friday's encounter begins at 7:07, while Saturday's game starts at 4:07.
Wrestling
Ohio State's wrestling squad faced off against Minnesota on Friday, and the No. 5 Buckeyes were not able to top the No. 3 Gophers, losing a 25-9 decision at St. John Arena.
The Buckeyes were coming off their first win B1G win of the season against Northwestern, and were hoping to fare better against a high-ranked opponent than they did against Iowa, who were No. 5 when they beat the Buckeyes a week before.
But it wasn't to be for Tom Ryan's wrestlers, although they did stay in touch with the Golden Gophers for much of the evening. After five bouts, Ohio State held a 9-8 lead, but they couldn't continue that form after the intermission. Five losses in a row put the Buckeyes out of the running, and Minnesota moved on to what would be an easy victory.
Ohio State was still in it with two matches to go, but sophomore Andrew Campolattano couldn't get a wide enough advantage over Minnesota wrestler Scott Schiller and eventually lost, 5-2.
The overall loss for Ohio State puts their overall record at 7-2, and only 1-2 in conference. Coach Tom Ryan will be hoping for more from his team when they face Indiana this Friday in Bloomington, and again when Wisconsin comes to Columbus on Sunday afternoon.