National Signing Day on February 6 is just three weeks away and with 22 commits already in the bag, Urban Meyer and his staff are putting the finishing touches on an already outstanding class.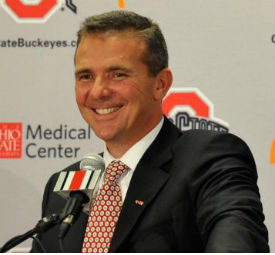 The final number of recruits in the 2013 class is expected to be 24 or 25, meaning that there are just a few spots remaining to fill before prospects sign on the dotted line.
The Buckeyes took the first step towards finishing off the class this past weekend as they hosted a number of uncommitted prospects for official visits.
Those trips helped the staff evaluate where they are with certain players, as well as get a better feel of what they may want to do with limited space in the group.
A few prospects that have been on the radar for quite some time will be traveling to Columbus to check out what OSU has to offer, and there are also some new names emerging that could make for a Signing Day surprise.
In this edition of the 11W Recruiting Notebook, we take a look back at last weekend's visits, look ahead to what the coming weekend will bring, and review some of the newer names that are appearing on the class of 2013 radar.
The Weekend That Was
Ohio State brought in a number of uncommitted 2013 prospects last weekend including Chris Worley, Vonn Bell, Shelton Gibson, Cornelius Elder, Corey Smith, and Cameron Hunt.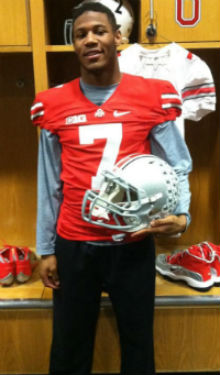 Worley started the weekend right, committing to the Buckeyes prior to starting his official visit. The staff was really high on the Glenville product and once he got his ACT scores up, it was only a matter of time before he committed to the Buckeyes.
We initially got some great feedback on Vonn Bell's visit, hearing that his family fell in love with the coaching staff and really liked what the university had to offer. We then got tipped off by two separate sources, one more intense then the other, that the trip may have had a bit more of a negative feeling compared to what we had thought.
Turns out what we heard initially was more on the correct path, his brother's tweets aside, and that Vonn left Columbus very high on Ohio State, possibly giving the Buckeyes a slight edge in his recruitment. We know he continued to forge a great relationship with some of the commits he met at the Under Armour game and really holds his relationship with both Meyer and Everett Withers above that of the other coaches recruiting him.
We're still not sure which way Bell is leaning, but you have to feel good knowing the Bucks are giving everything they have. A visit to Alabama is on tap for Bell this weekend, followed by a trip to Tennessee, and then a decision coming at 9:00 a.m. on National Signing Day.
Gibson was someone to keep an eye on this weekend, as many felt if he left without committing to Meyer that his chances of being in this class would diminish. Unless a silent verbal was given, it appears the ship may have sailed on the Cleveland Heights product for whatever reasons.
We don't know exactly what is going on in Gibson's odd recruitment, but we do know that if he was qualified and given the green light, he would definitely choose the Buckeyes. We also know that Ohio State extended multiple offers to receivers this week, so they clearly want another one in this class, which would not be the case if they had locked down Gibson.
Elder had a good visit, but it appears he may be plan B should either Bell not select OSU or if an offensive lineman spurns the Bucks as well. I think Elder intrigues the staff with his athleticism and I think he would be a nice addition if there was room, but he doesn't appear to be a priority at this time.
Smith had a great visit and it appears the Bucks are in good shape to flip him from Mississippi State if a procedural thing on the academic side checks out. Scout's Bill Greene said on the radio this week that both parties just need to "Cross some t's and dot some i's," so it could be a matter of when rather than if with Smith.
This would be a big pickup for Ohio State, as Smith is rated as a four-star prospect and because he is coming from the junior college ranks, he is more seasoned and can contribute right away for the Buckeyes.
Offensive tackle Cameron Hunt (Corona, CA) surprised many when he ventured down from his official visit in Ann Arbor to Columbus on Sunday to see the Buckeyes beat the Wolverines in basketball.
Hunt stayed through Tuesday afternoon on his unofficial visit before flying home before visiting Oregon and Cal in the coming weeks ahead of his decision.
We'll have to see where things stand with Hunt following his OSU trip, but early returns are that he enjoyed his stay in Columbus and is seriously considering the Buckeyes. One other thing possibly working in Ohio State's favor is the fact that Hunt and OSU commit Marcus Baugh are friends and the two hung out some on Sunday.
The Weekend Ahead
If there are three spots remaining it is clear that the staff would prefer them to go to Corey Smith, Vonn Bell, and an offensive lineman.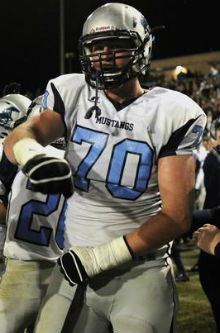 Things may not work out exactly in that way depending on Bell's decision and how things shake out with Smith's transcripts, but wide receiver and offensive line are clearly priorities in finishing the 2013 group.
Cameron Hunt was the first offensive lineman to get the OSU pitch, but the Bucks will bring in another player at the position this coming weekend in Arvada (CO) Ralston Valley's Dan Skipper.
The 6-10/290 Skipper will make the trip to Columbus from January 19 to January 21, following his visit to Arkansas from Friday to Sunday morning.
Skipper was committed to Derek Dooley and Tennessee, but has opened things up a bit and now is considering Michigan and Ole Miss in addition to the Vols, Buckeyes, and Razorbacks. He has already been to Knoxville and Ann Arbor, so after this weekend the only visit remaining will be to Oxford to see the Rebels next week.
It will be interesting to see if Skipper actually makes it to Columbus and if he does, what happens. If the staff gets the answer they want on Bell or Hunt, there may not be room for him in this class. Stay tuned on this one.
New Names Emerging
There always seems to be a late surprise each recruiting season for Ohio State. Last year it was Jamal Marcus who ended up being a last-minute addition to the class, but this year everything seems to have already fallen into place, right?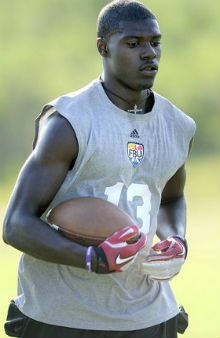 Wrong, apparently, as the staff continues to scour the nation for the top players still willing to listen to their pitch. Just this week Urban Meyer extended scholarships to New Smyrna Beach (FL) WR James Clark and Snellville (GA) WR Kyrin Priester.
Clark already had visits scheduled before the Buckeyes entered the picture, but he considered visiting Columbus this weekend instead of Clemson. That pipe dream ended yesterday as Clark will keep his visit to the Tigers as planned, yet he still says OSU remains in the picture for his services.
After this week he will have one visit remaining and that is scheduled to Florida as of now. I don't expect that to change and think that trip may not even happen, since it's very possible he takes Clemson's last wide receiver spot in their class.
Priester is a North Carolina State commit at the moment, but offers from Clemson and Ohio State have caused him to rethink some things in the past week. The three-star prospect will take an official to Clemson this weekend, followed by a trip to Columbus on January 25–27.
He will think things over and make a decision either right after that or on National Signing Day, but the good news for Buckeye fans is that if the staff decides they want him, it appears he is open to a flip.
As mentioned before, Ohio State has had some late surprises in recruiting and Kyrin Priester was certainly not a name on anyone's radar as recently as last week.
21 days to go. Are you having fun yet?