As the B1G TEN turns from 2012 to 2013, a conversation worth considering is a possible return of the B1G TEN to the 1970s. While a bit of a doomsday scenario for fans of other programs, Ohio State and Michigan — the Old Firm of the conference — look poised to set themselves apart from the rest of the pack. Can anyone in the B1G TEN threaten to shake things up, starting in 2013?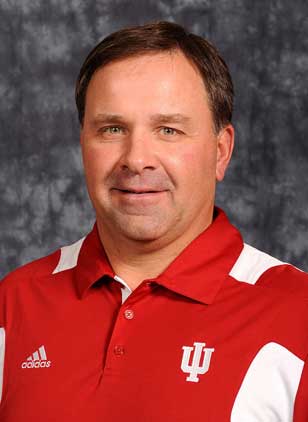 No one is truly recruiting on par with Ohio State and Michigan. No one is spending money on quality assistant coaches like Ohio State and Michigan.
Other programs in the conference have hit various snags as well. Nebraska seems to be in purgatory with Bo Pelini, neither good enough to matter nor bad enough for Pelini to be fired. Illinois is spending money on assistant coaches, but has spent unwisely. Iowa has become a degenerative authoritarian regime under Ferentz, who only asks that his regime continue rather than strive for any meaningful goals.
Bert lost almost all his assistants to the NFL, Arizona State, and Pitt before relocating himself to Arkansas, leaving Wisconsin back at square one with a new coaching staff. This ignores Penn State's peculiar situation as well, under a promising young head coach.
However, a return to the 1970s would only weaken the prestige of a B1G TEN conference already hemorrhaging credibility since 2006. Further, I — and I think a fair bit of Ohio State and Michigan fans as well — see zero value in rematches in Indianapolis a week after The Game had been played in Columbus or Ann Arbor.
The B1G TEN benefits from the emergence of a new conference power from the depths of regional obscurity. Northwestern's and Wisconsin's respective rebirths in the 1990s were pivotal in the pre-B1G Big Ten becoming one of the top two leagues in the 1990s, trading supremacy with the SEC's three-headed juggernaut of Alabama, Florida, and Tennessee. Iowa's three-year stretch between 2002-2004 was also key for the conference.
Further, there is more spectator value when a team like Michigan State finds its place under Mark Dantonio after two underwhelming experiences with Bobby Williams and John L. Smith, or when Wisconsin finds its mojo again after Barry Alvarez' tenure in Madison limped toward the finish line.
Thus, I ask an open-ended question of if there is a B1G TEN team poised to catapult near the top of the conference when the league itself seems focused on a return to a second Cold War between Ohio State and Michigan. Is there a B1G TEN team that is well off the radar right now, but may make it to yearly January bowl games starting this upcoming season?
I discuss four possibilities, purposely selecting on teams least likely to win ten games in the B1G TEN when recent history and program prestige are considered.
I don't see Purdue as filling this role in the upcoming season. That is not to say I'm not bullish on Darrell Hazell, despite his recent decision to hire Jim Bollman as his offensive line coach. I fully expect Hazell to make Purdue worthwhile again. However, I see Purdue as a "year two" project at best.
A 6-7 team that forgot how to do things well, and whose best victory may be the overtime loss to Ohio State, Purdue is losing many of the reasons why it was a six-win team. These include key players like Akeem Hunt, Josh Johnson, Kawann Short, Caleb TerBush, Antavian Edison, Robert Marve, and more. A few key players return, but not nearly enough.
Further, Purdue's recruiting class is the lightest in the conference right now, with nothing to really suggest there are immediate playmakers for Darrell Hazell in 2013.
If Purdue is a "year two" project, Illinois may be a "year three" deal for Tim Beckman. This would put him in the same category as Ron Zook, whose third year happened to be the Rose Bowl year.
If I had penned this article for 2012, I might have selected Illinois as this type of sleeper team. I would not have been alone. Winners of bowl games in 2010 and 2011, a lot of talent returned for 2012 despite the defection of Whitney Mercilus to the NFL. Further, Tim Beckman rode a pretty good 2011 season at Toledo into a head coaching gig in the B1G TEN, suggesting a lot of optimism that a new era "beckoned" at Illinois.
However, no one face-planted as badly in 2012 as Illinois did, which may be a function of a road schedule that included trips to Arizona State, Wisconsin, Michigan, and Ohio State. Even less talent returns from 2012 to 2013, with Tim Beckman hoping to replace the graduations of players like Justin Green, Terry Hawthorne, and Graham Pocic (among others) with ten JUCO signees and a recruiting class for which much is hanging in the balance. Even the coaching staff is in a bit of limbo as well.
Tim Beckman should get his first B1G TEN win in 2013, but even bowl eligibility is uncertain.
Is Minnesota ready for a January bowl game? My love of Minnesota's liberal use of Power O from Maryland I in the Meineke Car Care Bowl of Texas notwithstanding, Jerry Kill has done well enough to erase the stink of the Tim Brewster years. The improvement has been measured and incremental. Minnesota won two games in year one for Jerry Kill before winning six this past season, allowing the Gophers to participate in its first bowl game in three years.
As such, Minnesota's trajectory mirrors Northern Illinois' trajectory under Jerry Kill as well. A program that won two games in Joe Novak's last season before retirement in 2007, the Huskies won six games in 2008, seven in 2009, and ten in 2010. It was the 10-win campaign and MAC West divisional championship that ultimately got Kill the job with the Gophers. This is at least consistent with the idea that Jerry Kill is building toward that in 2013 in his third season with Minnesota.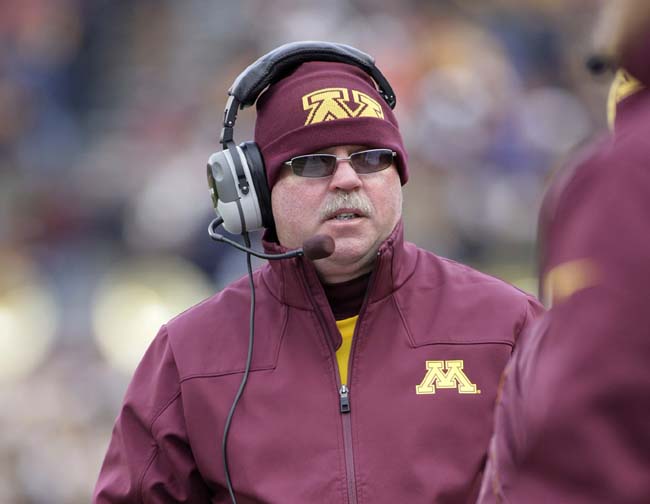 Minnesota's issue for 2013 will be roster attrition. The Gophers do lose fifth-year senior MarQuies Gray, who also happened to be their most dynamic skill player on offense. However, the coaching staff had already phased out Gray from a lot of the offense. He played a lot of wide receiver for Kill and was afforded only spot duty at quarterback as Jerry Kill transitioned toward Max Shortell and, ultimately, freshman Phillip Nelson.
The defense loses even more to graduation while the offense returns almost everyone besides Gray. Ra'Shede Hageman returns while D.L. Wilhite moves toward the NFL Draft. Two of Minnesota's linebackers graduate as well as Minnesota's starting corners. The corners may have been the strength of the defense.
A January bowl game for Minnesota is contingent on the Gophers not only finding options to plug these holes in the defense, but winning some tough games that include Michigan, Indiana, and Northwestern on the road, and Wisconsin, Nebraska, and Penn State at home.
A Gator Bowl berth seems doable if a 7-5 team in the B1G TEN ultimately can land there. However, it would not be a conference-wide story.
Indiana is an intriguing possibility. The wheels fell off Indiana's wagon routinely through 2012, which included two stretches of five losses and three losses, respectively. However, a more qualitative look at Indiana's season reveals that not every loss on the schedule looked like the blowout loss suffered against Purdue, after the Hoosiers had already failed to get a chance at bowl eligibility the week before. Indiana was handling Michigan State before getting shut out in the second half and losing by four. Further, I think Ohio State fans know well how much of a pain that offense can be.
Importantly, Indiana is returning a lot of players. Only Will Matte, Larry Black Jr, and Adam Replogle stand out as important graduations from 2012's team. That's really it. Black and Replogle were important parts of the defense, but that's about as good as it gets.
If there was a candidate for a surprise January bowl team in the B1G TEN, all told, this might be it.
The big reservation comes with the defense. A lot of players will return, but the defense was prone to total meltdowns and ranked 106th in the league. This was dead last in the B1G TEN by 48 yards a game. I don't have a lot of confidence that miracles can be worked on defense, unless the miracle worker is Greg Mattison.
Indiana may be bowl eligible in 2013, but only because they are managing to beat the Navy and Ball State caliber teams on their schedule. The Hoosiers would need to win a few tough ones, which include hosting Missouri and Penn State and traveling to Michigan, Michigan State, Wisconsin, and Ohio State.
If the Hoosiers are to win eight games in 2013, it would need to win the home games against a very meek Missouri team and a Penn State team to be severely hindered by NCAA sanctions going forward.  Given that schedule, and Indiana's notoriety as the basketball school of the B1G TEN, an 8-4 record would be a "surprise", but a surprise we can possibly project. Indiana as an Outback Bowl team could be the talk of the league, if that's how things unfold.
It's a stretch, but it'd be the story of the B1G TEN in 2013.