During Jim Tressel's decade-long stint as Ohio State head football coach, press conferences often needed a dose of truth serum. The buttoned-down, mild-mannered Tressel rarely, if ever, revealed pertinent information.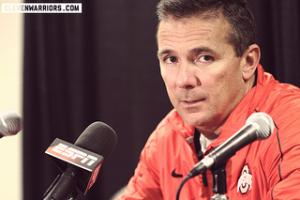 To say the Urban Meyer era has been a reversal would be an understatement. It's not that Meyer is telling state secrets for all to hear; he's just more blunt in his assessments. It doesn't matter if the topic is assistant coaches or players, Meyer will speak the truth. 
The Buckeyes just finished a 12-0 season and earned a No. 3 ranking. But even Meyer believes that perfect record had blemishes, especially after he watched Alabama steamroll Notre Dame up close and personal. Meyer was on the sidelines for the national championship game, and what he saw in Alabama was a team Ohio State should aspire to be.
"The SEC right now, the quantity is far greater than the quantity at the upper-level Midwestern schools," he said. "It's up to the Big Ten to change that. There's one way to do that. Go out and recruit and get some more depth. But to say that there's not quality football players in the Big Ten, that's not correct. The quantity is the biggest difference.
"We've got to go catch them. Everybody's trying to catch the best. Some people are probably trying to catch us. There's nothing else I'd rather do than watch these other programs and kind of figure out how they're doing it."
So that's exactly what Meyer has done. 
The Crimson Tide were so impressive in dismantling the Fighting Irish that he has taken to watching film of Alabama. For six seasons, he was part of the Southeastern Conferences and had a close-up view of college football's ruling class. Now he's trying to duplicate that in Columbus.
"Fundamentally, we are not where we need to be," Meyer said. "Probably the best fundamental team I've certainly seen this year won that game. And that's with leverage, that's with tackling, blocking – all the things that help you win football games.
"Where are we? I don't like to deal in speculation, but I think we're a very good team that can compete with any team in the country. I said even after the last game, that's where I believe we are. But to say we could roll in there and beat a team like that. If I was going to give you a honest answer, I think right now we have too many holes to fill."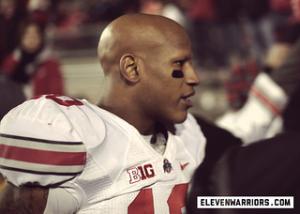 That's not to say Meyer believes the past season was void of positive developments. Ohio State's offense showed vast improvement from the spring to the season and the defense closed out the year in stellar form. Not to mention, it was largely the same team that finished 6-7 the previous year. That's why the 2012 team will have two walls dedicated to them and space reserved in the trophy case where Ohio State's national championship teams are honored. They laid the foundation for all the future success under Meyer.
With a selfless approach, the Buckeyes proved it's possible to win football games when the perception is there is nothing to play for. In reality, there was everything to play for.
Respect, the fans and upholding a tradition of excellence. All were accomplished.
"We're very satisfied with where we're at right now," Meyer said. "A year ago at this time, we were getting ready to start our 5 a.m. conversations outside after people were late for meetings. We were still trying to finalize our staff, and we had a group of offensive linemen that didn't really have much confidence and trust in. A year later, we have a lot of positive things. We have to get better in a lot of different areas. However, it's a whole different approach."
The biggest spot where the Buckeyes have a weakness is defense. Come August, the unit that improved so greatly over the season's final six games must replace seven starters, among them John Simon, Johnathan Hankins and Zach Boren.
"What we really have to do is find out who can play defensive line for us," he said. "We lost some really good players."
But at Ohio State, it's about reloading, not rebuilding. And expectations don't change just because a few names and numbers are different. Make no mistake, Buckeye Nation is in national championship or bust mode.
A 12-0 season wasn't on the agenda in Year 1. But neither was Braxton Miller's immediate emergence or an offensive line resurgence. With the offseason in full swing, Meyer is counting on his players to continue the good vibes. Practices were lost due to the postseason ban, meaning Ohio State's roster must take the initiative to continue working toward its ultimate goal.
In 11 seasons, Meyer has seen every type of team personality take shape. To be a very functional team, it takes self-driven leadership, according to Meyer. That's where upperclassmen paint the picture.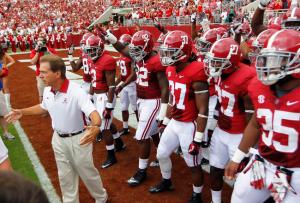 "It'll be interesting to see how it gets done because it's on the players," he said.
"Our mantra is going to be truth and our mantra is going to be fundamental improvement. Truth means exactly that. You have a good season and there are a lot of conversations about things that shouldn't be discussed because it's not true. For example, 'Are you guys going to go do this next year?' No, we're probably not unless we get a lot better. Like, a lot better."
Welcoming back a majority of the offense and cornerback Bradley Roby and linebacker Ryan Shazier on defense helps. Keeping continuity among the coaching staff is an even bigger plus. Meyer has been through the coaching carousel before as an assistant and during his time at Florida, his staff was in demand. Ultimately, he lost his offensive and defensive coordinators to head coaching jobs. It set in motion his eventual leave of absence.
His return at Ohio State began with several recruiting coups and an A+ on National Signing Day. The second recruiting class looks to be even better. It's currently ranked third in the country with less than a month until players put ink to their decision.
Meyer's recruiting philosophy is to attract talented players who will see the field as true freshmen. He isn't a fan of redshirting because that means you aren't an impact player. In the current class, it appears the Buckeyes have a who's who of the 2013 prospects. Combined with what is coming back, it's easy to see why prognosticators look at the Buckeyes so fondly.
"I'd rather be that then have them say we're not going to be very good," Meyer said. "We love to be the favorite all the time. That means we have a good team. The truth is we're very strong in certain areas. However, there were quite a few that were below-average performances. We have to get those fixed.
"For me to say we have to get (to the national title game) next year, that's like me talking about we have to go fly to the moon. We're nowhere near even having that conversation. To have that conversation, we've got to win our first game."
At first glance, the first one looks easy. But that last one still presents many challenges.