In the summer of 2004, the news was shocking. Then-Ohio State head coach Jim O'Brien was swiftly dismissed after it was revealed he paid a prospective recruit $6,000. Being Ohio State, there were many candidates for the vacancy, including alumnus Bob Knight.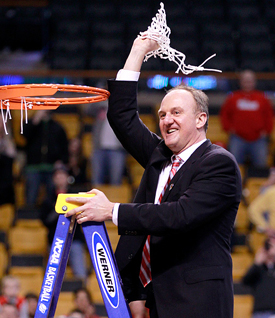 But athletic director Andy Geiger had a vision for everything. Four years earlier he had an inkling that Youngstown State's football coach, who had been so successful at the Division I-AA level, would translate that success to the top tier of college football. So he hired Jim Tressel, and in his second season Ohio State was national champions.
He used the same model when finding a basketball coach to replace O'Brien – the small Ohio schools. Thad Matta was a relative unknown at the time. The head coach at Xavier, he had just led the Musketeers on a thrilling March ride that culminated in an Elite Eight berth, where Xavier very nearly beat Duke to reach the Final Four.
Despite his credentials – Matta had been a successful assistant and head coach at Butler – he was relatively anonymous to Ohio State fans. The number that stuck out to Geiger, though, was 102-31. That was Matta's career record at the time, just four seasons into his coaching career. It led to his coming to Ohio State, and it's a decision Buckeye Nation is thankful for every day.
In honor of Matta's 100th Big Ten conference win Tuesday night at Purdue, we will run you through his five biggest league victories.
Ohio State 65, #1 Illinois 64 • March 6, 2005 • Columbus, OH
The 2004-05 Ohio State season was what the 2011 football season should have been: a year without the postseason that led to future riches. During the regular season, Geiger took the measure of issuing a postseason ban because of the improprieties committed under O'Brien. It would prove to be an ingenious move.
Entering the regular-season finale, Ohio State was a so-so team. They had won 18 games and were a middle-of-the-pack Big Ten team. The Buckeyes' opponent that day was anything but average. Illinois was No. 1 and still undefeated. Twenty-nine straight victories and few games were even close.
Many didn't give Ohio State much chance to win. For it to happen, it would take a special performance. That's exactly what Matta got, and it came from a little-used reserve forward. Before the Illinois game, Matt Sylvester had never factored in heavily to Ohio State fans' consciousness. Seven years later, he is still a revered figure.
In a game the Buckeyes trailed by as much as 12 in the second half, Sylvester scored a career-high 25 points, including the game-winning three-pointer with 5.1 seconds left. It sent Value City Arena into a euphoria that has never been equaled. It also provided sports fans with one of the signature tracks on Gus Johnson's greatest hits.
Illinois didn't score over the final three minutes of the game, as Ohio State won, 65-64. The Buckeyes took possession of the ball in the closing seconds down two points. Some coaches opt for overtime at home, but Matta wasn't interested.
"We were in the huddle and Coach told us, 'We're not going halfway. We're going for the win,'" Sylvester said.
Said Matta: "As we left the huddle, Matt said, 'I'll make the shot.' And he did."
It gave Ohio State and Matta a 20th win, a mark both have accomplished every year since. It also served as launching point for the program Matta has since built. Daequan Cook, who was in attendance for the triumph over Illinois, committed to Ohio State soon after, with the rest of the 'Thad Five' jumping onboard in the coming months.
They'd make some memories of their own.
#1 Ohio State 49, #2 Wisconsin 48 • February 25, 2007 • Columbus, OH
The 2006-07 season was as memorable as the Ohio State basketball program has ever experienced. One of the sport's best recruiting classes was assembled by Matta, and that group of four freshmen and one junior, along with a mixture of upper and lowerclassmen, entered the penultimate week of the regular season ranked first in the coaches poll while Wisconsin was tops in the AP (each team ranked No. 2 in the other poll).
As luck would have it, they would meet on the court. Ohio State's only conference loss on the season came at Wisconsin two months prior. The buildup to the game lasted a week and rivaled a football atmosphere in Columbus. It was the first game featuring two Big Ten teams that were ranked No. 1 and 2.
Due to a loss to Michigan State earlier in the week, it was a must-win for Wisconsin if it wanted to keep pace with the Buckeyes. With four seconds left in the game, it looked like the Badgers would get that victory.
Then Mike Conley Jr. broke their hearts.
Conley drove the lane and made a runner to give Ohio State a 49-48 victory in the low-scoring affair. His layup also propelled the Buckeyes to the Big Ten championship.
"I had a feeling I was going to get the ball," Conley said. "I just went to the hole and it worked out for us."
Did it ever. To that point, Conley had been a sensational freshman. But it was almost as if that shot in particular flipped an internal switch. He went on a tear during the postseason, eventually boosting his draft stock, which resulted in Conley being the fourth overall selection in that June's NBA Draft.
Conley's play at point guard had a direct impact on Ohio State's run to the Final Four. The Buckeyes' dream season eventually came to an end when they lost to Florida in the national championship game.
#11 Ohio State 72, #5 Michigan State 70 • March 4, 2012 • East Lansing, MI
Four years later, it was Ohio State that was in dire need of a win, or else. The Buckeyes had been the class of the Big Ten for the duration of the season until a February collapse. Home losses to both Michigan State and Wisconsin sent Ohio State plummeting in the conference standings.
But if the Buckeyes could rise up and win at Michigan State – no easy task – they would share the Big Ten title with the Spartans and Michigan Wolverines. When Michigan State jumped out to a 15-point first-half lead, Ohio State's chances looked like they'd evaporated.
The Breslin Center has historically been one of the toughest venues to win at in all of college basketball. Overcoming a double-digit deficit with the conference title on the line and 16,000 fans screaming gives the home team an even bigger advantage. However, Ohio State wasn't interested in what history had to say. When it looked like they were going to lose, the Buckeyes rewrote history.
Slowly, they chipped away at Michigan State's lead, until they were all caught up. With one second remaining, William Buford hit a jumper from the top of the key with a hand in his face to break a tie. When Michigan State's desperation heave came up well short, the Buckeyes owned a 72-70 victory and another Big Ten title.
"I was fortunate to knock down the big shot of the night to give us another Big Ten title," Buford said. "I just came in with a different mindset. During that last play, I wasn't going to miss."
The loss was especially demoralizing for the Spartans, because it was Senior Day and they had an opportunity to win the championship outright. A week later, though, the teams met again, this time in the Big Ten Tournament title game. Michigan State won a thriller, 68-64.
Both teams were setup for success in the NCAA Tournament. Michigan State had a stumble in the Sweet 16, while Ohio State advanced all the way to the Final Four.
Ohio State 70, #6 Purdue 66 • January 12, 2010 • West Lafayette, IN
Entering the 2009-10 college basketball season, Ohio State was a curiosity. Sure, Matta might get his team to play well some nights, but would they be able to bring the intensity in the Big Ten?
It looked to be a valid question after Ohio State dug a 1-3 hole in the Big Ten. The next game on the schedule came at No. 6 Purdue. When the Buckeyes quickley found themselves down 13 points, another loss looked imminent. In the first half, Robbie Hummel scored 29 points and made eight three-pointers. But in the all-important second half, Hummel was limited to just six points thanks to the defensive wizardry of David Lighty.
During the final 20 minutes, the Buckeyes had a comeback for the ages, led by Evan Turner. He scored 23 of his 32 points during that time and in LeBron James-eque fashion scored 14 of Ohio State's final 18 points. Making the feat even more impressive was the fact that Turner had suffered a broken back just a month earlier.
"I was just motivated to try and win," he said.
Trailing 41-29 at the half, Ohio State opened the second period on a 13-6 run.  Purdue built its lead to 10 later in the second half, but the Buckeyes again responded. This time they scored 10 straight points. Then Turner took over – not just for the game, but the season.
He would be named the national player of the year, and Ohio State lost one more conference game over the final two months of the season. Ironically, it came in Value City Arena to Purdue.
Ohio State and Purdue's seasons each ended in the Sweet 16. Hummel tore his ACL in late February, crushing the Boilermakers' hopes at a Final Four.
#1 Ohio State 93, #10 Wisconsin 65 • March 6, 2011 • Columbus, OH
Deal with it.
Those three words will always be remembered by Ohio State and Wisconsin alike. They came from Badger head coach Bo Ryan and were directed at Jared Sullinger after Sullinger claimed he was spit on by a Wisconsin student who charged the court following the Badgers' upset of undefeated and top-ranked Ohio State.
When the two teams played again a month later in Columbus, Ryan may have wished he never said it. But it was still fresh in the minds of the Buckeyes coaches, players and fans. Pity the Badgers, Ohio State played one of its best games in years. And all Ryan could do was sit there and deal with it.
"That first loss in college, I didn't take that too lightly," Sullinger said. "I wanted to win, and I wanted to win big, too."
He got his wish.
The Buckeyes made an astounding 14 of 15 three-point baskets, including 14 straight, en route to a 93-65 beatdown. Jon Diebler made seven 3s and scored 27 points. Ohio State's three-point barrage was an NCAA record.
"I don't know if you could script it much better," Matta said.
---
Now in his ninth year at the helm of the Buckeyes, Matta is the proud owner of five regular-season conference titles, three conference tournament titles and two trips to the Final Four. He's in the midst of a run of success at Ohio State that has only ever been seen once, and that happened a half century ago.
National title or not, Ohio State is positioned among the giants of the sport. Matta has won 20 games in all eight seasons in charge of the Buckeyes and three times they've won 30. His win percentage is second to none in the basketball program's history. Matta has won more than three-fourths of his games.
One hundred Big Ten wins are now etched on his resume. Beloved in Columbus, if Matta could secure that elusive national title, he'll eat free at Hyde Park for eternity.