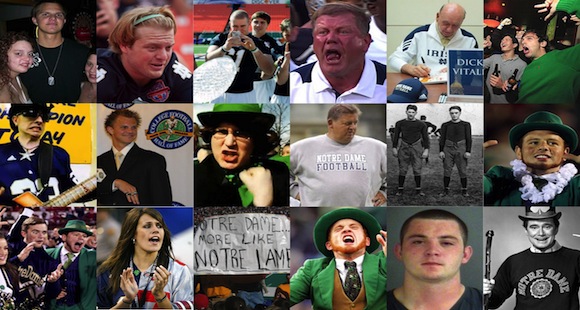 The 13-month sentence has officially been served: Ohio State is bowl-eligible once again.
The prison gates were unlatched the moment Alabama finished violating Notre Dame's dignity in Miami. Your Buckeyes were the only FBS team without any blemishes for the 2012 season. The reward for Urban Meyer's perfect rebuilding season: A #3 ranking in the final AP poll.
But let's cut straight to the real winners (yes, plural) from last night's festivities: The first is obviously Alabama, deep in the pleasure-throes of a formidable dynasty. 
The Crimson Tide attracts all of the coveted high school prospects, keeps the good ones while scuttling the rest, then expertly coaches up what's remaining while sparing no expense to producing a winner. A proven and bundled approach to winning: It's not one thing they do; it's everything.
Alabama gets a pass for losing home games to underdogs in each of the past two Novembers, and rightfully so: It's not as though it has failed to make the electorate whole on its reprieves. Second chances in college football aren't evil, especially when they're not willfully snatched away by anyone else.
The other winner last night wasn't your free-on-bond Buckeyes, though they're trending exactly as you would have hoped just one season removed from the worst year ever. It was the team with the shiny helmets and the enormous following that was on the receiving end of Alabama's humiliation stick.
Notre Dame is back to its standard-definition must-see-TV form, delicately stepping over the Navys of the world instead of repeatedly tripping on them. Prior to this season the Irish were so mediocre they couldn't begin to exploit the BCS rules gerrymandered deliberately to give them easier access to bigger stages.
As Jim Delany would sneer, "it's the television property, stupid." Notre Dame simply doesn't have to be as charming as other programs to gain access to the champagne room, and you can thank a whole bunch of dead guys who wore leather helmets for that permanent advantage.
The Fighting Irish who are still alive have now been outscored 158-57 in four holistically atrocious BCS bowl appearances, with the top defensive performance coming against Jim Tressel's field goal-loving offense in the 2006 Fiesta Bowl – in which a school-record 617 yards were allowed nonetheless.
But to this team's credit, it won all of the games on its schedule. It beat six-loss Michigan State, six-loss Southern Cal, five-loss Michigan, five-loss Miami, five-loss BYU, five-loss Navy, seven-loss Pittsburgh, seven-loss Purdue, seven-loss Wake Forest, 10-loss Boston College and America's favorite annual fraudulent fraudy fraud fraud, Oklahoma.
To its credit, the Irish beat an eventually good-but-stumbling Stanford team that had just lost to Washington during its only period of vulnerability. But an undefeated season is still flawless; the rest is just details.
There were comparisons of Notre Dame's uninspiring perfection to that of Ohio State's 14-0 run in 2002, which included wins over nine-win Texas Tech, 10-win Washington State, 10-win Michigan, nine-win* Penn State, 34-consecutive wins Miami and yes it was easily the laziest narrative of the entire college football season, which is perfect for nearly every favorable narrative applied to Notre Dame football over the past two decades.
This year's Buckeyes also won all of the games on their schedule, though safely within the comforting shadow that comes from lacking any postseason consequences. They'll be back in eight months with a slate that currently appears to make this year's devalued Irish opponentry look almost gauntlet-ish.
When the season begins Ohio State will be in the same velvet-roped holding room as the Irish to play the SEC champion in the final edition of the current two-party title system. And that's why Notre Dame won last night, despite all the blood and guts: It's back.
They're back because the Irish are not the only previously unblemished squad to be drawn and quartered on the BCS big stage. Speaking of abominable horrors, you might be wondering if Ohio State gained the same benefit from just having reached the final game.
If you dismiss the Buckeyes' six* BCS victories, that would be a valid theory – alas, we're all forced to use the same facts. The BCS bowl-winningest program doesn't benefit from the same gerrymandered rulebook as Notre Dame does, but its reputation is increasingly burdened by increasingly selective memories.
What Ohio State does benefit from is from owning an unremarkable conference that's not terribly dissimilar from the SEC's bottom 75%. It also now has a coach that the media – outside of a few human sanitary napkins masquerading as columnists in Florida – doesn't resent as much as its last one.
Alabama's pleasure-throes aren't exclusive to Tuscaloosa. After one hideous year being shamed, Columbus has its own burgeoning joyful noise again.
But so does South Bend (and New York City, and every other ND enclave). Notre Dame's 2013 schedule is fortified with intrigue and the program now has the inertia from 2012 to carry it into the conversation for at least three seasons.
Brian Kelly appears to be recruiting at a championship level, but grade inflation is always a conundrum with the Irish. Its postseason destination hasn't been the only thing prone to receiving a generous curve.
So while losing in that gruesome manner will sting for a while, reaching the BCS title game – without even having to exploit the rule named after it – made the Irish a winner prior to kickoff.
The Buckeyes' sentence was only 13 months. Notre Dame has been in purgatory much longer than that. Voters, ranking formulas and especially television executives will be happy to grant them penance for what they delivered in 2012 despite what happened in Miami in early 2013.
After all, losing to Alabama in its current form is one of the more forgivable sins in college football.