The Buckeyes had a great recruiting weekend despite missing out on WR James Quick, due to landing the services of LB Trey Johnson at the Under Armour All-America Game and following that up by securing the commitment of LB Mike Mitchell at the US Army All-American Bowl.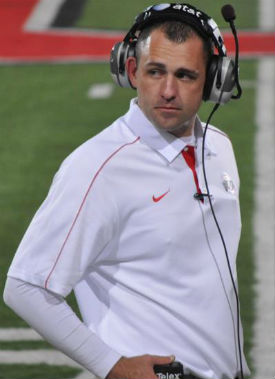 With 21 commitments now on board, the staff is close to finishing out the class of 2013, which is expected to hit 24 or 25 prospects. With some big time official visits on tap this coming weekend, it's certainly possible the group could be closed if Urban Meyer and his staff hit all the right buttons with players such as Vonn Bell, Shelton Gibson, and Christopher Worley.
Just because this class is close to being finished doesn't mean the OSU coaches have any downtime. They have been aggressively going after 2014 prospects for about a year now and are expected to make some noise in the coming months on a national level with the current juniors.
The past few weeks we took a look at quarterback and running back prospects on Ohio State's big board and this week we will glance at the wide receivers the Buckeyes are in pursuit of.
With Chris Fields and Philly Brown set to leave after next season, and Devin Smith and Evan Spencer set to be seniors the following year, there will certainly be a need for players at the position group in the class of 2014.
Join us after the jump to see which early prospects the Buckeyes have their eye on at the wide receiver position for next year's recruiting haul.
Tier 1
At the top of Tier 1 as well as the Ohio State recruiting board is Cleveland (OH) Glenville's Marshon Lattimore. Lattimore is the top player in Ohio for the class of 2014 and has already earned a five-star status and rating as the 20th-best player in the entire nation by the 247 Composite Rankings.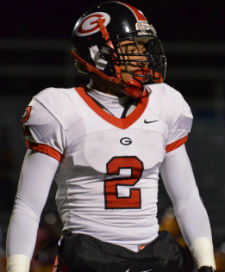 Not too far behind Lattimore are Trevion Thompson, Jalen Brown, Mark Andrews, Speedy Noil, Josh Malone, Artavis Scott, and Shaq Davidson to round out the first tier of receiver prospects.
Thompson is a product of Durham (NC) Hillside, the same program that produced current OSU linebacker Jamal Marcus and 2013 Buckeye target TE Josh McNeil, so Urban Meyer is familiar with the coaching staff and territory.
The 247 Composite five-star and nation's top receiver likes what he's hearing from Marcus and has Ohio State in his current top three along with Clemson and Florida.
Brown, of Phoenix (AZ) Mountain Pointe, recently earned an offer from Ohio State and was excited to hear from the Buckeyes. At 6-2/170, he is rated as the 10th-best receiver in the nation and already holds offers from the likes of Arizona, Arizona State, Arkansas, Boise State, Colorado, Nebraska, Oregon State, Virginia, and Yale.
Tom Herman is in charge of recruiting Arizona and will be the guy responsible for trying to reel both Brown and teammate OL Natrell Curtis to Columbus to don the scarlet and gray.
Another Arizona prospect Tom Herman has been after for a while is Scottsdale Desert Mountain's Mark Andrews. Andrews stands tall at 6-6/225 and while many think he could potentially be a tight end at the college level a la Jake Stoneburner, he is being recruited by the Buckeyes as a wide receiver.
Both Andrews and teammate QB Kyle Allen are very interested in Ohio State and the staff's first step in beating out Notre Dame, Oklahoma, Michigan, Arizona, Arizona State, UCLA, UNC, Utah, and many others will be to get him on campus for a visit this offseason.
Noil hails from Edna Karr in New Orleans, Louisiana, so it will certainly be hard to pry the nation's fourth-best receiver, according to 247, from LSU country. That being said, the 5-10/175 Noil has shown some early interest in the Buckeyes, but right now I think this will be a long shot, even for Urban Meyer.
Malone, of Gallatin (TN) Station Camp, was one of the most impressive players at the US Army All-American Combine this past weekend and has Ohio State high on his list along with Notre Dame, South Carolina, Tennessee, and Vanderbilt.
At 6-2/185, Malone is a nice-looking prospect and his 4.43 40-yard dash time helps make him the country's 12th-best receiver in the 247 Composite Rankings. He would be a great get for Ohio State and is a very realistic possibility to land in this class.
Scott, of Tarpon Springs (FL) East Lake, is ranked as the 11th-best receiver by the 247 Composite and holds the Bucks near the top of his list along with Michigan, Notre Dame, Florida, Florida State, and South Florida.
He made an unofficial visit to Columbus for Friday Night Light back in July, so the staff will have to try to get him back up to campus sometime this winter or spring for a Junior Day or in the summer for a return trip to FNL or another camp.
Finally, Davidson is ranked as the country's eighth-best receiver by the 247 Composite and has good size at 6-0/170, along with great speed, as he's been clocked at 4.40 in the 40-yard dash. The four-star prospect goes to Gaffney High School in South Carolina, and very fittingly the Gamecocks lead in his recruitment as of this moment. This one if far from over though, as programs such as OSU, Clemson, and North Carolina are right on Steve Spurrier's heels.
Tier 2
Ohio does not have a great pool of prospects at any position for the class of 2014, but at wide receiver there are three players that land in Tier 2, including Thaddeus Snodgrass, Derek Kief, and Dareian Watkins.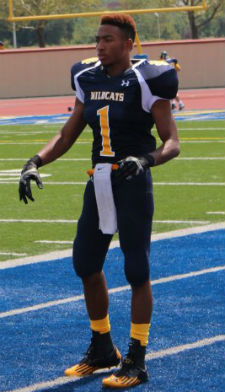 The 6-1/170 Snodgrass has earned the ranking of the 17th-best receiver in the nation and currently favors Ohio State over Notre Dame. Snodgrass wanted to commit this fall, likely to the Buckeyes, but was asked to hold off that announcement by the staff as they wanted to fill their 2013 group first and make sure the Springfield star's grades were in order.
I'm not sure what's going to happen with Snodgrass going forward, but I do know he wants in this class, so if he gets the green light after Signing Day, I expect him to be a Buckeye soon.
Kief has made quite the name for himself this year after a great season at Cincinnati LaSalle where he used his 6-5/190 frame to his advantage. Right now Kief holds offers from Cincinnati, Indiana, Northwestern, Toledo, and Illinois, but not Ohio State, although the Buckeyes have certainly been in contact. Right now my gut tells me Kief will not be a part of what is expected to be a smaller class, but keep an eye on him as his status will only continue to rise.
Watkins is a unique athlete out of Galion and could play quarterback, wide receiver, or defensive back at the next level, but it appears OSU may like him best at receiver. He is ranked as a four-star prospect and the 10th-best athlete in the country by 247, currently holding scholarships from Georgia Tech, Cincinnati, Akron, Bowling Green, Illinois, Indiana, Northwestern, Ohio, Toledo, and Purdue.
The Buckeyes got more than they expected out of Watkins at camp last summer, even with a bum knee, so he is definitely someone they have continued to talk with and are very interested in going forward. 
Out of state there are a number of prospects that Zach Smith is looking at and the top candidate to commit first is Lonnie Johnson of Gary (IN) West Side.
OSU got in first on this 6-3/190 sleeper receiver who is about to blow up on the recruiting front nationally. Johnson has made it no secret he is a fan of the Buckeyes and almost committed in mid-December, but decided to "not steal the West Side seniors' thunder", pushing back his announcement to after Signing Day. When he finally makes that commitment next month, I expect it to be for Ohio State.
Austin Roberts of Carmel is another Indiana product the staff has targeted early. At 6-2/210 Roberts is rated as a four-star prospect and the 23rd-best receiver in the nation by the 247 Composite. He has offers from Colorado, Florida, Indiana, Iowa, Miami (FL), Northwestern, Purdue, and Stanford in addition to Ohio State, but is not close to making a college decision.
The final member from Indiana in Tier 2 is Indianapolis Pike's Dominique Booth. The 6-1/195 four-star prospect is high on the Buckeyes, but has not been given an offer yet, so at the moment it looks like Tennessee and Missouri top his list, followed by Michigan State, Mississippi State, and Indiana. That can all change if the Bucks move in with an offer, so keep an eye on Booth.
Heading a little further south, Demarre Kitt of Tyrone (GA) Sandy Creek is a player that could be elevated to Tier 1 in these rankings shortly, as he looks more impressive each time I see new film on him. This past year he caught 74 passes for 1,235 yards with 11 touchdowns, certainly earning his consensus four-star ranking.
Kitt, a former Georgia commit, has the Buckeyes at the top of his list along with Clemson, and will make an unofficial visit to Columbus the weekend of February 10. I expect the Bucks to be in a great position following that visit.
Staying in the South, Johnathan Lloyd of Graham (NC) Southern Alamance is a player that OSU offered as a freshman, but he has seen his stock drop as he has gotten older and other players across the country have caught up with him athletically. He is still a very good prospect and is certainly on the Buckeyes' radar, having visited last summer, but I'm not so sure that offer is committable at this point.
Lloyd holds offers from Florida, UNC, East Carolina, NC State, Clemson, Duke, South Carolina, Wake Forest, and Virginia Tech in addition to OSU, but the next few months should really tell where things stand when it comes to his status with Urban Meyer.
Another hot and cold prospect is Tyre Brady, recently of Miami (FL) South Dade, but now a member of Alief Taylor, one of the powerhouse programs in Houston, Texas, after his family moved.
Brady is very high on the Buckeyes and Miami Hurricanes, but has had grade issues throughout high school, preventing him from earning any offers at this point. Make no mistake about it, Brady is a big-time talent, but he'll have to take care of business in the classroom first if he wants to play college football after next season.
Finally, the last prospect in Tier 2 resides in the Garden State and is Saeed Blacknall of Manalapan (NJ) High School. Blacknall is rated as 247's number 23rd receiver in the class of 2014 and had a breakout junior season with 16 touchdowns (11 receiving, 5 rushing/return) in a year where the Braves made it to the Group IV (largest) state championship game.
Blacknall was recently visited at his school by Urban Meyer, so there is serious interest there, but an offer has not come from the Bucks just yet. The 6-3/195 speedster does have offers from Rutgers, Pittsburgh, Boston College, and Old Dominion, but that list is expected to grow in the coming months now that his name is out there. 
Tier 3
Sitting at the top of Tier 3 is Braxton Berrios of Raleigh (NC) Leesville Road. Despite not holding an OSU offer yet, the staff is well aware of the 5-8/170 speedy receiver, who he had a good showing at Friday Night Light last summer, and they have been in constant contact with him since then.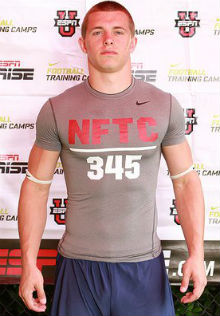 It is unknown if Berrios will eventually land an offer from the staff, but he's definitely the real deal and it shows since he already has scholarships from South Carolina, North Carolina, Virginia Tech, Duke, Maryland, Minnesota, East Carolina, and Wake Forest, and also is rated as a four-star prospect in the 247 Composite Rankings.
Johnnie Dixon is also near the top of the Tier 3 group for now, but the Palm Beach Gardens (FL) Dwyer star will probably move up a tier with a strong showing this summer at camps, as his scholarship list is that of a Tier 1 player.
Dixon currently holds offers from Florida, Alabama, Miami (FL), Florida State, NC State, USF, Tennessee, West Virginia, and others, in addition to OSU, but it will be tough to pry him out of the Sunshine State.
Marcus Whitfield of Massillon Washington is a player flying a bit under the radar, but he has the potential to be a very good player at either wide receiver or safety at the college level. He has been hearing a lot from the Buckeyes, but currently does not have any offers despite being rated as the 25th-best player in the 247 Composite.
Whitfield is good friends with Gareon Conley and is very fond of Urban Meyer and Ohio State, so if the Bucks do eventually offer, I expect him to commit shortly after.
At 6-5/205 Adly Enoicy is a prospect that is hard to miss on the field and early returns have shown the same holds true on the recruiting trail for the Delray Beach (FL) Atlantic star. Enoicy has offers from Florida State, Miami (FL), South Carolina, and Vanderbilt, as well as some smaller schools, but has also been in close contact with Ohio State, Alabama, Florida, and USC. 
Enoicy hails from the same school as former Buckeye James Louis, so some still on the staff should be familiar with how to best recruit the three-star prospect should they choose to heavily pursue him.
DB Darius West gets a lot of the publicity at Lima (OH) Central Catholic, but WR Mykale Rogers may end up as the better prospect when it's all said and done. Rogers, 6-1/180, is a bit of a sleeper at this point, but I expect that to change quickly when he hits the camp circuit this summer. We were tipped off to keep an eye out for this kid from a trusted source and we will certainly do that over the next few months.
Another in-state prospect with talent is Shaker Heights' Odell Spencer. Spencer just holds one offer, from Bowling Green, at this moment, but he is one of several Raiders that Buckeye commit Donovan Munger and head coach Jarvis Gibson have talked about as legitimate 2014 BCS prospects.
From limited viewing I think Spencer can certainly play at a low-level Big Ten school such as Illinois or Indiana, but I don't think he's OSU material.
Nacarius Fant of Bowling Green in Kentucky is the number two player in the state for 2014, currently holding offers from hometown Western Kentucky, as well as Illinois. Fant, 5-10/170, was in Columbus earlier this year for the Nebraska game, but it doesn't appear that visit has turned into anything serious at this moment. Look for Kentucky and Louisville to make moves on this in-state star, but don't expect Zach Smith to do more than keep an eye on Fant anytime soon.
Finally, Maurice Ways of Detroit (MI) Country Day is an intriguing prospect at 6-3/180, but is just starting to receive recruiting interest. He holds no offers, but he took a visit to Columbus for a game this season and is starting to receive some interest from the staff after posting 51 catches for 956 yards and 10 touchdowns this past season.
Ways admits he grew up as a fan of Michigan and an offer from the Wolverines would be tough to beat, but he did have an incredible time on his trip to Ohio State earlier this year, so the Buckeyes have made a great first impression.