If you think Ohio State's coaches and players walked off the field in Ohio Stadium Nov. 24 to a life of relaxation, you don't fully understand the manic world of major college football.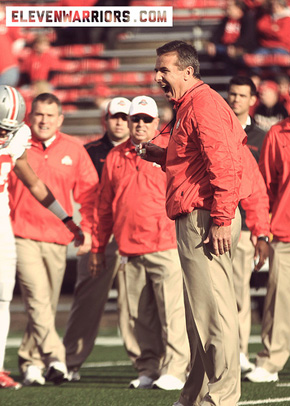 They might call the time between a team's final game and spring practice the offseason, but there is nothing off about it. On the very next Monday, two days following Ohio State's win over Michigan, which clinched the school's sixth perfect season in 123 years, Ohio State players could be found in the sprawling Woody Hayes Athletic Center working out, trying to gain an edge for the following season – in 278 days. That is also known as more than nine months.
"I've probably had seven meetings with my strength coach already," head coach Urban Meyer said that Monday. "Recruiting is concern No. 1. Concern No. 2 is the fundamental development of our players that takes place during bowl weeks and we don't have it."
Game planning has been a minimal activity for coaches in the six weeks since the Michigan game. Instead, they've spent many days and nights in far-flung airports, high schools and living rooms throughout the country. Recruiting is the lifeblood of football programs. For the nation's elite teams, it's the difference from being a have and have-not.
"One of (Meyer's) strengths is putting guys in position to succeed," Tim Hinton, Oho State's tight ends/running backs coach and recruiting guru, recently told Eleven Warriors. "He truly gets it. There's a reason why he's the best coach in America. There are very few details, if any, which are left unattended."
Rankings of any nature are fickle, always subject to scorn and open to being flawed. Recruiting rankings are especially open to interpretation. Rating kids based on their performance in high school is by no means a perfect science. But coaches know that the more five- and four-star prospects they're able to sign, the better chance they have at panning out.
Campus visits and in-home coaching visits are the two biggest days in recruiting for coaches. Big games are ideal for game-day visits because players are able to get immersed into the atmosphere. When coaches visit players at their family home, the setting is similar to that of hometown visits on The Bachelor. Coach sells the university, football program, city and himself to mom and dad. Then the parents give their blessing to the son who's leaving home.
Sounds like marriage.
In the coming days, Ohio State will find out if they're the final rose for several blue-chip recruits. The age-old tradition of putting on a team's hat to signify which school you're attending has turned into a cliché of sorts. That doesn't downplay the importance for coaches, though. They'll be watching the Under Armour All-American Game on Friday and the U.S. Army All-American Bowl on Saturday like a child awaiting Santa Claus' emergence from the chimney.
Nine of Ohio State's 19 verbal commitments will be competing in one of the two games, as well as several others who are on the fence. The Buckeyes' class is currently ranked in the top-10 by all recruiting services and they sit inside the top 5 in most.
"The bottom line is Ohio State is one of those very impactful places across the country," Hinton said. "You get a lot of doors opened up to you. You have to really work your rear end off, though, because there are a lot of great high schools out there that want their athletes to attend Ohio State."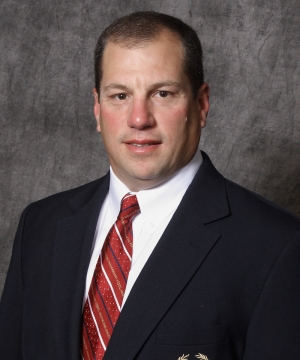 The Buckeyes' ranking could be elevated depending on what happens in St. Petersburg, Fla., and San Antonio – by current verbals and soon-to-be commits. The names Noah Spence and Adolphus Washington were already familiar to Buckeye Nation at this time last year, but they turned into household names after their performances in the U.S. Army game.
Spence proved why he was the No. 1-rated defensive end, using his power and speed to wreak havoc on the West's offensive linemen, quarterbacks and running backs. Washington also displayed his trademark speed, chasing guys down from behind. The duo combined for nine tackles, six for loss, including five sacks.
The first wave of future Buckeyes features defensive backs Cam Burrows and Gareon Conley, defensive end Joey Bosa, athlete Jalin Marshall and tight end Marcus Baugh. The quintet will get a head start on being teammates as all five will be on the same team at the Under Armour game. Undecided linebacker Trey Johnson, who is also competing in the game, is on Ohio State's radar.
Future Buckeyes playing in San Antonio include running back Ezekiel Elliot, offensive lineman Evan Lisle, defensive back Eli Apple and kicker/punter Johnny Townsend. The four have hit it off quite well and even made a video promoting their future in Columbus.
The real story at the Alamo, however, is Texan Mike Mitchell. The linebacker is thought to be a sure Ohio State commit. He'll announce his decision Saturday during the game. Wide receiver James Quick also will make his much anticipated decision. He'll decide between Ohio State and his hometown Louisville Cardinals.
Both positions are of utmost importance for the Buckeyes. The needs at both spots are overwhelming. As many as five players could pledge allegiance to the Scarlet and Gray, but if only two opted to come north and their names were Mitchell and Quick, Ohio State would consider it a triumph. 
Mitchell is the total package at linebacker. He possesses size and speed and delivers punishing hits. The void at linebacker for the Buckeyes is one factor playing a part in Mitchell's decision. He knows if he comes to Ohio State, playing time could begin the day he walks on campus.
Quick's decision-making has been a mystery, but his play has not. He's a playmaking wide receiver that can change the momentum of ballgames in an instant. Quick was thought to be a Louisville lean for months. Now Meyer and the Buckeyes are nearing the top.
Safety Vonn Bell and wide receiver Shelton Gibson are two more potential Buckeyes. Each could fill a need.
"You get a chance to represent the leading university in the United States," Hinton said. "It's awesome. Not only is it a great privilege, but it's a great responsibility to do the process really well and be professional in how you go about it. In addition, you have to work very hard and get the very best players in the country. We have high expectations in Columbus, Ohio, and they aren't going to change. We want to make sure we get the right guys here."
It hasn't been a problem the first two years.