Wednesday night marks the beginning of Ohio State's quest for a fourth straight Big Ten championship. It's an admirable accomplishment when you consider Ohio State's football school status and the Big Ten's caliber of play. Being crowned its champion is no easy task.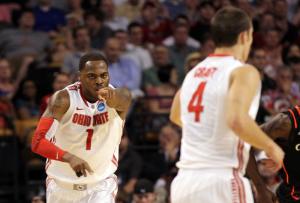 So how did the Buckeyes do it the past three years, rising up annually against basketball blue bloods such as Michigan State, Illinois and Purdue? For one, head coach Thad Matta has turned basketball games into must-see events in Columbus. There's an old saying that explains three sports seasons in Ohio: football season, recruiting season and spring practice.
Add basketball season to the list.
Since Matta took over prior to the 2004-05 season, McDonald's All-Americans have matriculated to central Ohio in high volumes. Good players and good coaches make good teams. And the results give evidence to that theory – two Final Fours sprinkled in with several Big Ten regular and postseason championships.
During those championship years, the Buckeyes have made field goals with regularity. That isn't the case this season, which has been one giant red flag. Against the two best opponents it's faced – Duke and Kansas – Ohio State failed to make shots with any consistency. And that might be putting it too kindly.
On the season, Ohio State is shooting a modest 45 percent from the field and 37 percent from three-point range. But when the Blue Devils and Jayhawks defended the Scarlet and Gray, the field goal percentage was an atrocious 32 percent and the three-point percentage dipped below 30.
Saturday's rout of Chicago State either offered improvement or false hope. The answer will be realized sooner rather than later, because Ohio State's first five conferences games read: Nebraska, at Illinois, at Purdue, Michigan, at Michigan State. A 3-2 record wouldn't be bad, while 4-1 would signal the Buckeyes are once again a threat to win the title.
"It has been a process of getting guys to understand and appreciate what it takes to get your mind ready to play every single minute you take the floor," Matta said. "From the standpoint of coaching, we just have to keep showing them the film, practicing at an incredible level and seeing improvement every time we take the floor."
In nearly every statistical category Saturday, Ohio State appeared to be the top-10 team the rankings say they are. The Buckeyes outrebounded Chicago State, 48-22, and that included having more offensive rebounds (24) than the Cougars' total rebounding number.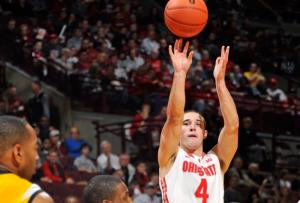 Shot making was the objective, though, and Ohio State did that well. The Buckeyes converted 57 percent of their field goal attempts and made 8 of 17 shots from beyond the arc. Their shooting clinic included outscoring Chicago State, 50-20, over the final 20 minutes.
"We're a much better team than we showed in the second half," Chicago State head coach Tracy Dildy said. "That's not to take anything away from Ohio State, who I really believe is a team that can contend for a national championship. They have the caliber of players that can carry this team to the Final Four. This is clearly the best team we've played.
"Of course, I think (Ohio State's) locker room was really interested in us at halftime. They came out in the second half and let us know that they were 'the big boys.' They came and let us know that they are a top-10 team in the country. The second half was all Ohio State."
Most importantly for Matta was his players regaining their touch and confidence. Every member of the starting five shot 50 percent or better, including Deshaun Thomas (7-13), Lenzelle Smith Jr. (6-12) and Aaron Craft (4-6). All three had off nights against the Jayhawks. Smith's struggles against Duke and Kansas include a 28 percent field goal percentage and 8 percent three-point rate, and Craft's recent shooting woes have been well documented.
"We are taking our shooting game a lot more seriously because we cannot expect to make our shots during games without practicing them more," Craft said.
The bad shooting vibes did creep into Ohio State's free throws, however. Once a strength, the Buckeyes have been below 70 percent from the charity stripe in their last two outings. They were under 50 percent against Chicago State, making just 13 of 27 attempts.
"I don't know what that's about," Matta said. "It became contagious there. Obviously, we have to shoot our free throws better."
Those numbers included Thomas and Smith, two of the best free throw shooters on the team, making 2 of 10 from the line. Aside from Craft and LaQuinton Ross, who made 5 of their 6 free throw attempts, Ohio State was 7 of 20.
It's equals a percentage that's inexcusable for a top-10 team and could be another kryptonite for Matta and the Buckeyes.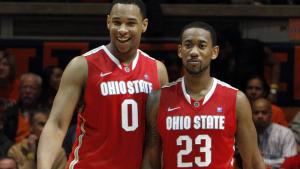 "I'm really disappointed in my foul shots and (Saturday) let me know what I need to work on," Smith said. "I have to make sure when I have the opportunity to step to the foul line I make my shots."
Ohio State is one of six Big Ten teams currently ranked in the Top 25. That means a plethora of high-level games await them, including eight away from Value City Arena. Conference games are generally close due to good defense and the simple fact that the teams know what the opponent is trying to do.
"We have to make sure we trust each other and make sure we practice hard," Thomas said. "We know every game will be a fight, but Coach Matta has prepared us."
The blueprint on Ohio State says the Buckeyes love scoring transition baskets off their defense. But if you turn them into a jump-shooting team, missed shots occur frequently. Just ask Duke and Kansas. Both teams walled off Thomas and made Ohio State's less accurate shooters put the ball up. It also resulted in Ohio State taking an especially high number of 3s.
Chicago State knew how to slow down the Buckeyes and did so rather effectively for the first 12 minutes. The Cougars trailed, 16-14, when Ohio State was fed up with Chicago State's zone defense. The jumps shots, about half of which came from long range, were not falling.
"Our game plan was to play a lot of zone and see if we could get them to settle for jump shots," Dildy said. "We were willing to take our chances if they would have just kept shooting jump shots."
Finally, the Buckeyes attacked the zone and widened the gap before halftime. They also began forcing turnovers, the bread and butter for the Ohio State offense. The list of games with 20 or more points scored off turnovers is approaching double digits. When you force 15 turnovers per game, that task becomes much easier.
But Trey Burke, Keith Appling, Yogi Ferrell and Jordan Hulls aren't prone to turning the ball over.
"I think we've lost to the two best teams in college basketball," Matta said. "But that's the thing we're challenging our guys with right now. We have to play better basketball. We have to continue to get better. I think in both losses, we've been right there.
"Now it comes down to we've got to make some plays defensively and offensively to win the game."